San Diego is an exciting location to be in. There are tons of best things to do in San Diego. Especially when you are on a vacation, you can explore both budget-friendly and free activities, places, as well as events to be at. The city located in California comes with fun-filled options for every type of tourist. Whether you are going there as an adult or with your partner, you can come across beaches, museums, parks, cafes, and more spots that are worth visiting at least once. For families with kids, there are special locations that should definitely be checked. With an endless number of options available, you can easily plan what to do as you head to San Diego.
4 Free Things to do in San Diego
When you have to explore this US city without any cost, you can visit its beaches. As you engage yourself in activities here, you can have a wonderful time with your close ones. For sports and nature lovers, glider ports, parks, etc., are among the best things to do in San Diego free of cost.
1. Delving in the Beauty of Old Town
The American city invites you to free explorations in its Old Town. The place is notable for being the prime European settlement in California. The architecture of the place preserves the hints of 1769. The shops and sites included in Old Town are constructed on the basis of the architectural style prevalent then. You can spend hours here looking at the old style without being charged a penny.
2. Explore the Fun at Mission Bay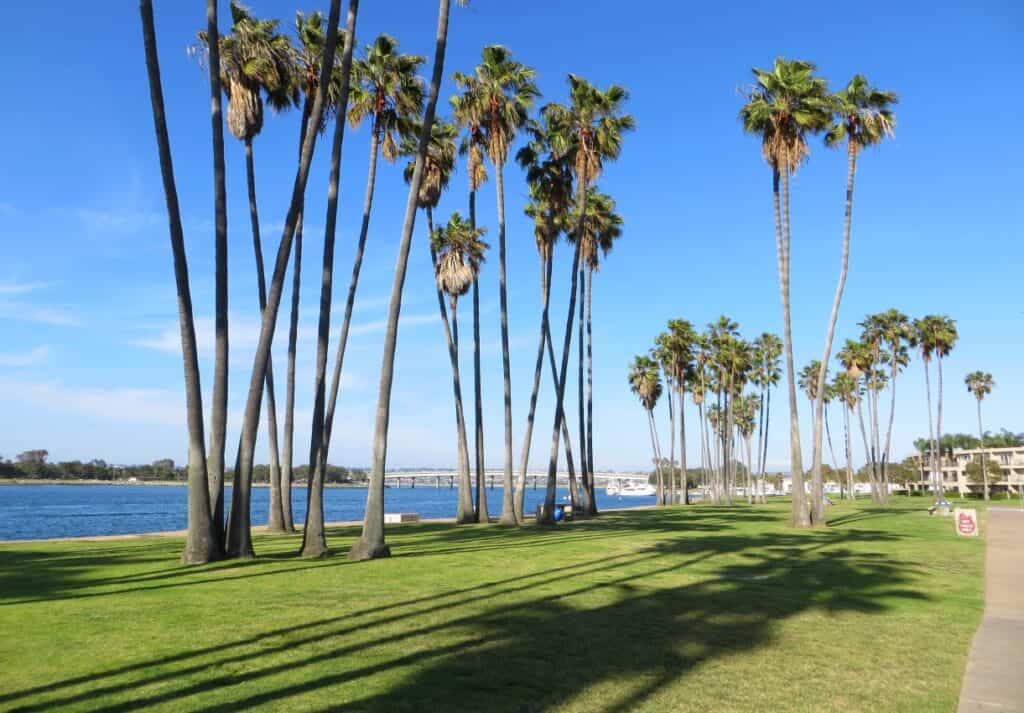 When you love watching the beauty of nature and enjoying the thrill of activities at the same time, Mission Bay is worth visiting. A part of the place requires no cost to enjoy. You can visit this park and arrange picnics. Featured with several Free things to do in San Diego, the place comes with playing areas for children and defined regions for jogging. You can find activities like roller skating, fire rings, courts for volleyball, and more.
3. Witness Spectacular Beaches
Enjoying the sea life in the US city is free. Here, you can run, swim, boat, and do a lot more. The beaches also invite you for a sunbathing experience amidst the cool vibes of the water. Among the top beaches, these 3 feature such best things to do in San Diego:
Ocean Beach City
La Jolla Cove
Flat Rock Beach
These beaches can also be apt for visits if you have pets. Early mornings, as well as late evenings, will be the recommended time to be here.
4. Enjoy the View at Torrey Pines Gliderport
It will interest you to know that Torrey Pines Gliderport is a private airport in California. Specifically based in La Jolla, the place is apt for noticing the ground from the sky. You can expect free lessons for paragliding here. In addition to this, you can view the Pacific Ocean from the airport. While it is best for picnics, you can also find cafes in the location.
8 Fun Things to do in San Diego with Kids
Parents who are going to the city in California with their children can find tons of options for amusement. For parents and kids, the fun things to do in San Diego include visits to museums, zoos, and theme parks. At these kid-friendly places, you can keep your little ones engaged for hours.
1. San Diego Zoo to Embrace Wildlife
Kids love watching and observing animals. Moreover, it is a great way to teach them something new. Speaking of San Diego Zoo in California, it has tried to preserve species from across the globe. Keeper talks, polar bears, pygmy hippos, koalas, and more are included in some of these species. Along with this, the zoo also features as many as 7 lac exotic plants.
2. Visiting the Theme Parks
The best form of fun awaits your kids at the thrilling theme parks of San Diego. The city comes with a number of such parks to keep your little ones engaged. Belmont Park, as well as SeaWorld San Diego, are the theme parks worth visiting once. Not only rides and entertainment, shows are also among the fun things to do with kids in San Diego at these parks.
3. Head to Birch Aquarium at Scripps
Featuring an educational and entertaining experience, the Birch Aquarium at Scripps calls for a definite visit. The museum is apt for the display of sea lives across sixty habitats. This place also has multiple outdoor-location pools. For memorable photographs with your kids, these pools can help form pleasing views.
4. See Creativity at the New Children's Museum
The New Children's Museum is one of its kind. It has displays that bring together creativity and imagination. This is a favorite spot of children in the city as they get to delve into lovely colors and unexpected exhibits. Adults can rejoice here at a featured cafe.
5. San Diego Air & Space Museum for Explorer
Kids who love to explore should head to the San Diego Air & Space Museum. Among the best things to do with kids in San Diego, the museum secures a special place. The museum comprises aircraft, spacecraft, and a lot more dating back to history. You can also find shows with insights into the aviation world.
6. Cruise on San Diego's Bahia Belle
Right from this city, you can get a glimpse of Mississippi. This is possible as you cruise with the sizable Bahia Belle. The beauty of the boat is one thing and viewing the extraordinary scenery from it is an another-level experience for both parents and children.
Before you plan to include this in the list of the best things to do in San Diego with kids, make sure that you know the timings and accommodation:
The cruise timings are from 6.00 P.M to 1.30 A.M.
For accommodation, the Bahia Resort Hotel can be accessed at no cost.
Food, snacks, and beverages are available.
You can also be a part of the evening parties.
7. Aquatica to Satisfy Every Kid
If you are visiting this city when it is hot, then make sure to relax at Aquatica. For kids, this is the perfect place to be. You can take your little ones on the best rides. In addition, you can swim with them in the cool water of the place. Aquatica is full of exciting activities. From eating to riding, this place has an endless number of things to do with kids in San Diego.
Note: Afternoons are the most suitable for heading to this place. The fun in the water and the thrill of the rides can double up during noon.
8. Children's Pool Beach for Safe Swimming
When you take your tiny tots to beaches or pools, the unpredictability of water may worry you. The Children's Pool Beach has been made for the purpose of removing these worries of parents. The beach lacks high waves. Thus, your children can swim without falling in danger. Having said this, swimming and fun in the water can be all the more pleasant without any dangers lurking in.
5 Things to do in San Diego, California at Night
The best thing to do in San Diego is perhaps at night. The ultimate choice is to enjoy a ferry ride passing via the best attractions in the city. Moreover, you can dine, watch plays, and amuse yourself with tours worth experiencing in life. The nightlife in this city can, thus, be great for a calm and peaceful evening.
1. Go for a City Lights Tour
A night tour is observed in San Diego. It is inclusive of the key attractions in this city. To be a part of the tour, you can first sign up for it via a trusted agent. The short trip can keep you busy for nearly 90 minutes. The city lights tour at night mainly covers the following as the best things to do in San Diego:
Gaslamp Quarter
Coronado Bridge
Balboa Park
Embarcadero
2. Enjoy a Play at Old Globe
Old Globe is a historic theater in the notable city, San Diego, located in California.
Formed around 1935, it is known for hosting classic plays by remarkable authors like Shakespeare. The ambiance of Old Globe gives you traditional vibes. Watching the play at night can intensify these vibes further.
3. Enjoy the Evening with Coronado Ferry
Up until now, many of you may have dreamed of enjoying a ferry ride late in the evening. San Diego city makes this true with its Coronado ferry. Passing through this town, it covers beaches as well as the best hotels. Hinting further at what to do in San Diego at night, you can also walk around the city after reaching the final destination of the ride.
4. Dine in at Embarcadero Marina Park
The Embarcadero Marina Park is recognized for providing numerous dining choices. Away from the busy life of the city, this place has scenic views to offer. Dining amidst the beauty of the lush green vegetation can give you a relaxing experience too. Here, you can also find waterfront views while you enjoy the food.
5. Pay a Visit to La Jolla Playhouse
For those of you who love live performances, La Jolla Playhouse is the place to be. You can enjoy musical performances as well at this theater. Keep in mind that you will have to reserve the tickets for the play. The dedicated website of the theater is available for booking them as well as knowing other information.
6 Best Things to do in San Diego for Couples
Couples can expect a pleasing time here due to the abundance of activities available. They can enjoy romantic evenings, early mornings, and nights. Most moments can be made memorable with windsurfing, cruising, watching movies, and with other such romantic things to do in San Diego, California for couples.
1. Windsurfing at Tourmaline Surfing Park
In the city's North Pacific Beach, you will find the Tourmaline Surfing Park. It comes with cliffs offering breathless views. However, the park is more known for windsurfing. When you and your partner have a fondness for this activity, do check this park. Aside from windsurfing, swimming is an additional activity to engage yourself at the Tourmaline Surfing Park.
2. San Diego Bay for Cruise
The famous San Diego Bay gives you a chance to take impressive tours of sailboats. You can get the choice of a jet ski too. Giving you an almost complete view of the bay, the tour takes you through the main historic sites. Amidst the blue water, couples can rejoice in the classic sites. Prefer early morning tours to witness the sunset as well.
3. Embracing Natural Beauty at Sunset Cliffs Natural Park
Coming to one of the most romantic things to do in San Diego for couples, sunsets can't be missed. To heighten the beauty of these, the Sunset Cliffs Natural Park is recommended. It exhibits the natural beauty of sunsets in such a way that early mornings can be made more romantic.
4. Make Memories at Gaslamp Quarter
Most significant for its 16 blocks, Gaslamp Quarter is a place to find multiple bars, clubs, and restaurants. Depending on where you like to spend time with your loved one, you can pick the most happening option and make memories.
The following are some of the best things to do in San Diego's Gaslamp Quarter:
Osteria Panevino
Saltwater
5th & Sky Rooftop Gardens & Lounge
Bandar Persian Prime Restaurant
Cafe 21 Gaslamp
5. Movies at Cinepolis Del Mar
Cinepolis Del Mar is among the best theaters in San Diego. Venturing here at night and watching movies are the top 2 romantic things to do in San Diego's theater. Your experience can be made comfortable with these features:
Leather seating with a complete recline is available.
Waiters can assist you with your requirements in the theater.
You can also access a bar at Cinepolis Del Mar.
6. Compass Balloons for Romantic Dates
With your beloved, you may have gone on a number of dates. To give your special one the most memorable experience this time, do consider Compass Balloons. It lets you take a hot air balloon ride with your partner. You can venture across huge towers, vineyards, and valleys.
The finest time to book your ride is early in the morning. You can have both expensive and budget-friendly rides with Compass Balloons. Private tours will cost you more. But you can also go for a group tour.
What are the Things to do in San Diego this Weekend?
You can find various things to do in San Diego this weekend. To start with, fields blooming with pleasing flowers can be paid a visit. If the blue water is a treat to watch, then the city has peninsulas among its best attractions. The other things to do here include outdoor movies, campfires, and organic produce shopping.
1. Tecolote Giant Ranunculus for Flower Beds
Tecolote Giant Ranunculus invites you to embrace the charm of several fields. These are exceptional due to the colors they exhibit. The beds of colorful flowers are apt for spending time, clicking photographs, enjoying the sunset, and taking a walk. The weekends between 1st March and 8th May are the best to visit the fields.
2. Point Loma for Sunset
Among the top 6 things to do in San Diego weekends, a peninsula as spectacular as Point Loma is included. This is a point extending out in the blue Pacific. The peninsula creates a separation between San Diego Bay and Mission Bay. On Saturdays and Sundays, the place can be the most peaceful. Hence, visiting here at least once is recommended.
3. Campfire by the Lake
Cooking food by a fireside during the weekends can be a fun activity for many of you. To get the best of it, Lake Jennings is the place to explore. You can organize a campfire here on a Sunday. Visitors love chewing toasted marshmallows. Suiting to your liking, however, you can cook anything you want by the fire.
4. Cinema under the Stars on Sundays
In the city in California, Cinema under the Stars is an awesome place for an outdoor movie-watching experience. You can find snacks and drinks too at reasonable costs. These are also the most enjoyable and the best things to do in San Diego this weekend with family.
Here is what more you can expect from this place in the city:
Chairs featuring zero gravity
A selection of classic films
Availability of heaters and possibly blankets too
5. Hillcrest Farmers Market for Shopping
In case you have never really experienced a farmer's market, Hillcrest gives you a unique opportunity to do so now. In your trip to this city, save the upcoming Saturday and Sunday for relishing the wholesome treats Hillcrest Farmers Market has to offer. Usually, this market opens at 9.00 A.M. You may visit here early and opt for more places to explore afterward.
Let us see what to do this weekend in San Diego when you are at this market:
Explore hundreds of vendors selling seasonal fruits.
Relish the goodness of fruits grown locally and organically.
You can also take your service dog along.
6. Nurture the fondness for Trains with San Diego Model Railroad Museum
Trains have been among the fondness of many since childhood. To nurture it more, you can take a short trip to the San Diego Model Railroad Museum. This is also one of the biggest museums in the city. You can see model trains, miniature models, locomotive trains, etc. Best of all, toy trains are the most creatively designed and worth looking at. Without any doubt, this museum offers you the coolest and the best things to do in San Diego this weekend.
Top 10 Things to do in San Diego for Families
Families who love to plan vacations should have a visit to San Diego in their bucket list. For every family member, the city has amusement, knowledge, entertainment, and a unique kind of peace to offer. You can find more family things to do in San Diego with 10 amazing suggested places.
1. Short Tour to Cabrillo National Monument
To the South of the peninsula Point Loma, you will find the Cabrillo National Monument. With historical significance, the monument is in the honor of Juan Rodriguez Cabrillo, an explorer from North America. Families can include this place in their plans especially when events are held here.
2. Bonding with Nature at San Diego Botanic Garden
San Diego is apt for its locations that connect you with nature. One of these locations is the San Diego Botanic Garden. Plants, gardens, and groves form the most picturesque scenes here. The place spans across a large area. It attracts lacs of visitors to engage in the charming beauty of nature.
These are the 3 fun things to do with family in San Diego Botanic Garden:
Parents and children can attend programs held in gardens.
Several classes happen here, especially for fitness enthusiasts. Tourists enjoy being a part of these.
You can improve your knowledge of horticulture in an amusing way.
3. Carlsbad Ranch for a Blooming View
Places like Carlsbad Ranch are well-known for their flower fields. This one, in specific, can present to you a view that you may have never imagined before. Not just for explorations but hosting your events too, the place is available. Enjoying the blooming view is almost a once-in-a-lifetime experience for everyone.
4. Hiking at Balboa
Balboa Park is a sizable one. It comes with a large area for you to take long walks. Apart from trailing here, family things to do in San Diego's Balboa include conducting picnics and playing games. You can also find eateries and shops in the region to be more comfortable in your journey,
5. Maritime Museum for a Splendid Time
When you are fond of gaining knowledge about vessels, the Maritime Museum is recommended for you. Vessels and ships with historical essence are present at this museum. For your family, dropping by at this place in San Diego is relevant also because it is among the top 3 maritime museums across the globe.
6. Seaport Village to Take a Stroll
Not mistaking the place for its name, Seaport Village is an amazing complex. You can both shop and dine here. The area is big enough. Hence, it accommodates nearly seventy attractions which include galleries, eating joints, and shops. Most of these are the best things to do in San Diego's Seaport Village. It is a family-friendly place with something to offer to everyone.
7. Family Time at SeaWorld San Diego
There are certain things to do with family in San Diego that you cannot miss. One of these is visiting SeaWorld. This is an attraction that can give parents, the elderly, and kids a complete experience. Here, you can enjoy looking at sea animals. In addition to this, amusement rides too are available.
Tip: SeaWorld San Diego is a top attraction in the city. It can welcome multiple tourists and locals each day. It will be best to visit here in the morning during the weekdays.
8. Sugar Factory for Dining in
A unique concept of beverages and food is celebrated at Sugar Factory. This place is the most notable for being endorsed by celebrities. While it is present in several cities across the globe, it is quite popular in San Diego.
Take a look at the classic menu available at Sugar Factory American Brasserie:
Pancakes
Pizzas
Burgers
Adult drinks
Candies
Salads
9. Coronado Island for Thrill and Food
Coronado Island has a plethora of beaches. Beyond the soothing sand and cool waters, these beaches are equipped with multiple restaurants, shops, and galleries. The island gives you the following options to spend time with your family members:
You can walk along the path lined with palm trees.
Sailing boats are always a treat to watch here.
The freshest seafood is available at Coronado Island.
Lounge options can be found in this location. They are the best things to do in San Diego's island for relaxation.
This island in San Diego is perfect for fishing with your children.
Best of all, you can enjoy making sandcastles and decorating them with the beautiful shells found here.
10. Amusement at Secret Swings
San Diego is a city full of surprising locations. One among these is Secret Swings. Under the sun and by the Pacific Ocean's view, this spot comprises swings hidden throughout. For families, this can ensure an adventurous experience. In the most exciting locations of this place, you can find these swings and be amused.
This is also one of the top 10 things to do in San Diego for families because it lets you find these swings as you stroll in the location. Swinging is double-fold amazing when you discover them on your own at unusual spots.
What to do in San Diego for Adults?
For adults, the 8 best things to do in this city are all about fun, exploration, walking around the best spots, and tasting the most exquisite food. From riding a speed boat and visiting a creamery to shopping everything at one place and listening to live music, adults can make the best of their journey in this city.
To know more about what is there to do in San Diego for adults, you should scroll further and get the details.
1. Riding Speed Boats
Enjoying the water is a great activity for adults. Aside from cruising and swimming, speed boat riding is another activity to try. It is exciting, thrilling, and an adventurous way to explore the water. In San Diego, you can find multiple locations that let adults go for these rides.
2. Stop by the Japanese Friendship Garden
In the city's Balboa Park, the Japanese Friendship Garden can be found. The garden gives you an exceptional experience. Its koi pond is an extraordinary part to witness. You can find a gardenscape too for connecting with a peaceful side of nature.
Tip: Though the place is calm, tourists and locals of San Diego can be frequent visitors. When you are heading to the Japanese Friendship Garden, you may find a long waiting time to buy the tickets. Booking them online will be suggested.
3. Stroll around Liberty Public Market
Some of the best things to do in San Diego for adults are walking around amazing markets and finding unique things. One such market is the Liberty Public Market. It is greatly recognized for serving different food options. It is more exciting to know that free samples of food too can be found at the stalls of the market. For adults, delving into new flavors free of cost is a pocket-friendly way of finding your new favorites.
4. Check the iFLY Indoor Skydiving
iFLY Indoor Skydiving – San Diego Mission Valley is a center in the city. You can go through the entire center in a duration of fewer than 2 hours. iFLY is an astonishing place due to its wind tunnel. The main feature of this tunnel is that you can fly indoors. This adds more thrill to the activity. Adults who wish to meet their adventurous side should definitely check out the center at least once.
5. Live Your Childhood with MooTime Creamery
The MooTime Creamery has been a popular spot among the locals. For generations, they have been visiting it because of the qualitative experience offered. To connect with the inner child in you, the creamery has delicious ice creams. Cones and sandwich ice creams are the best treats adults can order.
Take a look at the additional things to do in San Diego when you are at this creamery:
You can enjoy the atmosphere that will assuredly remind you of your sweetest childhood memories.
Multiple ice cream flavors can be checked out.
There are a number of shops in the neighborhood of the MooTime Creamery. You can pay a visit to these as well.
6. 10 Barrel Brewing Company
Some of you may be escaping to vacation to get rid of the stress of everyday life. This is a microbrewery in San Diego. It is notable for having a classic setup. You can find big windows, hardwood flooring, bulbs that hang down the ceiling, and metallic racks. One rooftop bar is available on the outer side.
Let's see what all you can do at this microbrewery:
If you like being a part of a classic atmosphere, then you can spend hours here doing that.
The craft beer collection of the place is worth looking at. You can also get samples of a few.
You can enjoy delicious meals at the microbrewery.
With a group of friends, you can enjoy yourself more at the outer part of the place.
7. Be Entertained at The Casbah
Adults are fans of rocking live music. At The Casbah, you can be amused with a venue that hosts nearly 5 to 6 performances every week. Band performances are central to this place. Even at the moment, you can check whether The Casbah is holding live music for you. Thus, this is among the best things to do in San Diego right now if you are in an exciting mood.
8. Shop at Cedros Avenue Design District
Cedros Avenue Design District is a site-worthy location in the city situated in California. As many as eighty vendors are available here. Among these vendors, local artisans are also present. These artisans specialize in different types of goods. To take home souvenirs of San Diego, adults can find multiple choices here at the best prices.
These are some of the goods the place can offer you the best:
For health freaks, juices, smoothies, and teas are recommended for exploring at the stalls.
A great collection of books that you can rarely find anywhere else are easily found here.
For the believers of fashion, Cedros Avenue Design District has plenty of boutiques, jewelry stalls, and luxurious footwear shops.
7 Unique Things to do in San Diego
San Diego is one of the cities in California with exceptional places to be at and things to do. Speaking of the unique things to do in San Diego, you ought to visit its art centers, parks, and unusual museums. In the greenery of nature, tourists can be pleased with the activities by the lake and downtown the city.
1. Spanish Village Art Center
In case you love art or have never observed it with much attention before, a sensational experience awaits you at the Spanish Village Art Center. Beyond paints, you can see many things here produced by artists. From painting to printing, these are the best things to do in San Diego. Also, art will not cease to amaze you at this center.
2. Fun at Lake Hodges
You may have gone to lakes before but you may have rarely seen one with a bunch of exciting physical activities. Among all, kayaking is the main activity at this lake. Although you can find this activity at several points in San Diego, it is unique at Lake Hodges due to the unusual atmosphere of the place.
Tourists can expect more while they are at this lake. If you are visiting this place in the evening, then you can witness a clear sky with a number of stars. Amidst the beauty of Lake Hodges, fishing, boating, and barbecuing are all the more fun.
3. Visit Downtown San Diego
Downtown San Diego happens to be a diverse spot. For both work and fun, a downtown is a suitable place. But when you are on a vacation, you can have a memorable time partying at the best clubs here.
Also, with a group of friends, there are other unique things to do in Downtown San Diego like the following:
The place is great for attending orchestras.
In the city, cafes are the coolest places where you can rejoice with your friends.
You can enjoy symphonies, especially in the evenings.
Tourists love admiring the historically-marked quarters along with several monuments downtown.
4. Belmont Park to Enjoy Rides and Slides
The Belmont Park in San Diego takes you through a giant roller coaster ride. It gives you a view of the coastline of the city. To be amused by, you can have the choices of several other options too. The park is rich with slides that can recreate your childhood.
To know what more you can do at Belmont Park, do go through these activities:
You can play laser tag at this amusement park.
A part of the place is available for playing mini-golf.
You will love exploring the food options best for adults and kids.
5. Sip the best at Grand Tea Room
Tea lovers can find a special place in every part of the world they go to. In San Diego, this place is the Grand Tea Room. The fancy place is beautifully decorated and enhanced with the most adorable tables. The walls are further featured with portraits. In the midst of the amazing atmosphere, the flavor of a nice and hot cup of tea gets more enjoyable on cozy couches.
So, while you create your complete list of what to do in San Diego, don't forget to enjoy classic teas at this place!
6. Wander to MCASD or Museum of Contemporary Art San Diego
MCASD is among the finest museums in the city. It is the best one for witnessing the most unusual pieces of art. Here, tourists can find scrolls, paintings, and sculptures. 3D art enjoys another level of admiration from the crowd. Amazingly, every piece exhibits the aspects of modern art.
Tip: The Museum of Contemporary Art San Diego can invite you for a tour that is guided all by yourself. You can additionally be a part of events, guided by professionals, for better knowledge of the museum.
7. Noteworthy Exhibits at the Legends Gallery
Fun can double fold as you enter the Legends Gallery. A spectacular point in the city located in California, the gallery honors legendary authors as well as illustrators. As they showcase their best pieces of work, you can't help but admire excellent sketches, illustrations, and more.
The gallery is one out of the best things to do in San Diego because of these personalities:
Mackenzie Thorpe
Tom Everhart
To Conclude
The city in the American state of California comes with many things to do. As you make it your destination city, you can enjoy it to the fullest. With the abundance of things given here, making the best of your visit to San Diego can be assured. Long hours of entertainment and pleasure will surely be achieved.
Frequently Asked Questions (FAQs)
What is there to do in San Diego?
You can find plenty of Free things to do in San Diego. You can explore its Old Town for free. You can go to the San Diego Zoo with the kids and witness unique plants and animals. Multiple events and shows also happen in the city that you can attend.
What to do in Coronado San Diego?
In San Diego's Coronado, you can explore the Coronado Bridge. The area also conducts a ferry ride for a nice view of the city. It is the most enjoyable in the evenings. Moreover, Coronado Island is among the top tourist attractions here.
What to do in Downtown San Diego?
Downtown hosts fun things to do in San Diego, California like enjoying orchestras. For music lovers, these are definitely worth going to. The place, in addition, has monuments. You can take a tour of these as well. A short trip can demand spending 2 to 3 hours here.
What to do in San Diego at night?
It is fun to watch plays in this city in California at night. The most recommended place to watch them is Old Globe. Apart from this, you can have a nice evening dining at Embarcadero Marina Park.
What to do in Old Town San Diego?
You are likely to find European-style architecture in Old Town. If you have a fondness for architecture, then this is one of the best things to do in San Diego's Old Town region. Eating places and shops are also commonly found here.
What to do this weekend in San Diego?
Among the top things to do in San Diego this weekend, you can enjoy the sunset. It is likely to make your Sunday morning special. To make a plan in the evening, you must check Lake Jennings for a campfire activity.
What to do with kids in San Diego?
San Diego has special parks for kids. Belmont Park is the best of all for your little ones. You should also decide to go for a picnic to the city's zoo, aquarium, and the New Children's Museum. To visit all of these attractions, you should probably dedicate more than a day.
What are the things to do in La Jolla San Diego?
La Jolla is a playhouse in this city. It is best known for having live performances. The most remarkable one among these is the musical performance. You must purchase the tickets to any event being hosted here.