While organizing a trip, it is important to think about when is the ideal time to visit the place. Talking about exploring the best city for its beaches in the U.S., you need to know when is the best time to visit Hawaii.
The weather forecast, the best islands to visit in particular seasons, and festivals are all taken into account before planning your journey. Also, the cost of lodging and airfare are other important factors when you need to decide the best time to go to Hawaii.
Coming to Hawaii in Summer
The second busiest tourism period in Hawaii is during the summer. This is because more families with children visit Hawaii on summer vacation. June, July, and August are the summer months in this American state and the most visited ones. These months have the warmest heat on the islands here with a temperature of nearly 90 degrees.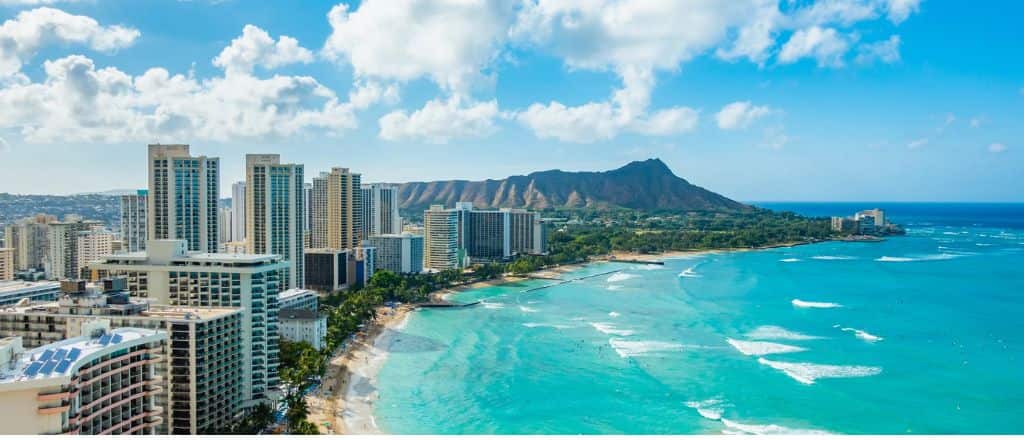 During June
In the month of June, this state in the US starts to heat up. Its high and low temperatures are nearly around 88 and 72 degrees, respectively. In June, this city has fine weather and receives the least quantity of rainfall in the entire year.
The weather in June is more bearable than it is in July and August. Ocean temperatures are at their most pleasant as well.
During this month, there are two major occasions. One is the King Kamehameha celebration, which is observed on all of the islands in Hawaii.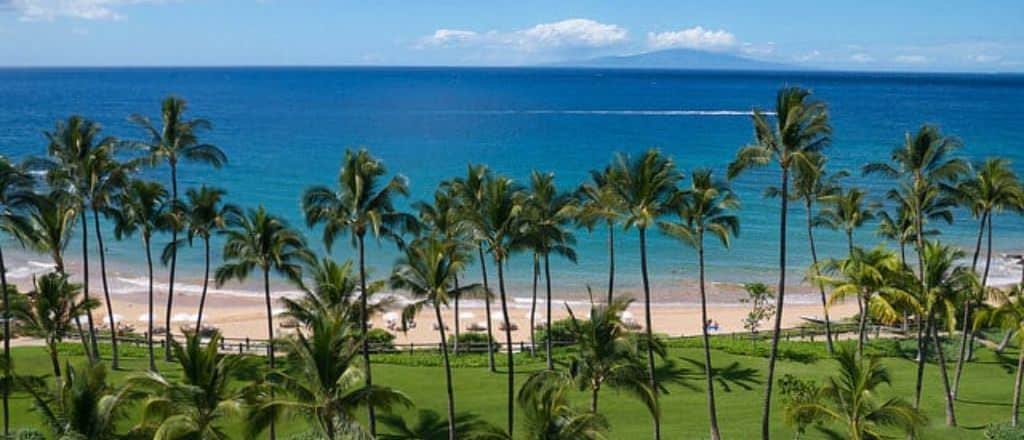 Visitors around the world visit Hawaii to celebrate Kamehameha the Great, who combined this American state's islands in 1810 and became Hawaii's initial monarch. It was established around June 11. Ancient dance, chant, music, practices, crafts and arts, and food are all featured at festivities honoring Kamehameha.
The other one is the Kapalua Food and Wine Festival in Maui. In summer, visitors and foodies from all over the world travel to the Kapalua Food and Wine festival. It is held at the stunning Kapalua Resort in Maui and is the country's oldest food and wine event.
This is also one of the reasons why people tend to travel to Hawaii during the summers.
In July
Although summer continues even in July, some rainfall is received here during this month. With slightly more rain than in June, high temperatures remain stable in July. There is an average of more than 2 ¼ inches of rainfall during this month.
When you want to enjoy the oceanic view, you should know what is the best time of the year to visit Hawaii. Therefore, this July month is considered to be a great time to travel in this state. People on the south shore of Hawaii tend to explore surfing and snorkeling during the month of July.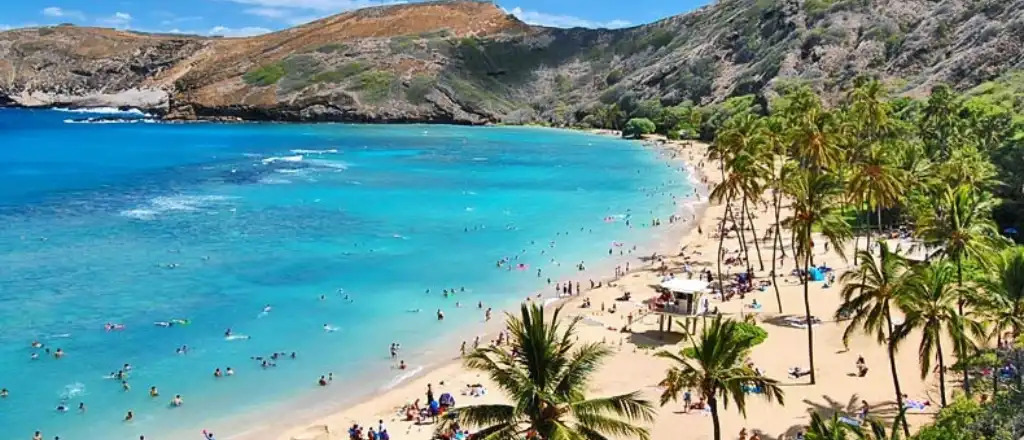 Many of the uncrowded areas or beaches that were too tough to snorkel and swim throughout the winter are again open this year.
During the month of July, on the Island of Oahu, the Moanalua Gardens Foundations hosts the Prince Lot Hula tournament on the 3rd weekend each year. This foundation was founded in 1970 with the intention of preserving and safeguarding the natural and cultural resources of the city. One can experience this tournament in this time period when in town.
Throughout the August
Temperatures tend to peak in August in Hawaii. Nearly 90 degrees temperature, on average, can be observed during the month of August. On the other hand, around 75 degrees of temperature, on average for the low, can be felt. In addition to this, East and West waves are growing in size.
Nevertheless, the northern and southern waves are remaining flat. Hence, some people visit this place sometimes during August month, too.
Festivals, as well as events, are frequently held throughout August, however, the offerings change every year. The yearly events in August are:
Duke's OceanFest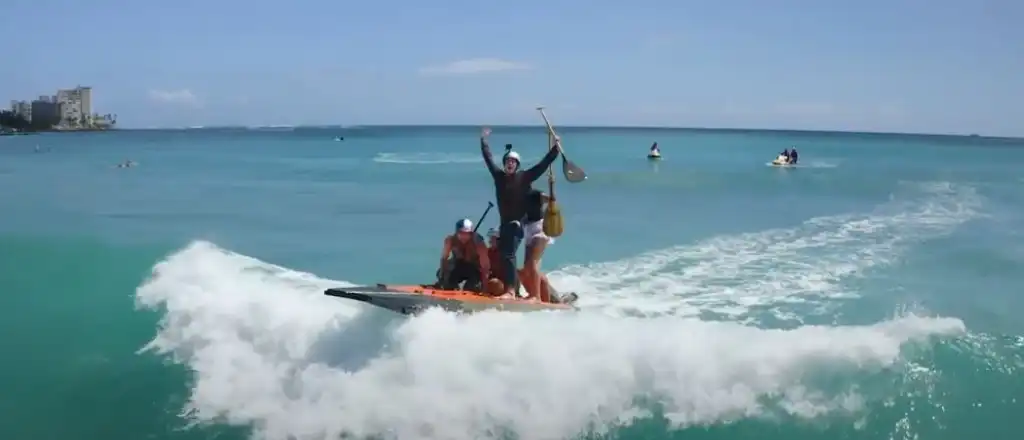 In Waikiki, Duke's OceanFest honors Hawaii's well-known Olympian while celebrating all water and beach sports. Visitors from several parts of the world come to this place to enjoy this fest.
30 Days of Aloha on the Island of Hawaii
Tourists attend the Aloha festival in Hawaii which presents the heritage, fauna, and flora, as well as the famous pa'u riding, during this season.
Tahitian Dance Competition
Tahitian dance was performed to attract a lover, test an opponent, adore a supernatural entity, and pray. Hence, couples and travelers also visit Hawaii to take part in this fun competition.
Vacationing in Hawaii During the Fall
A tourist can visit this American state in the fall season to experience the beauty of this place. The fall season continues from September to November. During this time, there is ideal weather here and tranquil water for tourists. Also, there are fewer tourists as the children return to school.
The islands in fall are gradually moving into the rainy season. Hence, mid-fall is a fantastic time for tourists to visit. Temperatures around September to November often begin between 80-90 degrees. During this season, getting on a surfboard and catching a few waves during the fall season is the ideal way to pick up the sport.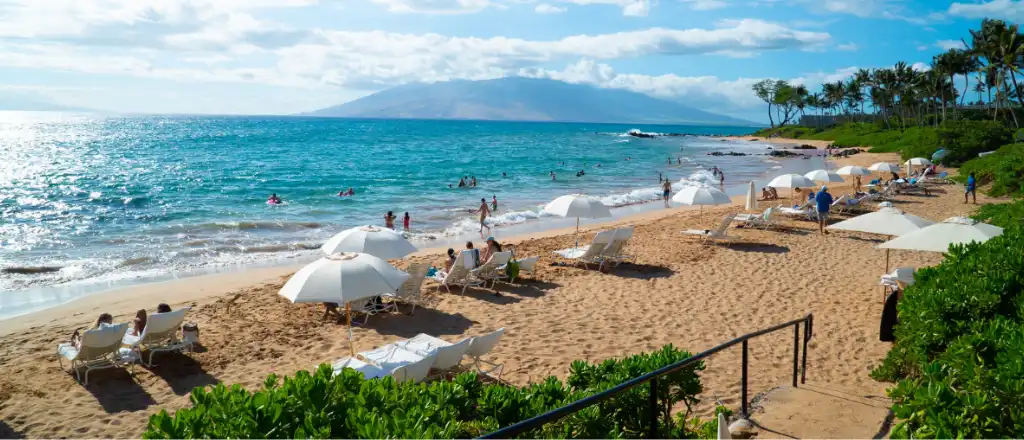 In the September Month
This month is the best off season time to visit Hawaii for travelers. This is because the summer crowds are dissipating and prices start to decline. Therefore, if you want to explore this place with less crowd and price, then September is a great month to travel to Hawaii.
Warm ocean waters, a variety of events, and comfortable weather can be observed during September month. Also, this month marks the end of summer, and temperatures in the daytime tend to be around 80 degrees.
In this American state, you can never lack exciting things to do here. A few yearly occasions could capture your attention, such as:
Mokihana Festival on the Island of Kauai. It honors this state culture through enlightening music, talks, and hula contests.
The Big Island's major agricultural event, Taste of the Hawaiian Range and Agricultural Festival, was founded in the ranching community of Waimea. Also, it honors the island's food processors and producers, patrons, and chefs.
Hawaii Island Festival is a big event, which lasts the entire month. This event provides a vibrant glimpse at the country's past, present, and culture. Every day of this month, tourists may look forward to enjoying dancing, arts, food, competitions, music, and more.
During October
Many tourists who visit in the month of October to Hawaii can start to experience the fall blues here. It also offers a paradise hideaway with almost perfect weather, the appropriate combination of natural beauty and thrilling events, as well as some affordable average hotel prices for stay.
When a traveler considers himself/herself a foodie, the annual Hawaii Wine and Food Festival is only in October. This event will improve as it grows. Additionally, events to check out include the following:
The Coconut Festival is a celebration of the humble coconut on the Island of Kauai. It includes cooking demonstrations, entertainment, local artisans, crafters, and lots of food that includes.
The Maui Fair is a fun-filled, informative event for the whole family that showcases local fare, horticulture, entertainment, art displays, homemaking, and contests.
One of Kausi's most important cultural celebrations is the Emalani Festival. It features hula, spectacle, songs, and history.
The most famous Triathlon competition is known as the Ironman. On a global stage, athletes put their endurance to the test and surpass their personal bests.
Throughout the November
A tourist will enjoy the comfortable seasonal temperature, which typically ranges nearly from the mid to low 80 degrees. As November draws closer to winter, the evening temperature drops to around 60-70 degrees, which is still ideal for walks along the beach.
Coffee consumers can celebrate in November when the Big Island hosts the Kona Coffee Cultural Festival. This is the oldest food event in this state, honoring the best coffee in the world. The 10-day festivities highlight the island's culture and coffee during this festival.
A visitor can find out more about the beginnings, development, and harvest of coffee at the Kona Coffee farms. There, you may go to events with dance, music, coffee art scene activities. Additional activities in November can include the following:
Tourists can watch the talented athletes competing in this collegiate basketball tournament by sitting in the strands at the Maui invitational.
Going to Hawaii in the Winter
In the winter season, this American state experiences its busiest travel period from mid-December to February. The most frequent season is winter in this state. However, it is to be noted for travelers that flight prices tend to increase during the winters. Hence, it is advisable to book your tickets as early as possible.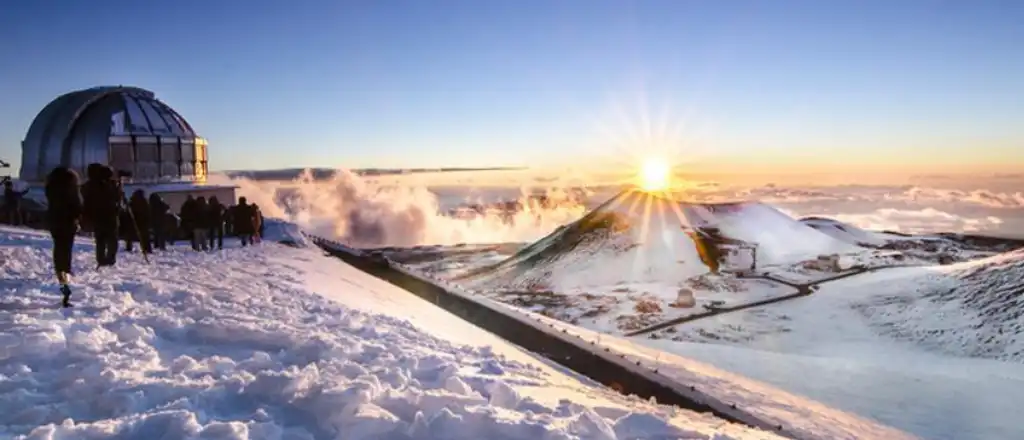 Seeing whales is the top benefit of a winter trip to Hawaii. Humpback whales in order to give birth to their babies, come from Alaska and appear every winter. The big Islands and Maul are the best places to see whales.
This season is the best time of the year to visit Hawaii for hiking and exploring the area. Although, swimming as well as other water pleasures, can be more difficult. However, for people who love surfing, this is the best time to explore Hawaii.
During December
The first week of December is the ideal time to travel to Hawaii for a winter holiday. This is because the prices are reasonable, and the crowd is limited as well. However, from mid-December, visitors can get a bigger crowd here.
For many people looking for a tropical destination to celebrate this holiday season, this state in the US has emerged as their preferred yearly vacation location. Also, it has grown to be a preferred travel season in the islands given the appearance of the poinsettia, the unofficial Christmas flower, and ideal weather on sea and land.
When tourists arrive in Hawaii for a vacation at the end of the month, it becomes quite busy. The month of December experiences the highest number of visitors to the Islands.
During December, Christmas dinners as well as many cruise food are offered on the various islands on Christmas Eve. Tourists can also visit shops and large hotels as well since each presents special annual Holiday celebrations. Festive light shows, garden celebrations, "Santa Marty" visits, and even surprise show displays are examples of frequent neighborhood gatherings.
The following are several travel tips for exploring this place during the Christmas season:
Holiday events might range somewhat high in price, so make sure to contact the organization to confirm any events over the phone.
Considering that this is the peak time of the year, when your trip coincides with the Christmas holidays, call in advance to make your arrangements.
In January
One of the highest travel seasons for travelers in this state in the US is in January. Plan ahead when you wish to travel this month. This is so that the resorts and hotels can get booked up quickly. In addition to being a popular month for travelers, January also experiences hosted PGA golf events by some organizers of Hawaii.
There are some reasons why you might wish to reserve your Hawaii holiday for January. Some of them are listed below:
When you love and want to enjoy Golf, the Hyundai Tournament of Champions is held on Maui this month.
The Chinese New Year celebrations that are held on all of the major islands in January are another occasion worth checking out and enjoying, during the month of January.
During this period, Oahu's renowned large waves hit the north coasts all month long, making it prime time for surfing competitions.
During the Month of February
This American state experiences a warm, lovely February month with a lot of things to do and explore. Also, this month offers a lot of activities as this is the best time to visit Hawaii as per the weather, which will make your trip to this city even more enjoyable.
Each island during this time has a different climate and temperature. Higher heights can experience colder temperance and some places, like Kokee on Kauai and Volcano on the large island, can have chiller evening temperatures. It is suggested to get dressed up in layers while going for the larger volcanoes. This is because the peak might get chilly.
On your February trip to this state in the US, make sure not to miss the following activities:
The Big Island observes cherry blossom season at the start of February, which surprises a lot of visitors. This is held during the amazing glory of Church Row Park, which has 60+ years old cherry trees in blossom.
Every year, in the middle of this month, Waimea Town Celebration honors the island's past with recreational activities and culture spread out across the West side of Kauai.
The humpback whale season runs in winter, peaking around February. When you are interested in gazing at whales, they may frequently gather on Hawaii's Big Island, Molokai, Lanai, and Maui. The Maui Whale Festival is among the celebrations honoring its arrival that take place on Maui.
Oahu's "Huge Waves" build great interest on the north shores as the surging tournament season lasts into February.
Visiting Hawaii in Spring
Spring is among the best seasons when you are planning to visit this state in the US. As the dry season begins, the weather is excellent here. This spring season starts in the month of March and continues till May. This is usually the best time to visit Hawaii to avoid crowds too.
Additionally, this is the time when hotel and flight rates start to decline. Hence, without any crowd and at affordable prices, you will be able to enjoy your trip without much budget.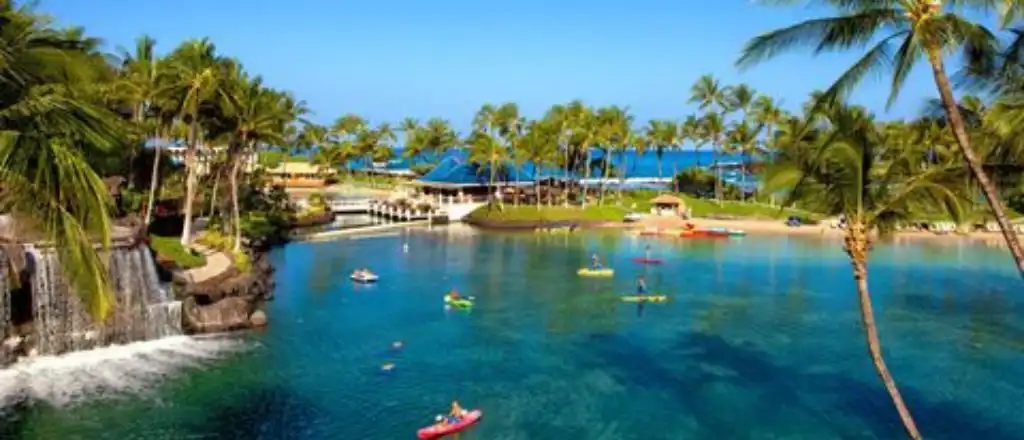 The amazing fruit and aromatic flowers the islands have to provide are also best enjoyed in this spring season. If you would like to enjoy the art of hula, then the Big Island of this American state has the yearly Merrie Monarch festival that begins on Easter Sunday.
When Spring arrives, music is in the air as all celebrate May Day Lei Day with a spectacular celebration of dancing, song, and flowers. Artists are recognized with live performances, concerts, and competitions this season.
In the Month of March
March is a very popular period to travel in this state. Nevertheless, keep in view that tropical weather may vary and is unpredictable during this period. Its weather features warm days and chilly evenings along the sea. The average low and high temperatures in March are nearly 68 to 82 degrees, respectively.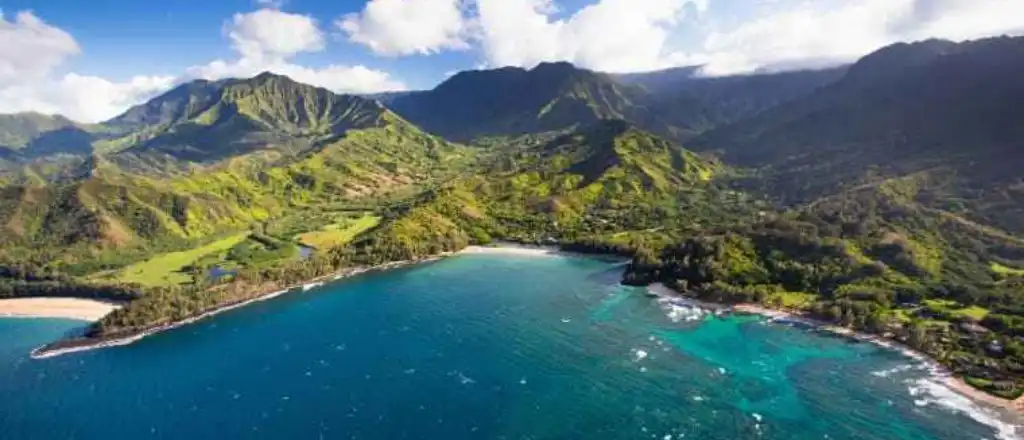 Several occasions, including the yearly Honolulu festival, take place in March. It is held every year on the Island of Oahu. The vibrant fusion of Pacific, Asian and Hawaiian cultures draws tourists from all over the world.
Another event that takes place is the festival of Kona Brewers. It is an amazing big island event that has been going on for around twenty-five years. It honors regional handcrafted cuisine and brews, making it the ideal activity for food lovers.
During April
As April approaches, it becomes clearer that winter is over. In comparison to the previous month, there is a noticeable shift in the evening air temperatures. The sun is more intense, flowers are in bloom, and whales are gradually beginning to leave. Although, the water is still on the cold side.
There is plenty of enjoyment to be had in snorkeling, surfing, boogie boarding, and swimming. However, remember that based on where you go, the weather can change considerably. For instance, locations in mountains or near volcanoes might be cold, whereas the water and beaches are typically pleasant and mild.
Through May
Anytime in the year is suitable for planning the journey to Hawaii. Nevertheless, May is quite up there as the ideal month when you are seeking the best off season time to visit Hawaii. It is a fantastic season to visit this paradise because of the great weather, few visitors, and plenty of things to do.
During this season, the sea is more energetic, especially on the northern coastlines. In this way, this month might be preferable when you wish to discover how to enjoy boogie boarding as well as surfing in Hawaii.
A tourist will observe occasional drops in the temperature when she or he may want to go on a mountain trip or climb a volcano. For this, you might require full-length trousers and a lightweight jacket. In terms of weather, there is no better time to travel in this state than May.
In May, the regions hold celebrations and activities that provide travelers a chance to explore Hawaii traditions. Each region will hold its festivities, including lei-making contests, luaus, hula dance, and many more. Other occasions that frequently happen in May on the Islands are as follows:
On Oahu, honor Memorial day with various activities, such as the Lantern Floating festival.
Celebrate the perks of SPAM in Waikiki and learn about the delicious foods and hidden SPAM-based recipes.
The annual 36-mile coastline relay race known as the Kauai World Challenge Canoe Race is open to both participants as well as viewers.
In Short,
Any moment is a good time for a customer to plan a trip to Hawaii. Both advance and last-minute plans can be made. However, before planning a trip, some factors should be taken into consideration like the best time, season, etc. Knowing about these factors in advance can benefit you to enjoy Hawaii in a better way.