Lake Tahoe is one of the most popular tourist destinations in the Sierra Nevada, the US. It has so many attractions to enjoy and explore. It is situated around 6200 feet above the sea. Thus, climatic conditions are sometimes unpredictable. It means you will experience lazy and warm summers at the beaches, while winters may have over 400 inches of snow. Even though it is beautiful throughout the year, the best time to visit Lake Tahoe can depend on the activities you want to enjoy.
Lake Tahoe's Climatic Conditions and Temperatures
In Lake Tahoe, you will have shorter summers and long winters. However, the temperature in winter is typically pleasant. When it comes to the coldest months, these include December to February. During this period, the temperature is usually -1 degrees Celsius.
The spring season begins in March and stays till May. Even after this, the temperature will remain around 10 degrees Celsius. In April, you can expect some large snowstorms too. Even though March is marked as the best time for visiting Lake Tahoe for snow and winter sports, you can have various other options to enjoy too.
SOUTH LAKE TAHOE WEATHER
For summer activities, you can plan your visit in September or October. However, October is the most unpredictable month when it comes to climatic conditions. This month may be sunny and warm one day, and the next day, it can become windy and chilly.
Lastly, the temperature of Lake Tahoe is typically around 21–26 degrees Celsius at the beginning of summer. By August, it can go up to 32 degrees Celsius. But you can expect a few colder evenings as the temperature can drop by up to 15 degrees Celsius.
Tourist Attractions and Crowds
For some, the best time to visit Lake Tahoe is in the summer, as it is the busiest season. You can go to popular sites such as Emerald Bay from June to August.
You may also go to other summer attractions such as Thunderbird Lodge, Vikingsholm, and other spots for paddle boarding and kayaking. You should remember that beaches, hotels, parking lots, and so on will be fully packed.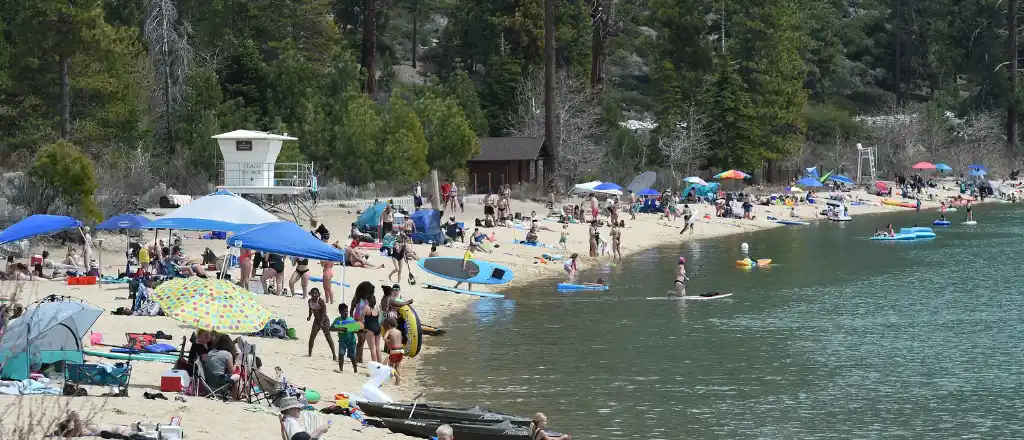 Winter travelers are advised to avoid holiday weekends such as President's Day. Heavy traffic and crowds can turn your 10-minute drive into several hours. You should also avoid traveling to Lake Tahoe on Fridays because of inclement weather and heavy traffic.
The Cost of Exploring Lake Tahoe
In the summer, the prices of accommodations and airfares will be high due to excessive demand. On average, you may need to pay between USD 399 and USD 1000 for a night during weekends in July. So, the best time to visit Lake Tahoe is in winter if you have a restricted budget.
Season-Wise Events to Explore
Every season, this place has its charm. Depending on what you want to enjoy and what your budget is, you can decide on the season for your next trip.
Check the following to know what each season has to offer in terms of activities, attractions, and events:
In Winter
Depending on the snowfall, you can have the best ski experience in winter. The best time to enjoy skiing is in November, December, and January. Since heavy snowfall is quite common, it is good to have vehicles with snow chains or tires.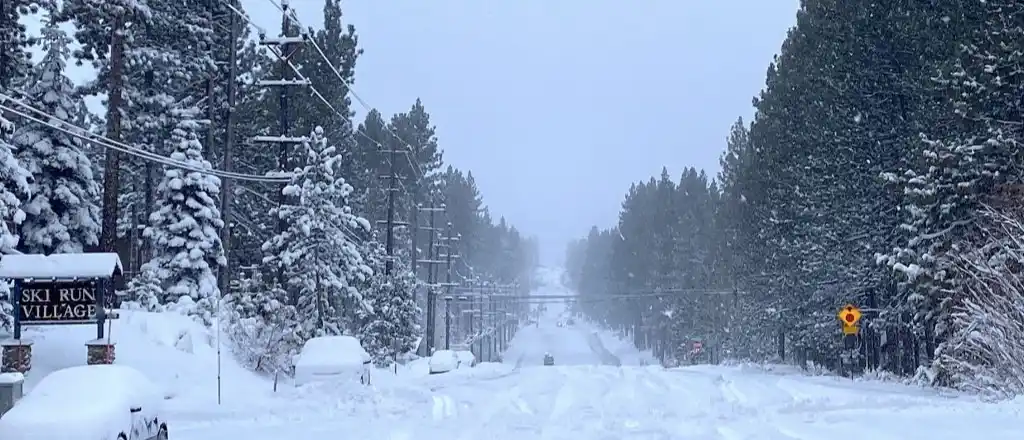 Events and activities
When ski resorts open, they usually conduct some sort of party or celebration in November or December.
December is a month loaded with so many festivals. You can enjoy it.

dancing shows
winter parades,
fireworks,
food,
and click pictures with Santa.

People who love music can have the best experience at South Lake Tahoe's SnowGlobe Music Festival.
The Winter Alpenglow Mountain Festival is a 9-day long event.
It is something that will offer 75+ mountain-themed activities along with premiers of various ski movies.
During spring
It is still the best time for you to visit Lake Tahoe for skiing because of the pleasant temperature. Mornings will have snow, but afternoons will be more desirable in spring.
Events to enjoy
People who love everything about bluegrass should get tickets to the Winter Wondergrass Festival.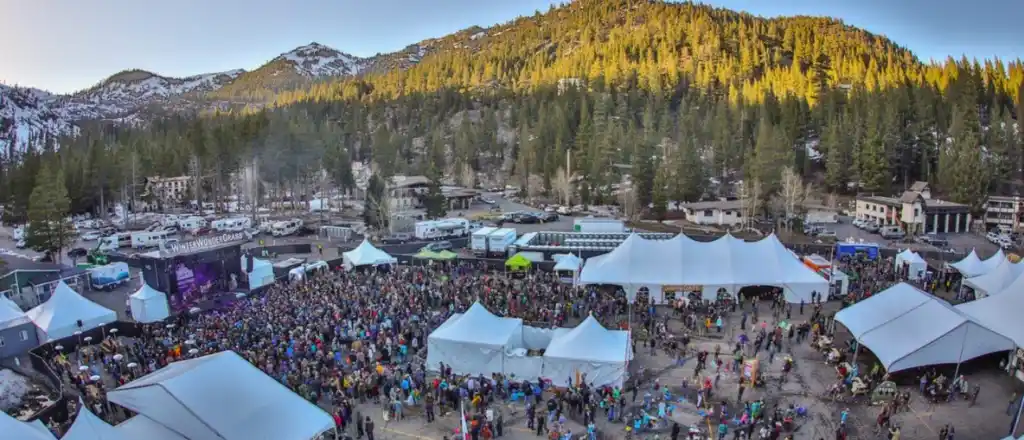 This is a 3-day long beer and music festival.
It takes place in April at Squaw Valley.
If you are someone who has not watched any pond skimming competitions, then you must tighten your shoelaces.
Visit Squaw Valley and Heavenly Mountain Resort to see the same.
Throughout the summer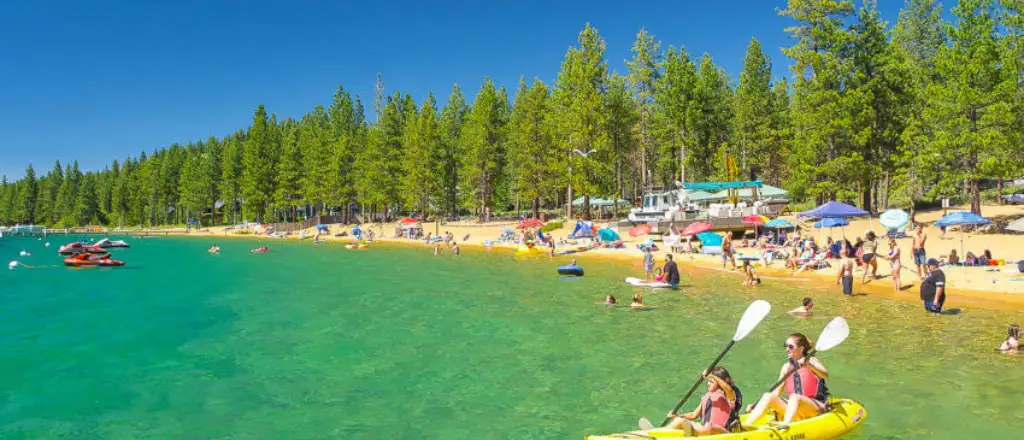 When in Lake Tahoe during the summer, so many things will be taking place around you. Every town and resort will have some arrangements. Make your time memorable as you celebrate music and art, from ultramarathons to weekend yoga festivals.
Activities you can do
You can go to the northern town of Lake Tahoe—Truckee every Thursday night.
Here, you have the best time in terms of artisan vendors, music, beer tastings, and so on.
However, you must visit early to find a parking spot.
Go and indulge in the 3-day-long Wanderlust Festival.
It is also the largest festival in the country to enjoy.

Mountain camping
and photography classes.

Summer is also the best time to go to Lake Tahoe to enjoy the Shakespeare Festival.
It takes place in August at Sand Harbor State Park.
Fall
It is also considered the "local's summer" and is the best time to enjoy outdoor activities. In addition to culinary festivals, biking, and running, there are so many other things to enjoy this season.
Events and activities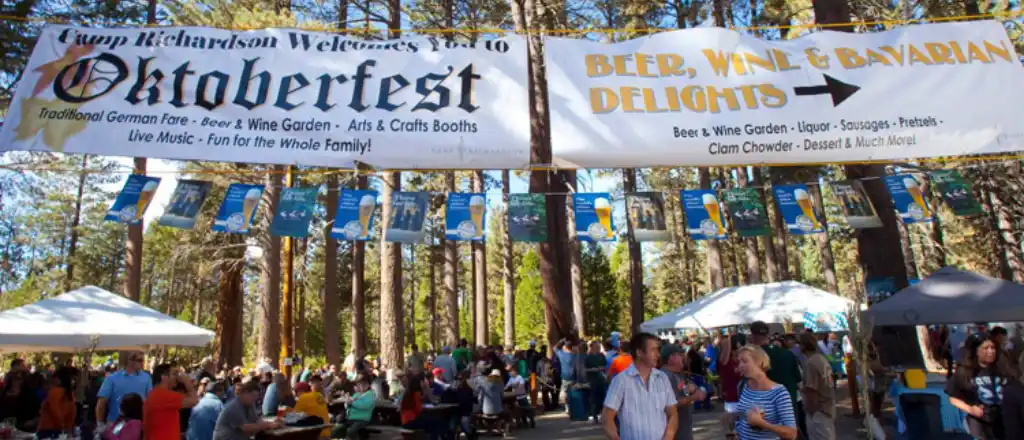 Oktoberfests take place at Camp Richardson and Squaw Valley.
It features beer-themed competitions.
Various bands are present to make the visitors' time amazing.
To experience the best-haunted chairlift rides, you must plan your visit to the Homewood Resort.
The autumn food and wine festivals are undeniably the most luxurious.
It will bring the best and most popular chefs under one roof.
So, visit here to try the local delicacies.
The fall season is also the best time to visit South Lake Tahoe in California to explore well-known wineries.
What is the High Season to Visit Lake Tahoe?
When it comes to the high season, there are mainly two – from June to August and December to March. Whether you want to have kayaks, bikes, snowshoes, or swimsuits, the slopes and beaches of Lake Tahoe will provide you with winter as well as summer fun.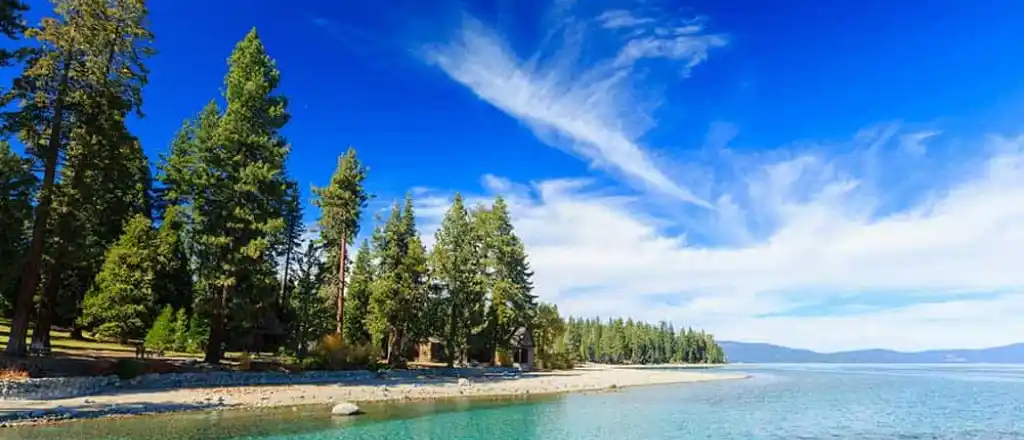 In addition to this, prices are high. Most places can be overcrowded. So, it is best to plan your trip for at least 5–6 months in advance. Even after the high seasons, these months can have extreme climatic conditions many times—heavy snowstorms and wildfires.
What is the shoulder season?
The shoulder months are those between March and May, along with from September to November. During the spring season, rivers have enough water to enjoy paddling and kayaking.
In the fall, aspen and other leaves start showing a bright yellow hue alongside their green backdrops. Snow-capped mountains, pocket-friendliness, less crowded spots, and beautiful weather can make your time worthwhile.
Since planning your trip during shoulder seasons is quite a tricky thing to do, you must pack some extra pairs of shoes.
hoodies,
caps,
and comfy clothes in your bag.
It is because predicting the weather during these months is not easy.
Month-Wise Details
In addition to seasons, you should also know what every month has to offer you. This will help you plan your trip better and pack things accordingly. Here is the detailed description:
By the middle of January, you will have snow-packed downhill ski resorts. These are the best spots for keen skiers. No snow is manmade as you will get everything natural in January.
This month is more like a winter wonderland for you. It is the best time for budget visitors as they can go to 18 Sno Parks sites to enjoy snowmobiling, cross-country skiing, snowshoeing, and sledding.
This is the month that will have the best climate and a lot of events such as beer trails, film crawls, 5k's, and, of course, the "mega daily" discounts to enjoy.
From golf to slalom skiing, April is the month that will bring a lot of good things to you. These are a few reasons why it is the best time to visit Lake Tahoe for swimming as well as hiking. While visiting in April, do not forget to keep skis, bathing suits, etc.
Snowy winters in May will provide you with great opportunities for skiing. But yes, the weather could be warm and pleasant. Even after this, it is still the best month to visit Lake Tahoe. The reasons are quite obvious — places will be less crowded and quieter.
Tourists start hitting the popular spots in June. Therefore, you will see more crowded beaches and higher prices for everything. But this month is no less than a paradise for kayaking, paddle boarding, and beach lovers.
July being a peak month, July will have dry mountain air with warm lake water. This is the best month to see prime entertainment like the Shakespeare Festival, Harvey's Summer Concert Series, and American Century Celebrity Golf Championship.
When it comes to the best time to go to Lake Tahoe in summer or winter, August is the month that will be at the top of the list. Since it is also a peak month, you will see higher prices and more crowds.
Even though schools reopen, Labor Day weekend will give people a good reason to have some relaxed time. This might be the last month when you see high prices and crowded tourist spots.
Although slopes and beaches will not be the right choices to visit in October, several festivities will be there to make your time better. You can head to the MontBleu Resort for a Halloween costume party. Or, simply enjoy delicious salmon at the Fall Fish Fest.
In terms of cost, you will have better deals to grab in November. The reason is that the slopes are closed, a bit of confusing weather, and less crowded spots. But this is also the time when the winter holidays are about to begin. So, Lake Tahoe will never disappoint you on this.
Snow can be seen everywhere. As a result, you will have more opportunities to visit ski resorts and participate in various snow sports.
In a nutshell,
Going to a place like this one can be extremely overwhelming when you don't know when and where to head to. Now that you know the best time to plan a visit to Lake Tahoe, you can now plan your trip as per your preferences and budget.