When you are planning your vacations or holidays, one of the most crucial considerations includes the best time and season to visit that place. If you are thinking about the 'heaven on earth' – Switzerland, then knowing such information can definitely make your trip great. It is because this can be planned as per the best time of the year to visit Switzerland along with some other important details. From seasons to months, the variations observed can give insights into the best places, events, and things you can engage in.
What is So Special About Switzerland?
Before shedding light on the best time for your visit, you should know what is so special about this place. This beautiful nation is blessed with so many natural yet breath taking sceneries, mountain lakes, and top-notch ski resorts.
In case you think that these are enough reasons to visit this tiny country, then wait – there are many more points to mention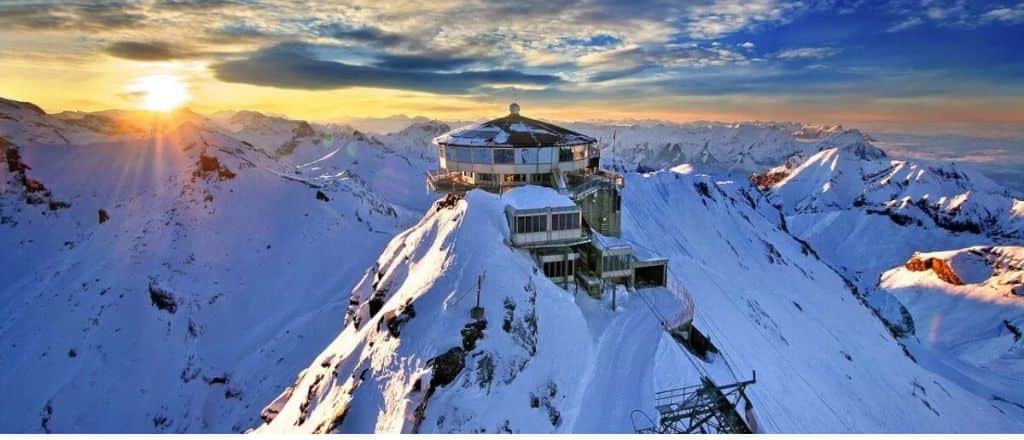 Situated in the center of Europe, Switzerland has some of the most immaculate natural parks. You will have maximum chances to explore rolling hills and valleys covered in colorful flowers during warm weather.
In addition to this, you will have never-ending yet picturesque trails such as Interlaken, Zermatt, and Grindelwald. In simple terms, sunshine, snow, or rain, Switzerland always looks beautiful.
What is the Best Time to Visit Switzerland?
Given that you are looking for some details related to the best time of the year to visit Switzerland, then you have landed on the right spot. The right time for your visit partly depends on the place in Switzerland you are going to.
For instance, if you are visiting to enjoy mountain hiking, then summer will be the best season as you can go high up in some of the most beautiful mountains. For skiing, on the other hand, you should plan your visit during winter.
When your visit includes a bit of all activities, the perfect months will fall between April and June. During this period, you will get some snow along with sunny days.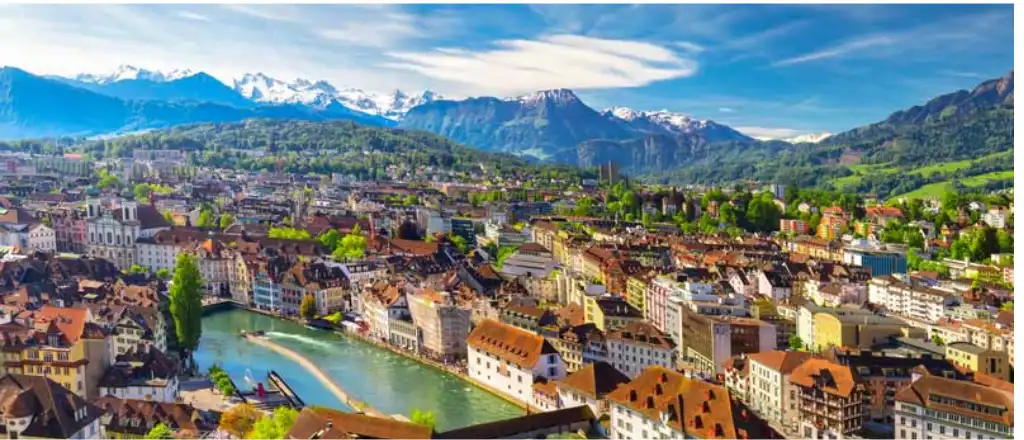 As per Temperature
When it comes to temperature during these months, it will remain somewhere between 15-20 degrees Celsius. For sightseeing and hiking, this is the best time. But yes, during this phase, May is considered the most unpredictable month in terms of climatic conditions. You may encounter cold evenings, sunshine, and even rain.
Summer crowds typically do not arrive until July and the crowds of winters are already gone. You will be provided with more privacy. This is one of the reasons why travel experts say that April to June is the best time to visit Switzerland for a honeymoon.
The icing on the cake is that you will have better discounts and deals available for your flight tickets and hotel booking during this period.
Best Seasons to Plan Your Trip to Switzerland
It is one of the nations with well-defined seasons. This can be said because you will get a chance to experience and enjoy sunny/warm summers as well as snowy and very cold winters. Depending on the month, the weather conditions and temperatures vary a lot.
Look at the following to know what season ensures the best time to visit Switzerland:
Spring (March-May)
This is the season that lets you experience the most stunning views of Swiss meadows covered in beautiful wildflowers. At this time, the temperature will be around 11 degrees Celsius with lots of snow but sunshine too. It is just a perfect time in case you want to go to the hills.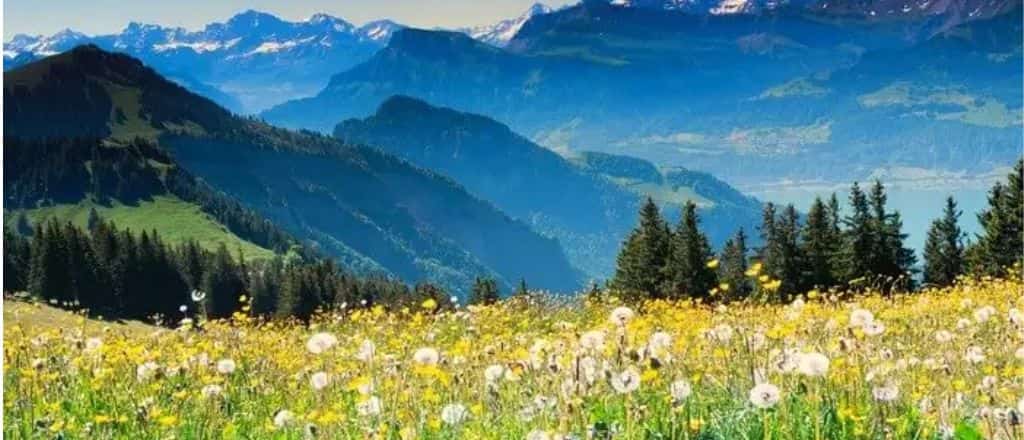 Moreover, the crowd is also quite thin and prices will go down. The daylight will be there for around 11 hours a day. To enjoy more during this season, you are advised to pack your bags as per the changing weather.
To enjoy cable cars and explore the mountains, you should visit the country during the summer. This is considered the best time to visit Switzerland, especially when you want to try your hands on hiking and trailing.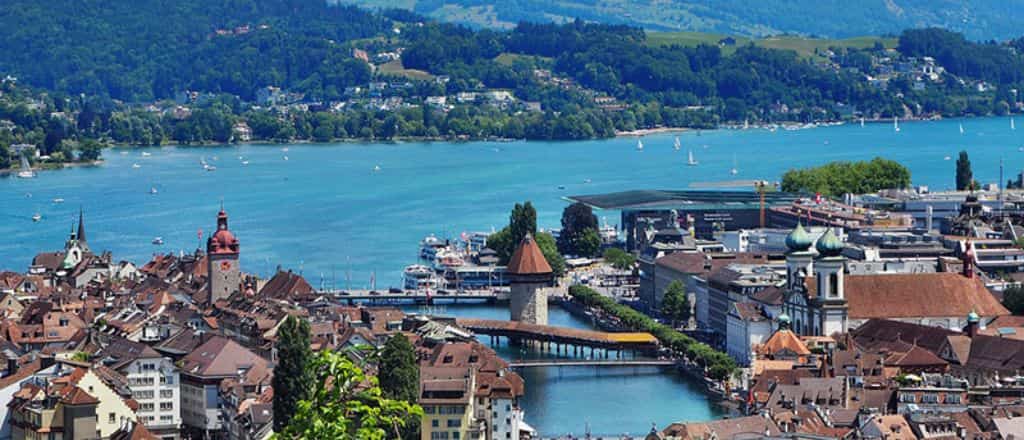 When you visit during the start of this season, you may also get some snow on trails. But to have the most amazing and perfect climatic conditions during this season, you can head to Lake Lucerne and Canton Valais.
These places will have plenty of daylight as the sun typically sets around 9:30 pm. When it comes to temperatures, it may revolve around 20 degrees Celsius.
While in Switzerland during summer, do not forget to enjoy the Nyon's Paleo Rock Festival (the largest concert in Switzerland) and the Lake Thun Music Fest. One thing you must know about the summer season is its unpredictable rains. So, it is good to have some waterproof clothes and other essentials to keep the thing dry.
Fall (September-November)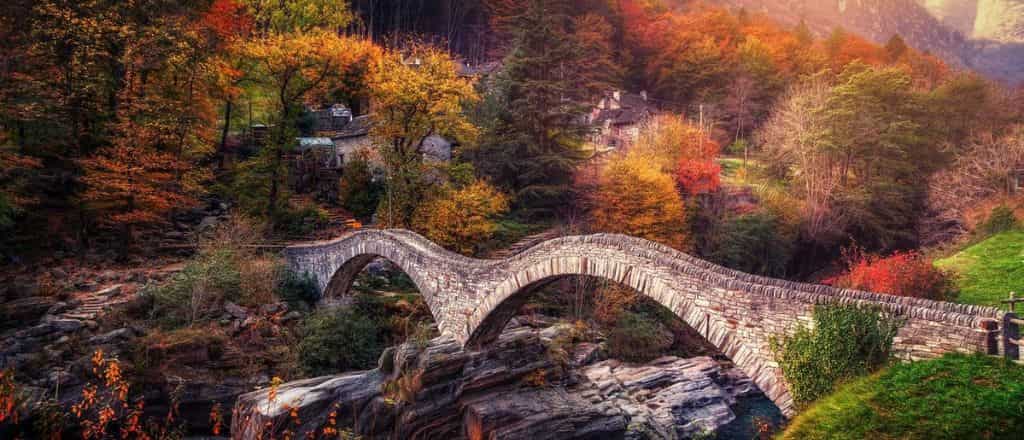 Should you want to see the real magic, then the fantastic time to come to Switzerland is during the fall. At this time, you will see a little fog, and rain, as well as notice that the leaves are changing color. The air has that freshness needed to make this season a perfect yet the best time to visit Switzerland for hiking.
When trees change their colors from red to yellow, it looks like a magic show. So, assuming that you want to do mountain hiking or trekking, you should not wait too long. Since the end of the fall season will have single-digit temperatures, it is good to have some warm clothes, thick jackets, and waterproof boots.
Winter (December-February)
As you are looking for the best time to visit Switzerland with your family, then winters are there to welcome you with open arms. This is the time when you along with your kids can have the most memorable time playing in the snow.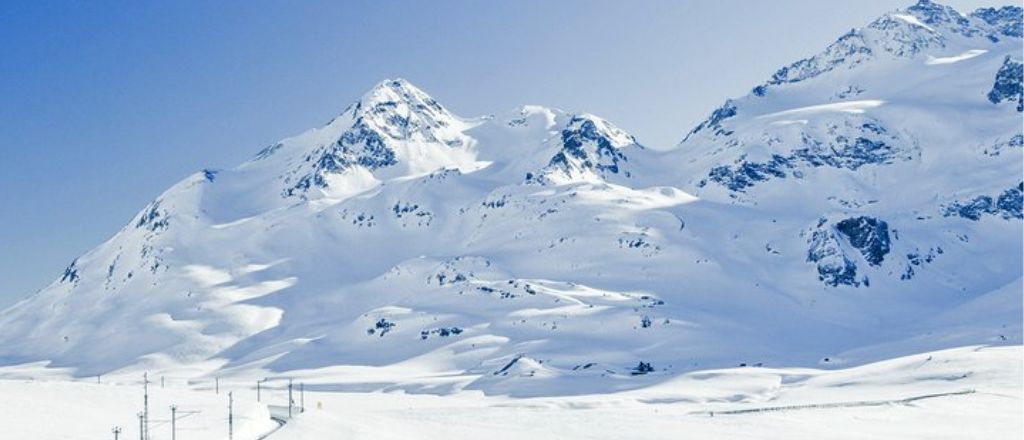 People who are enthusiastic about snow sports should visit during winter as there is enough snow to enjoy it to the fullest.
In case you are thinking what if you are not a snow sports lover or skier, worry not as this place has ample activities and things to do. For instance, you can spend the night in igloos or enjoy thermal baths. Simply put, do not feel sad as you have so many things to do here.
When it comes to the temperature during winters, this unpredictable season can have it 0 or just above it. At the beginning of winter, precipitation is quite common in the form of snow, sleet, or rain. But by the end of winter, you will see more sunlight and the temperature will be as high as 6 degrees Celsius.
Finding out the Best Months to Plan Your Trip to Switzerland
Provided that you are a keen snow sports lover or an avid skier, then nothing can beat the excellence of Switzerland's winters, particularly in January and February. This high-winter season is just perfect for skiing.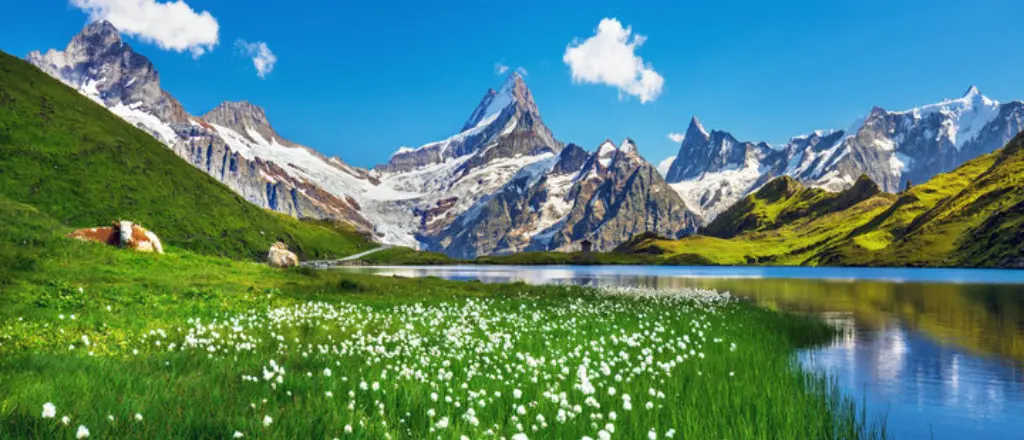 But when you are a hiking lover, this season will disappoint you. This is because most hiking trails remain closed during winter. So, to enjoy activities that do not have snow involved, the best weather time for you to visit Switzerland is during September and October.
This is the time when trees change colors. Between these months, the temperature can go as low as 7 degrees at nighttime. In case you are searching for budget-friendly airfares and accommodations, you are advised to consider shoulder and low seasons i.e. the entire October to plan your trip. At this time, you will have greater chances to get discounted travel packages.
When is the Best Time to Visit Switzerland for Skiing?
The skiing season in Switzerland typically begins in November and remains active for around 6 months. But when it comes to the best time for skiing, you should visit either in January or February.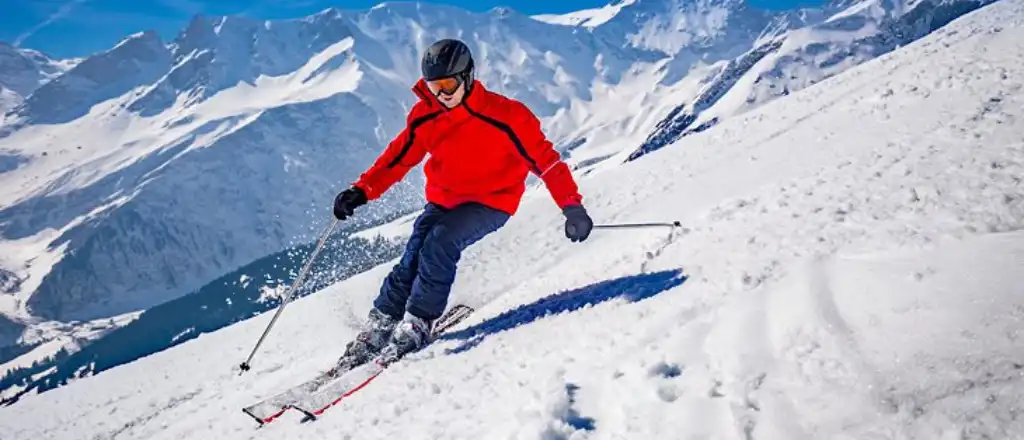 You must remember that these are among the most crowded and busiest months on the hills. In case you want to visit during these two busy months, you may need to pay more as the hotel charges and airfares are higher.
Remember: To avoid crowds or unnecessary hassles, you are advised to book your air tickets and accommodation in advance to have a stay nearby the slopes. Between these months, it can be made the best and cheapest time to visit Switzerland in this way.
In addition to the excessive crowd, you will also experience the coldest days in January and February. If you do not like this winter chaos, then you can visit the Theodul or Zermatt glacier as it has slopes at the height of around 12000 feet.
As a result, you can enjoy skiing throughout the year. When you do not want to visit during summer or have some other plans, head to the Klein Matterhorn to enjoy a cable car ride.
Most Popular Places to Visit During Winters in Switzerland
You may think that you have to learn skiing to admire Switzerland's beauty. Then you are wrong. No matter what season you pick as per your precise travel needs, budget, and other aspects, you will have plenty of things to explore and do.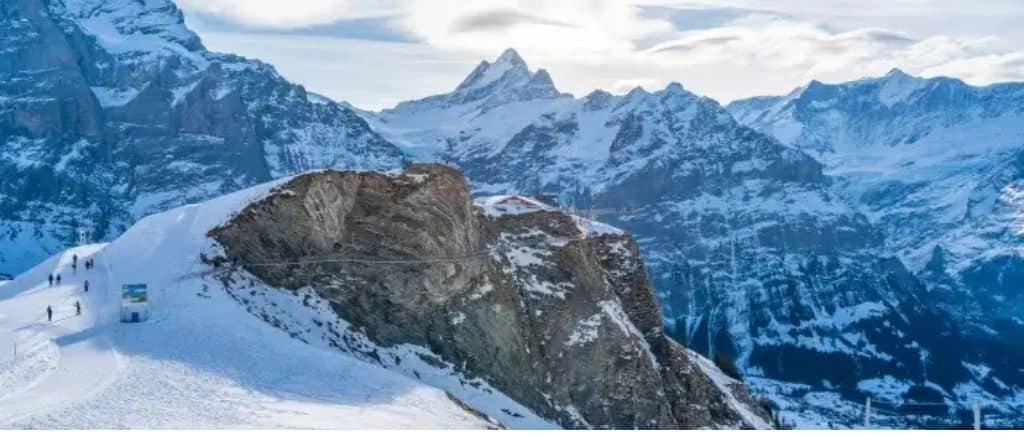 When it comes to the most popular and highly recommended alpine destinations, you should visit St. Moritz. This is a small resort town that offers so many activities including skiing (of course) and hiking. The St. Moritz Lake generally freezes during winters. Hence, you will get a chance to enjoy ice skating, ice polo, and cricket matches here.
Those who are looking for scenic train rides can choose to travel on the Bernina Express. This train departs from St. Moritz and provides a lifetime experience of picturesque towering glaciers, alpine valleys, Brusio Spiral Viaduct, etc.
Even though you can come here and enjoy it throughout the year, the right time to come to Switzerland weather-wise is during winter. It is also the best time to visit Switzerland from Italy as the distance is only of 4-hour travel. The weather will surely complement this.
Besides, you can also explore Zermatt, Bern, Basel, and Zurich on foot because of fewer crowds and the closed Christmas market. For summer-season explorers, Lake Lucerne is the best destination but it is an expensive yet busy place to visit. So, consider everything including your budget to decide when and where you should go during your trip.
Best Time to Visit Switzerland Alps
The famous Swiss Alps or Alps are home to the most famous – the Matterhorn mountain. While at this place, you will get a chance to explore authentic Swiss villages such as Grindelwald. Along with this, you will also have never-ending rolling hills and valleys covered in beautiful and colorful wildflowers.
Generally, the Alps are associated with mesmerizingly snow-capped mountains. Hence, the best time to visit here is between June and October. During this period, the climate is pretty mild. There is not so much rain to ruin your plans. Instead, nature flourishes during these months.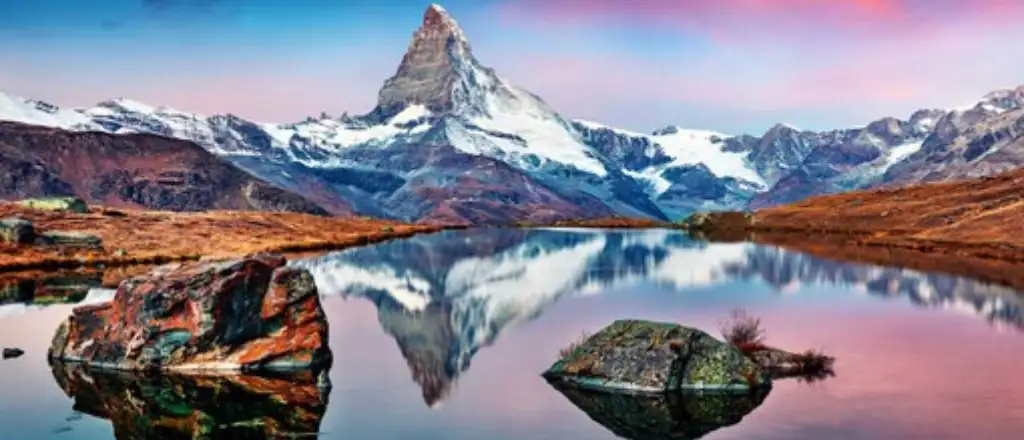 In July as well as August, you can have peak periods to enjoy mountain biking, hiking, and other thrilling activities. You can also take a cable car to go to the highest trails.
Important: If you plan your trip before or after these given months, then you should check everything in advance to avoid standing in long queues.
Month-by-Month Events and Activities in Switzerland
Since this country has 4 main seasons, each one of them has its specific attractions and events. For instance, the spring months offer flowering trees and alpine blooms.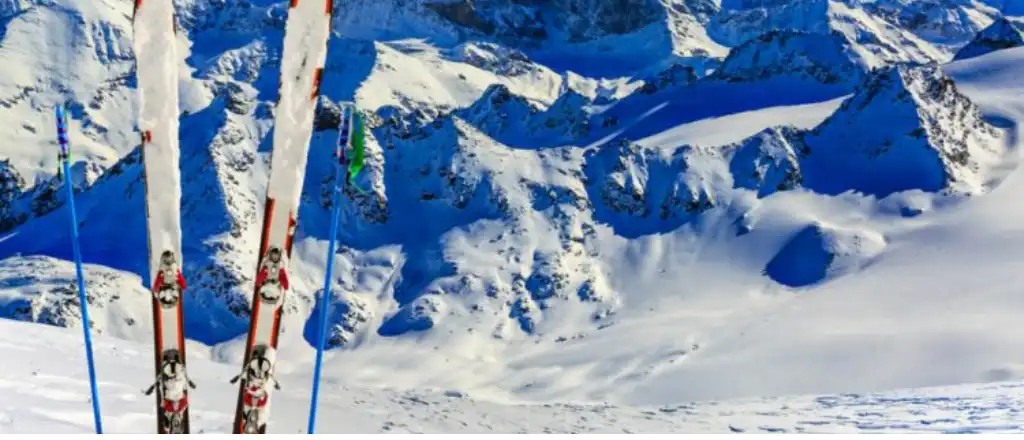 Summer months, on the other hand, provide the visitors with great sightseeing at the lake shores. Similarly, falls bring fruits and wine harvests. Winters will make you go crazy with winter sports and skiing.
Now, look at the following to know the events/festivals you can attend during your visit based on the months:
December and January
While you are searching for the answer to when's the best time to visit Switzerland, then December and January could be your lucky months. These two are the coldest months but not the wettest ones.
Due to Christmas and celebration mode on, the charm of this beautiful place is on another level. With bright sun and crisp blue sky, you will have the following to enjoy: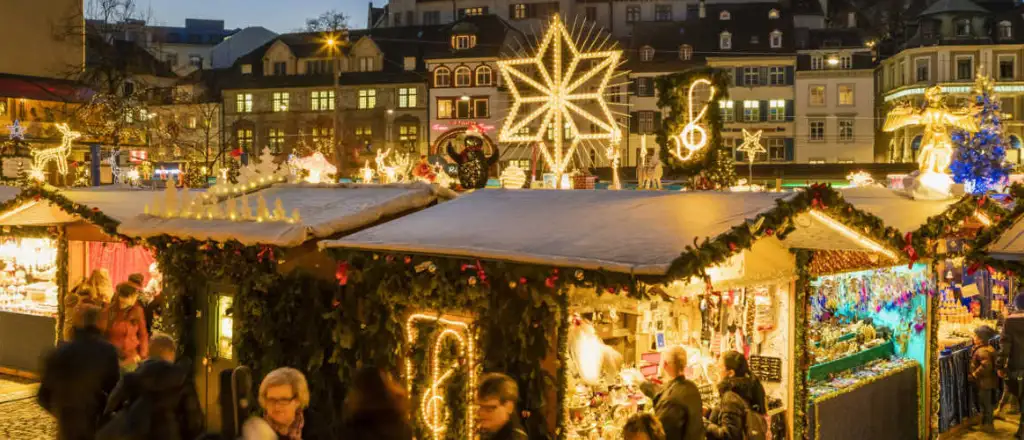 Christmas Markets: These markets open in mid-November till early January. You can enjoy traditional foods, as well as hot spiced wine, and buy some beautiful handmade crafts
February and March
During these months, the temperature starts rising. But you will also notice more snow and rain at altitude. Due to mid-term breaks in the schools, you will get most of the ski resorts full.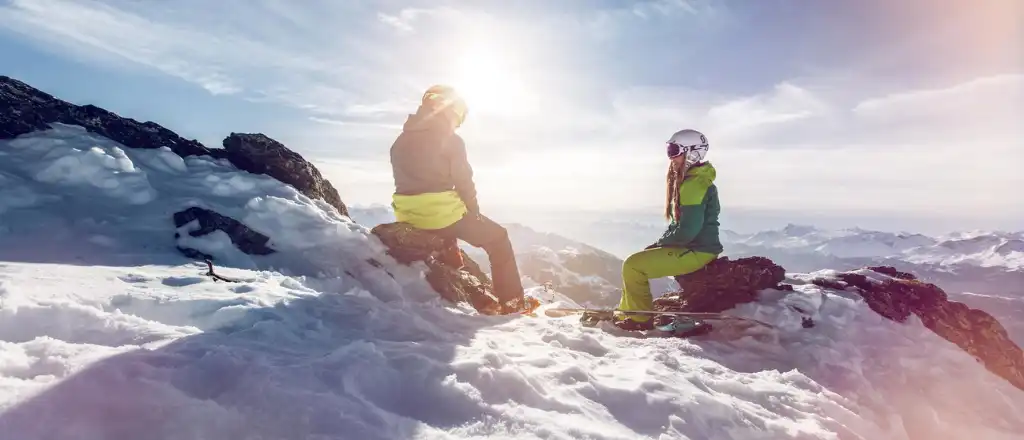 April and May
These are the months when spring arrives. Therefore, it is one of the best times of the year for you to visit Switzerland as you will be able to appreciate the beauty of bright flowers.
June and July
They are considered the summer months. In case you want to capture the most scenic views of the mountains, then you must visit between June and July. The climate is fairly mild and it is rarely hot. But yes, you may experience sunny and dry days.
Furthermore, the following will take your heart away: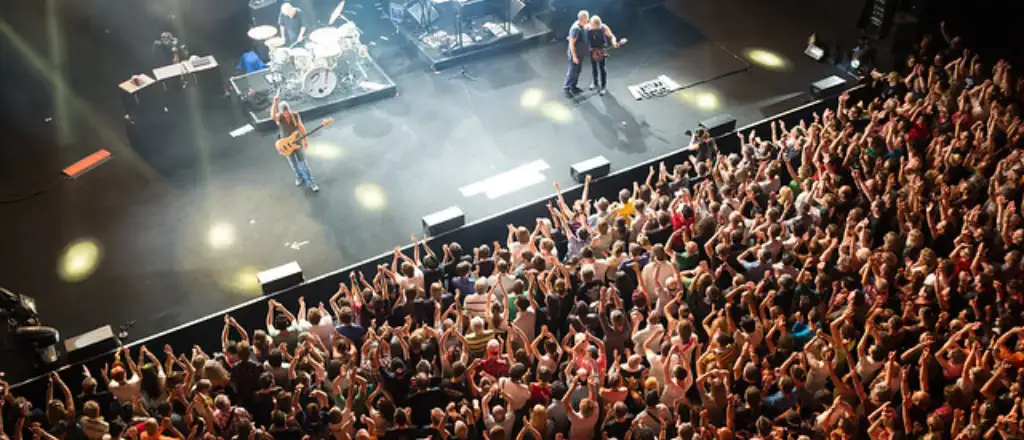 Montreux Jazz Festival: Taking place in July, it is one of the biggest music festivals in the country. Artists from all around the world attend this 2-week long festival and perform on Lake Geneva's shores.
August and September
This is the period when fall approaches. The cities, lakes, and mountains are overflowed with harvested beauty. The scenery of the forest takes on the golden brown cloak, colorful flowers adorn chalets of woods, and mountaintops wear snowy caps during these months.
In addition to all these, you can attend and enjoy these:
August 1: Swiss National Day – you can attend parades and enjoy live music along with fireworks across the cities and towns
October and November
This is the late fall season when the last set of wine grapes is harvested. Beginning of winter days, you will have lovely yet sunny days. But a lot of restaurants, hotels, and tourist attractions are closed during these months.
Here, you can enjoy the activities as follows: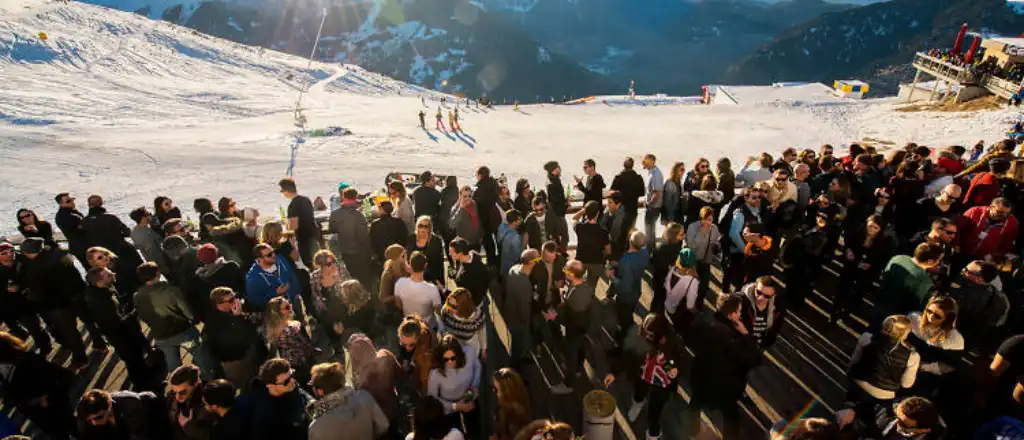 Christmas Markets: Since these markets open in mid-November, you can explore places on foot and enjoy local delicacies.
The Bottom Line
Any moment is the best time to visit Switzerland. But winters are considered the most perfect. Irrespective of the time chosen for your trip, ideal plans are all you need for your trip. It includes the understanding of the best time, season, places, and so on. Once you are familiar with these aspects, you will be able to multiply the joy and cut down the stress associated with a trip.