A pet dog, cat, or any other animal is more like a family member. Therefore, leaving them alone at home while you are traveling is very difficult. Frontier Airlines is committed to moving your pet animals from one place to another in the safest manner possible. Yes, the Frontier pet policy allows you to take your loving critter with you on the next trip. However, you will have to learn a few important things about this policy.
Quick Overview of the Frontier Airlines Policy for Pets
Frontier Airlines is a prestigious name in the aviation sector. It is also highly preferred by people when it comes to moving feline friends from one spot to another. As per the pet policy of Frontier Airlines, you can transport your pet but you will need to follow the below-listed points:
You can transport domesticated pets such as dogs, cats, hamsters, rabbits, small birds, etc.
Note that you will need to pay the directional charges in advance.
In case you do not do so for any reason, you are advised to pay as soon as you reach the check-in counter.
To travel with your pet, you will need to buy a hard-sided or a soft-sided container.
Or, buy a cage and it should be approved by the FAA.
Along with the pet's carrier, you can also keep one personal item or carry-on baggage.
You cannot travel with pets as checked items.
Check, read, and understand all applicable rules, laws, and governmental regulations mentioned in the pet policy of Frontier Airlines.
You should keep the necessary health documents and certificates to avoid unwanted hassles.
Do not give water or food to your pet before 4 hours of the expected departure of your flight.
Pro Tip: To make your trip smoother and stress-free, you are advised to check the state and nation-wise requirements for traveling with a pet. It is recommended because some countries will ask you for health certificates, and others will not.
Important Points of Frontier's Pet Policy
Whether you are planning to book a flight ticket with this carrier or have already booked, you are advised to read everything beforehand. Below are some important points that are listed in the Frontier Airlines pets policy: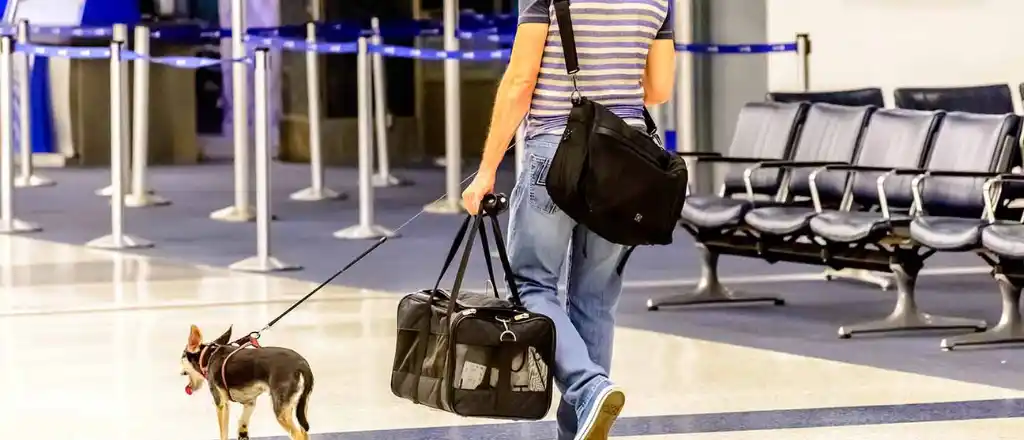 You cannot travel with every animal on the flights of this airline.
This policy only allows domesticated:

cats,
dogs,
hamsters,
guinea pigs,
and small birds.

For international travels, you will only be allowed to carry domesticated/household:
All pets, irrespective of the route chosen (domestic or international) should travel in the cabin.
You will not be allowed to sit in the rows around the exits.
For safety reasons, you will need to keep your pet in the carrier or cage all the time.
Whether you are at the airport or on a flight, your pet should be in the container.
While on the flight, you will not be allowed to give food or water to your pet.
This rule is here because your pet may feel uncomfortable due to:

travel stress,
aircraft motion,
and several other factors.

Your pet should not show any disruptive behavior on the flight or at the airport.
The pet you are carrying should be harmless, odor-free, and healthy.
REMEMBER: The airline does not have the facility to provide oxygen to pets in case of an emergency. So, meet the vet of your pet before you take him on the flight.
Pets or Species Frontier Airlines does not allow
Keeping the safety measures of other passengers in mind, the airline does not allow the following species or pets onboard:
| | |
| --- | --- |
| Cockatoos | Macaws |
| Parrots | Birds of prey |
| Squirrels | Rats |
| Mice | Ferrets |
| Beavers | Snakes |
| Insects | Spiders |
| Bears | Tigers |
| Lions | |
Age Requirements
No matter which animal you are carrying, you will need to check the age and related aspects. The Frontier Airlines pet flying policy lets you travel with an animal that is at least 8 weeks old. The airline reserves the right to deny boarding in case you are found to not abide by the age and related rules.
Container Related Points
While choosing a cage, you are advised to read and understand the Frontier Airlines pet carrier dimensions and other rules. Some details have been given below. Take a look:
You should buy a container that is spacious enough as per the size of your pet.
It must have space so that your pet can easily stand, lie down, and turn around in the most natural way.
This carrier should perfectly fit under the front seat.
On Frontier, the pet carrier size dimensions should be 18 inches (length) x 14 inches (width) x 8 inches (height).
Even though hard-sided cages are also fine, it is best to go for a soft-sided one to ensure maximum comfort for your pet.
Frontier Airlines Pet Health Certificate
The United States Department of Agriculture or USDA has regulated the transportation of pet animals within the country. Even though Frontier Airlines will not ask you for any health certificate or document in the cabin, you may need to show it to the concerned authorities, depending on the nation or region you are traveling to/from.
When it comes to international routes, you will need all sorts of health documents and certificates for your pet. Since every country has a slightly different requirement in terms of vaccination, you are advised to check everything in advance.
Here are some health certificate-related details mentioned in the Frontier Airlines pet travel policy:
The certificate should be dated as per the specific rules of the country you want to enter.
For instance, if you are planning to go to Puerto Rico, then the date should be within 30 days before the entry.
The certificate should have the:

name,
address,
contact details of the owner,
type or breed of the animal,
origin nation,
rabies vaccination,
and related details as per the travel destination.

You must also read the Frontier Airlines misspelled name rules in case you enter something incorrectly.
According to the latest pet policy, you will need to mention:

hepatitis,
leptospirosis,
and PIP vaccination details.

The health certificate should be in French or English.
It should be completed by a certified veterinarian to pinpoint the animal's breed, vaccination date, and so on.
You must add parasitic treatment and related details to your pet's health certificate.
Frontier Airlines Pet In-Cabin Fee
To travel with your pet, you will need to pay a certain amount as a fee. For one-way travel, you will need to pay an amount of USD 99 for domestic routes. To talk about the international travel fee, it will vary from one destination to another. So, check the same for detailed information.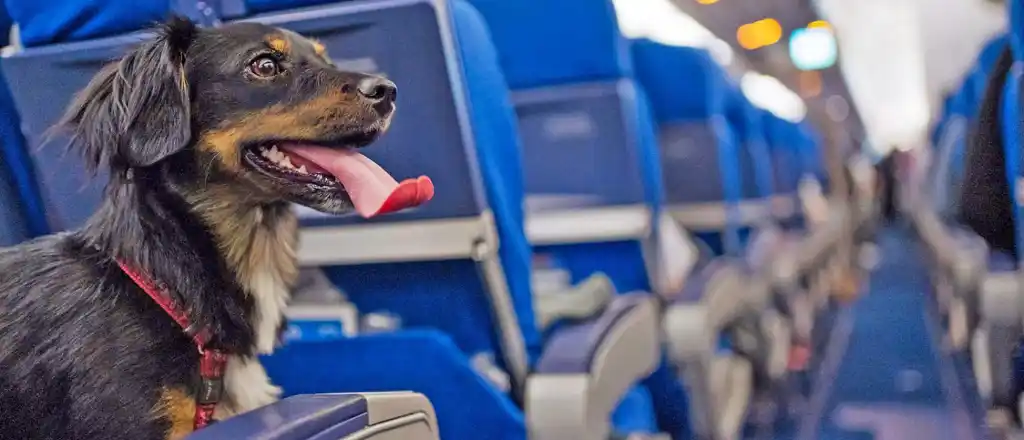 Due to a delay in your flight, you may want to discontinue it and get a refund. You are also advised to check the Frontier delay compensation rules as well along with the pet policy. Or, you may contact the airline to know whether the pet-in-cabin fee will be refunded.
Understanding the Pet Policy for Emotional Support Animals
Previously, this airline was accepting emotional support animals for free. But now, there is no such benefit available. The Frontier Airlines pet policy for emotional support animals has been taken back by the authorities for some unknown reasons. It means the same pet policy will apply to emotional support animals as well.
What are the Rules for Service Animals?
Frontier Airlines has revised its policy as per the US Department of Transportation's latest rules. Therefore, now you can bring a psychiatric, therapeutic, and well-trained service animal. The Frontier Airlines service pet policy only allows dogs as service animals.
However, the following should be fulfilled:
The dog should be properly trained to guide and assist the ticketed passenger/owner.
You can bring a maximum of 2 dogs free of cost.
The 'Service Animal Air Transportation Form' should be downloaded and filled completely before traveling.
This form should validate if the dog is healthy.
You must submit this form online at least 2 days before the expected departure time.
Then you can also submit a hard copy at the airport to the aviation executive of Frontier.
When the journey is of 8 hours or more, you will need to download, fill, and submit the 'US DOT Service Animal Relief Attestation Form'.
Every country is different and so are the document-related requirements. Check with the customer care of Frontier before booking tickets.
The age of the service dog should be at least 16 weeks.
Your dog should be fully-trained and well-behaved.
It will need to sit on the floor, not on the seat.
The dog should remain within the seat's footprint.
You will need to keep your dog with you all the time.
It must be leashed, harnessed, or tethered.
Your pet must not bark, bite, attack, or growl at people.
The dog should not urinate or defecate inside the flight or at the airport.
FAQs
What is Frontier Airlines' pet policy?
The pet policy of this airline allows people to travel with their loving pets. The pet could be anything – a dog, cat, rabbit, hamster, guinea pig, or a small bird.
What are Frontier Airlines-approved pet carriers?
According to this policy, your animal should be in the FAA-approved carrier all the time and behave in a certain manner. For detailed information, you must check and read every rule of Frontier's pet policy.
How much does Frontier charge for pets?
The airline charges USD 99 for a one-way trip within the country. But for international routes, the charges will depend on the country you are traveling to or from. So, check with the airline for more information.
Does Frontier allow pets in-cabin?
Yes, the airline only allows pets in the cabin. You cannot carry them as a checked item.

Does Frontier allow pets in cargo?
No. The cargo facility is not available for pets.
Can you bring all pets on Frontier Airlines?
The carrier does not allow all types of pets on the flights. You can only bring domesticated cats, dogs, guinea pigs, hamsters, rabbits, and small household birds on the flight. When it comes to restricted pets, you will not be allowed to bring big birds such as parrots, cockatoos, macaws, squirrels, ferrets, snakes, spiders, insects, and so on.