To transport your pet within the country or outside, you can choose Hawaiian Airlines. It helps passengers move their cats, dogs, and household birds in the safest manner possible. To make things simpler, there is Hawaiian Airlines' pet policy. It comes with some conditions and restrictions. You must read and understand everything thoroughly before booking.
Ways to Transport/Carry Animals on Hawaiian
Animals can be transported either in the cabin or through cargo services. Both these ways come with some restrictions and rules that you must follow.
Detailed information has been listed below:
Pets in the cabin
Only cats and dogs will be allowed.
You can only travel with them on flights between North America and the State of Hawaii including inter-island flights.
It should be kept inside an approved kennel.
The kennel must have sufficient space for your animal so that it can stand, turn around, sit, or lie down comfortably.
Based on the Hawaiian Airlines pets-in-the-cabin policy, you will need to pay a certain amount as a fee.
Important: Traveling with a dog or cat on Hawaiian Airlines is subject to space availability and applicable fees. So, book as soon as you plan your trip or decide to take your animal with you.
As Checked Baggage (in the Cargo)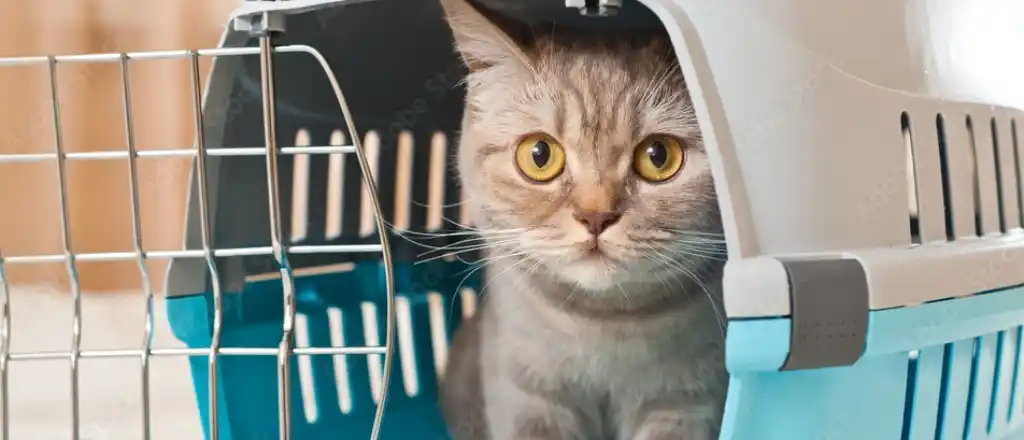 To ship animals as checked baggage, you will need to opt for the freight facilities.
The combined weight of this being and its carrier should not be more than 70 lbs.
You will need to book for your furry being at the time of reserving your seat. To make arrangements, you can dial:
1-800-367-5320
or 1-877-422-2746
Hawaiian Airlines' pet cargo transport policy ensures the safest possible transition but you are advised to reserve a space in advance.
Rules for Traveling with Trained Service Animals
This airline welcomes passengers with trained service animals. However, they should be fully trained to perform certain tasks/things for the people they are traveling with. Please note that they are different from the comfort or emotional support animals.
Below are some rules for traveling or flying with service animals have been given below:
Only dogs are accepted as service animals when they have to travel with passengers having special needs.
You will need to inform the airline at least 2 days (48 hours) before the expected departure of the animal.
The U.S. Department of Transportation Service Animal Air Transportation Form should be filled and submitted by the owner.
In case the flight duration is 8 hours or more, passengers will have to complete the U.S. Department of Transportation Service Animal Relief Attestation.
Submit a valid health document/certificate along with the inspection permit from the Hawaii Department of Agriculture for the flights to Hawaii.
While at the airport, you will need to inform the Hawaiian Airlines agents that you have a service animal. They will evaluate everything and check it to see if it is behaving appropriately and safely.
As per the latest pet policy, service animals should also be harnessed and leashed when at the airport and on the flight.
They can only be unleashed at the animal relief areas.
If your dog shows any disruptive behavior, then your boarding may be denied by the airline.
You will be allotted seats on certain rows only.
The airline does not offer food, water, medical assistance, and blankets for these animals.
For destinations such as North America, pets will need to complete the quarantine and related rules.
Read and understand the rules along with the Hawaiian Airlines name change fee in case you want to modify something after booking.
Note: Therapy, emotional support, under-training service, and companionship animals are not counted in this category. They can only be transported as pets either in the passenger cabin or baggage compartment (cargo).
Emotional Support Animals and Applicable Rules
These animals used to travel with passengers who needed companionship, affection, or comfort during the trip. However, they are not trained to do any task or work to help the passengers with their needs.
Please note that Hawaiian Airlines' flying with pet/animal policy was modified in 2021. As per one new rule, the airline is no longer accepting emotional support animals – with effects from January 11, 2021. But yes, you can bring them as pets if they meet all the requirements.
Carrier Requirements for Traveling with Animals
The airline only accepts pets in an approved carrier. To travel with your friend, you will need to keep the following points of the kennel and its requirements in mind:
The kennels should be leak-proof and soft-sided.
It should have sufficient space for your animal so that it can remain in a comfortable position.
The suggested dimension for the carrier is 16 inches (L) x 10 inches (W) x 9.5 inches (H).
You should make sure that the carrier is properly locked and well-ventilated.
The airline will not allow you to put 2 beings i.e. a dog and a cat in the same carrier.
To travel in the passenger's cabin, the combined weight must be 11 kg.
When it comes to the minimum age, your dog or cat should be 8 weeks old, while for household birds, the minimum age must be 2 weeks.
Hawaiian Airlines Pets Fees
Traveling with dogs, cats, and household birds is not free. You will need to pay an amount for it. Below is the kennel fee that you will need to pay:
In the cabin
Traveling within the State of Hawaii: USD 35
Going between North America and the State of Hawaii: USD 125
Moving between Japan and Honolulu: USD 340
In the cargo/baggage compartment
Traveling within the State of Hawaii: USD 60
Between North America and Hawaii/State of Hawaii: USD 225
Important Points of this Policy to Remember
This policy has some important points that you must keep in mind while traveling with your dog, cat, or small bird. The same has been discussed below. Take a look:
This policy is only for cats, dogs, and small household birds.
For traveling with a pet, you will need to do a booking in advance.
The permission to travel with your animal depends on the space availability.
Once you get the space, you need to get an approved carrier that is as per the requirements of the following:

the United States Department of Agriculture Animal Welfare Act (AWA)
and the United States Department of Agriculture (USDA).

The animal should remain in the cage all the time.
Your pet must not display aggressive behavior, excessive barking, hissing, or growling, and emit a strong odor.
You will only be allowed seats in certain rows.
You cannot sit in the emergency, bulkhead, and First-class sections.
The kennel must be placed under the front seat.
Your pet should be leashed and harnessed properly.
No live animals will be accepted for any interline transfers.
There are some special rules if you are traveling to or from North America (direct) or to Neighbor Islands.
While traveling to the State of Hawaii, every dog or cat should be quarantined for up to 120 days, as is hinted by the Hawaiian Airlines pet-travel policy.
For taking birds, passengers will need two permits which include:

the Plant Quarantine Import Permit
the Poultry and Bird Permit from the nearest Livestock Disease Control Branch.

A health certificate should be needed to travel to or from the State of Hawaii at least 14 days before the expected departure.
The carrier does not accept any animals in the cabin if traveling to/from:

New York,
Florida,
Massachusetts,
American Samoa,
and Texas.

But you can transport your pet in the cargo to these destinations.
You will need to sign a "liability release" to carry snub-nose or short nose cats and dogs.
This air operator will not accept any ill, injured, or dead animal.
With reference to the Hawaiian Airlines pet policy for in-cabin travel, no carrier will be accepted that is:

hard-sided,
non-folding,
or non-collapsible
and made of metal, wood, metal, etc.
Remember: As the owner, it will completely be your responsibility to take care of your dog or cat throughout the trip.
Environmental Conditions and Rules for Traveling with Pets
In addition to certain travel rules, the climatic conditions should also be adequate for your furry friend. Below is the detailed information in relation to this:
Pets will not be accepted if the temperature of the travel destination is below 20F or -7 degrees Celsius.
The air operator does not allow pets in case the temperature or the local or travel destination is more than 29-degree Celsius or 85F.
Note: You may need to submit an acclimation or health certificate by a certified vet for a certain destination to travel in specific climatic conditions.
Restricted Animal Types
Keeping the safety measures in mind, the airline has restricted the travel of certain species or types of animals. Here is the list:
| | |
| --- | --- |
| Ducks | Chickens |
| Pigeons | Falcons |
| Peacocks | Rodents |
| Ferrets | Mice |
| Rats | Guinea pigs |
| Snakes | Spiders |
| Turtles | Live fishes |
Note: This is just an indicative list. You should connect with Hawaiian Airlines and its customer care for detailed information.
Rules for Traveling with Birds
To travel with birds, the policy of this airline has some special rules. Look at the points below to know the same:
Some species are listed as "injurious birds".
Hence you will need a special permit from the Division of Forestry and Wildlife (DOFAW) of Hawaii before traveling.
For inter-island flights, the Hawaii Department of Agriculture will inspect your bird to see if it is fit for the trip or not.
No bird is accepted to travel from or to Arizona and Phoenix.
Rules for Traveling with Animals on International Routes
There is a different set of rules for traveling with pets on international routes. Go through the below-given points of the policy of Hawaiian Airlines for flying with pets on international travels:
As per rule number 56, Hawaiian does not accept any animals in the cabin as well as in the baggage compartment on international routes.
You can only travel to selected destinations internationally. These include:

Honolulu
Japan (Kansai, Narita, Haneda, and Fukuoka).

Active-duty members of the US military and their dependents will need special permits to travel internationally with their cat or dog as a checked item.
Without valid health certificates and documents for the designated routes, you cannot travel with your dog/cat.
For travel to or from the USA and Japan, you will need to fulfill import and export-related requirements.
Pets will not be transported if the temperature is below 7 degrees Celsius or above 29-degree Celsius.
Check the Hawaiian Airlines delayed baggage compensation policy and other aspects to save your time later. Doing so is particularly important when your long journey is delayed and becomes inconvenient for the animal.
Check-in with Pets
Keeping the comfort and safety of your animal in mind, Hawaiian Airlines asks owners to reach the airport 4 hours before the expected departure time. Since online check-in is not available with pets, you will have to do it offline at the airport.
Being an animal-friendly air operator, this airline makes sure that every animal is transported in the safest and comfiest manner possible. However, owners are expected to sincerely read, understand, and follow the rules of Hawaiian Airlines' pet cargo and in-cabin policies.
Frequently Asked Questions
Here are the answers to the frequently asked questions about Hawaiian Airlines and its pet policy:
How to add animals as per the Hawaii Airlines pet policy?
To add animals, you can either call 1-800-367-5320 and 1-877-422-2746 or simply take out some time to visit the nearest ticketing office of Hawaiian. However, the best way to book a space for it is to reserve a spot while booking your tickets.
How to do Hawaiian Airlines pets cargo bookings?
All cargo bookings can be done via a phone call. You can dial 1-800-367-5320 or 1-877-422-2746 for this purpose.
Does Hawaiian Airlines allow all pets in the cabin?
Going by the pet policy, you can only bring dogs, cats, and small household birds into the cabin.
What is the Hawaiian Airlines-approved pet carrier size for in-cabin?
According to the policy, the recommended size of the carrier is 16 inches (L) x 10 inches (W) x 9.5 inches (H).
What is the Hawaiian Airlines pet cargo phone number?
To connect with an official executive, you can dial 1-800-367-5320 or 1-877-422-2746 and get details about the cargo policy and rules.