Pets are as much a part of the family as relatives. This is why traveling with pets has become one of the most important requirements these days. Whether it be long vacations or short trips, an increasing number of travelers are now requesting animal travel.
Understanding the concerns of the customers, KLM Airlines has come up with a pet policy. This is referred to as the KLM pet policy which enables passengers to fly with their animals. Comprehending the rules and regulations of this policy can help you to have a good flying experience.
Basic Guidelines Of The KLM Pet Travel Policy
When you wish to carry an animal on a certain airline, you must follow the guidelines given by that airline. In the same way, all pet owners are required to obey the conditions given under the KLM Airlines' pet travel policy. By adhering to these regulations, you can ensure the safety of both the animal and the fellow fliers.
Further, it is the duty of the airline authorities to make certain that all travelers follow these regulations. Hence, understanding each of these points carefully is essential. Given below are some of the most important guidelines of the pet policy of KLM Airlines:
All the official reservations made via the legitimate sources of this carrier will be eligible to access the pet transport service.
In case you have chosen a third-party agent to make your flight booking, you will have to contact them to make a pet booking as well.
On this airline, animals can be transported as cabin baggage. The feature to ship them in the hold as cargo is also made available.
The pets which are not eligible for either the cabin or the cargo luggage can be sent as checked baggage.
Every passenger flying with an animal is required to submit certain documents and medical certificates. These documents are needed to prove that the animal is healthy and fit enough to fly on the airplane.
On KLM Airlines, pets safely, you will have to meet some pet container requirements.
Only a limited number of animals will be allowed on the airline. Hence, booking a spot well in advance is necessary to access the pet travel service.
The fliers who have an animal travel reservation must arrive at the airport at least 2 or 3 hours before the time of boarding.
Payment of the pet fees is mandatory irrespective of the type of transport you choose. However, some exceptions might apply based on the nature of your animal.
Each individual country might have its own policy regarding pet travel. The rules under such individual policies are to be followed as well by the passengers.
Apart from allowances, there are also certain restrictions that are applicable to pet transport on this carrier.
Note: For any queries regarding the aforementioned points, you can visit the official site of the airline. Information regarding other policies like how to change the KLM name on a ticket, the flight change policy, and how to select seats can also be obtained through this site.
Does KLM allow pets in the cabin?
Yes, this airline is quite liberal in its pet policy. It permits the transport of animals inside the cabin. The KLM pet-in-cabin policy allows cats and dogs on board. Pets can fly alongside their owners on the same flight.
However, this type of animal travel is subject to several conditions. Animals should be able to travel on board without causing any disturbance to their fellow fliers. Hence, it is important to follow these regulations and ensure a hassle-free journey.
Conditions Of The KLM Airlines Pet In The Cabin Policy
Some basic regularities have to be followed no matter the type of transport you choose. Bringing pets on board can become difficult in case these guidelines are not obeyed. Therefore, as a pet owner, you ought to refer to the following conditions of the KLM pet policy in the cabin:
Passengers are allowed to carry one cat or one cat in Economy class. On flights within Europe, pets can be brought in Business Class.
You will have to keep your animals in the space given under the seat. Hence, only those pets will be accepted which will fit in the given space.
Throughout the entire flight, the pets in the cabin should remain inside the crate or the kennel. They cannot be let out free on the flight.
Travelers are required to make a pet travel reservation as soon as their booking is confirmed. Otherwise, there might not be enough space for your animal to be accepted on board.
When flying to international or intercontinental destinations, the Premium Comfort Class and the Business Class passengers cannot use the in-cabin pet service. This is because these classes do not have a seating space where animals can be stored.
Animals will not be accepted if they are too young to travel. The animals must be at least 15 weeks old in order to get the necessary approval.
Note: Since the KLM Airlines pets in cabin international policy does not allow the transport of animals in the Business class, you can try sending them as checked baggage or in the hold as cargo luggage.
Weight and Size Restrictions Of KLM Pet In Cabin Policy
Overloading of the aircraft is one of the most troubling factors when traveling by air. To avoid such dangers, the KLM pet-in-cabin policy has given certain weight and size limitations.
These restrictions enable smooth journeys by ensuring that the airplane does not go over its weight limit. Therefore, every passenger flying with their animal is expected to adhere to these limitations without fail.
The maximum allowed weight inside the cabin for an animal is 8 kg or 18 lbs. Keep in mind that this includes not only the weight of the animal but also the weight of the container.
The pet carrier dimensions cannot be more than 46 cm * 28 cm * 24 cm. The container must be able to comfortably fit under the passenger's seat without any congestion.
Make sure that your animal is comfortable in the container. Do not carry a crate that is too small for your pet which might result in suffocation.
Note: Some destinations may not accept animals inside the cabin. Whereas, other destinations may charge an additional pet-in-cabin service fee to approve carry-on pet travel. To know these rules relating to separate countries, you can contact the airline authorities while making your reservation.
How To Make A Reservation For In-Cabin Animals?
In order to be able to fly with your animal, you have to make a pet travel reservation beforehand. Only then, will your animals be accepted for KLM pet travel. Further, this reservation cannot be made just before your flight.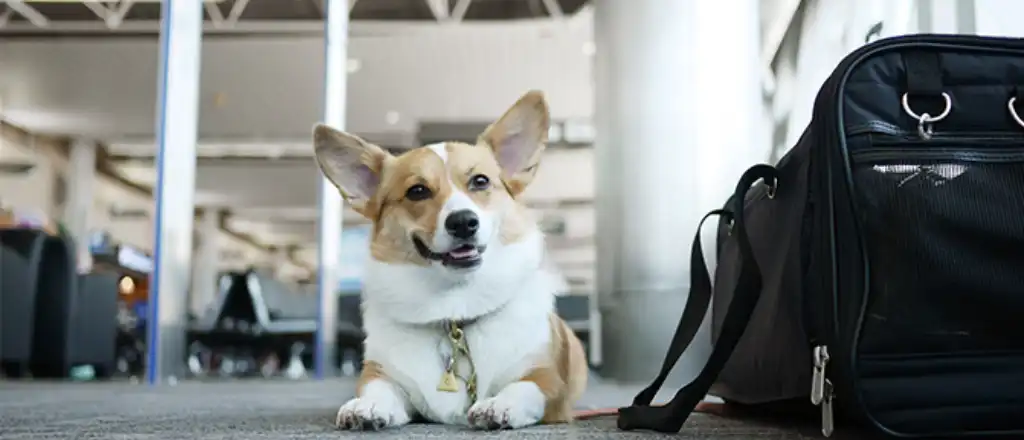 Passengers will be required to make this booking at least a few days before the official departure of their flight. This will allow the airline authorities to make the necessary arrangements to facilitate pet travel.
To add your pet to the flight ticket, you will have to retrieve your booking and enter all the necessary details. Follow the steps given below to continue with the reservation process for your animals:
Step 1: Open your browser and go to the official site of the carrier through the link "www.klm.com"
Step 2: On the home page of this site, you will be able to locate a panel of tabs. Select the "My Trip" tab from this panel.
Step 3: Now, provide the information asked. Enter your "Booking Code" and the passenger's "Last Name"
Step 4: Once you are done entering these details, click on the "Search" button highlighted in orange.
Step 5: Your booking will now be retrieved. You will be able to select the flight on which you wish to add your pets.
Step 6: From here on, follow the directions given on the screen to make a KLM international pet travel reservation or a domestic booking.
Step 7: Here, pay the required amount of pet transport fee to confirm a spot for your animal.
Once the booking process is complete, you might receive an email to your registered address. This marks the end of the reservation process. No animal will be accepted on board unless you complete the reservation procedure. This is the case for both national and international flights.
Transporting KLM Pets As Checked Baggage
When you are not able to carry your pets as carry-on luggage due to their weight or other conditions, you can choose the checked baggage option. Under this option, you will be able to send your animals in the hold. In most cases, the animals will be sent on the same flight as you. However, this might change depending on the space availability.
The "KLM fly with pets" checked baggage feature also has its own restrictions. Moreover, it is relatively more difficult to send animals as check-in luggage than it is as carry-on baggage. This is because the temperature and pressure conditions in the hold should be taken care of. The following regulations apply to this type of animal travel:
All animals whose weight is more than 18 lbs or 8 kg are eligible to utilize this service. The weight of the container is also taken into consideration here.
Only domestic animals like cats, dogs, and other approved pets will be accepted by the airline.
The maximum weight of the container and the pet combined can go up to 165 lbs or 75 kg.
Each passenger will be allowed to transport only 3 pets. There will be a limit on the space available in the hold. Hence, pet owners are required to inform the airline about the number of animals they wish to transport.
A separate KLM pet-shipping fee will have to be paid by the users of this service.
The pet must be kept in a suitable container while in the hold. It cannot be left free without any leash.
Details regarding your animal like its age, breed, and ticket number must be attached to the container. This assists the airline authorities in easily locating and identifying your animal.
Pregnant animals and pets which are not in good health will be given the pass to travel in the hold.
It is mandatory to maintain the hygiene of your pet throughout the journey.
Food and water can be administered to the pet before the flight. In case of long journeys, the animal handlers will take care of these requirements.
Only the cages which are approved by the IATA will be accepted by KLM Airlines. All the exact crate requirements are explained in the other sections below.
Certain breeds of animals are prohibited from flying. These might include snub-nosed animals and animals which are prone to risk.
Tip: Before booking a spot for your animal under the checked baggage option, make sure that you meet all the necessitates of the KLM pet checklist. This checklist includes all the points mentioned above.
KLM Pet Cargo Policy
Another way to transport your pets is by cargo. Cargo travel is similar to the checked baggage feature but here the animals will be sent alone. They will be shipped in the hold and you will have to pick up your pets at the arrival airport.
The KLM Airlines' pet cargo feature is exclusively available for all the animals which are not eligible for being transported under checked baggage.
Some counties only permit the transportation of animals in the cargo hold. Therefore, this service becomes beneficial on such flights. When shipping your pets as freight, the following points are to be kept in mind:
Each traveler can bring up to 3 animals in the hold. This mainly depends on the weight of your pets.
A maximum of 165 lbs or 75 kgs will be approved for the cargo travel.
In case you wish to put two or more animals in the same cage, then the weight of each animal must not exceed 14 kg or 31 lbs. These can include 2 adult animals or 3 younger animals of 6 months of age.
Your KLM pet carrier size cannot be more than 122 cm * 81 cm * 89 cm on regular KLM flights. On KLM Cityhopper flights which are controlled with Embraer Aircraft, the maximum allowed dimensions are 102 cm * 69 cm * 76 cm.
In case the transfer time of your flight exceeds three hours, you will not be permitted to ship the pet in the hold.
The cargo transport service will not be available on the aircraft Boeing 787-9 or Boeing 787-10.
This service is not offered on flights that involve a stopover in Paris. Also, passengers flying between November 1 and March 31 cannot enjoy this service.
Only cats and dogs will be allowed in the cargo. No other animal is eligible for utilizing this service.
Note: To ensure that your pet does not get lost, attach a card with its name, breed, or ticket number to the animal's cage.
KLM Pet Crate Requirements Under Cargo Service
The best way to make certain that your animal is safe in the hold is to transport it in a secure cage. Therefore, you can only register your pet for this service when you guarantee to ship your animals in KLM-approved pet carriers. There are a lot of cage requirements that have to be taken care of.
The airline does not compromise when it comes to the safety and security of your pets. Hence, all the crates that do not meet the required conditions will be rejected. These conditions are mentioned here as follows:
The crate should not be too small for your animal. This means that the pet must be able to stand or sit in the cage without constantly touching the container. It should also be able to lie down or turn around.
The container must be made of rigid materials. These can include fiberglass or any stable plastic shell.
While sending pets in the hold, the cage must not have any wheels. In case of the presence of wheels, they can be sealed with duct tape or removed altogether.
Locks should be present on both the top and bottom of the container. Further, a centralized locking system is recommended.
You should be able to open the door and its hinges by at least 1.6 cm.
Your pet should not be able to break free to escape from the cage by pushing the doors. For this, the container must be rigid and stable.
The KLM pet carrier can have empty bowls for food and water. However, they must be properly sealed to avoid any leakage. Also, one should be able to fill these bowls from the outside.
Except for straw, there can be absorbing materials on the inside of the container. These can include blankets or newspapers as well.
Note: Apart from these basic conditions, sometimes more intricate regulations can be applied when flying to certain countries. It is the responsibility of the traveler to meet these special requirements as well without fail.
Breed Restrictions Under KLM Airlines Pet Policy
The airline is more or less liable for the safety of your pets. Therefore, it implements several regulations. In this context, it does not allow the transport of pets which are not suitable for flying. These mainly included snub-nosed breeds of animals. These refer to those pets which are susceptible to lung problems due to their breathing patterns.
To avoid any harm to such animals, it is restricted to bring such pets on KLM Airlines. Irrespective of the size and weight of your animal, these breeds of pets cannot be carried or shipped. These regulations apply to both domestic and international travel.
The following types of dog breeds are restricted from flying on this operator:
| | |
| --- | --- |
| Pug (all breeds) | Bulldog (all breeds) |
| Chow Chow | Boston Terrier |
| Great Dane | Mastiff |
| Shih Tzu | Petit Brabancon |
| Pekingese | Cane Corso |
| Lhasa Apso | Shar-Pei |
| Spaniel (Tibetan, Japanese, and breeds) | Affenpinscher |
| Boxer (all breeds) | Brussels Griffon |
| Staffordshire Bull Terrier | |
When it comes to cats, the following breeds will not be allowed to fly:
Himalayan
Persian
Exotic Shorthair
Burmese
To transport any of the animals mentioned above, you may have to contact a separate animal transport service provider. They will not be allowed to travel in the KLM pet cargo hold under any circumstance.
Flying With Service Animals On KLM Airlines
Service pets provide assistance and support to disabled passengers. This airline accepts the transport of service pets as well. However, only guide dogs will be accepted under this category. These animals will be allowed inside the cabin.
Moreover, when flying with guide animals, you will not be required to pay KLM's pet in the cabin fee. Transport of these animals can be done for free. But, flying with service pets is subject to several guidelines. Different documents and proofs are to be submitted to facilitate such travel.
These guidelines and requirements are mentioned here as follows:
A certificate issued by a licensed trainer has to be submitted. This certificate must confirm that the animal is properly trained and is well-equipped to offer the needed assistance.
A medical report of the owner stating that they require guidance from a service dog is to be provided.
In the case of flights whose duration exceeds 8 hours, confirmation has to be provided that the service pet will not require to relieve itself.
Passengers flying with guide animals will not be assigned exit row seats.
The other guidelines and crate requirements are similar to those given under the above-mentioned KLM Airlines pet policy.
KLM Pet Fees
No matter the type of pet travel option you wish to opt for, you will be required to pay a certain fee. This fee depends on factors such as:
Departure Airport
Arrival Destination
Flight Itinerary
Class of Service
Type of Animal
Size and Weight of the Pet
Based on these elements, the KLM pet price keeps changing. The estimated fee range given by the airline is around EUR 75 to EUR 400. Since this range is quite large, the actual and the exact amount of charges will be made known to you at the time of reservation of the ticket.
In A Nutshell
The KLM pet policy is immensely user-friendly. It not only helps passengers to transport their pets but also allows them to do so at minimal prices. It is affordable and accessible to customers all around the world. Further, the provision to carry service pets also makes this policy more inclusive. This policy allows no passenger to be left in a compromising state when it comes to pet travel.
FAQs- KLM Airlines Pet Policy
Does KLM allow pets?
KLM Airlines is a pet-friendly carrier. Hence, it does allow its passengers to bring pets on board. It offers three different pet travel options. These include carry-on transport, checked baggage transport, and cargo travel. The conditions and fees for each of these types vary based on different factors.
Does KLM allow pets in the cabin?
Yes, KLM Airlines permits all its customers to carry pets inside the cabin. This feature is made available on both national and intercontinental flights. But, animals only up to a certain weight and size limit will be allowed inside the cabin. Further, a separate fee will also be incurred while accessing the in-cabin animal transport service.
In which container should I carry my pet on KLM?
All animals on these airlines must be transported in KLM-approved pet carriers. These containers must be rigid and firm. They must be made with a sturdy material like fiberglass or plastic. There should not be any damage to your container. Also, the crate must be spacious enough for your pet to move freely.
What is the KLM-approved pet carrier size for in-cabin pets?
There are both size and weight limitations that apply to pets inside the cabin. The approved size of the carrier is  46 cm * 28 cm * 24 cm. Whereas, the maximum weight of the pet cannot exceed 8 kg or 18 lbs. In case your animal is not able to stay within these restrictions, it can be transported as checked baggage.
What is the KLM pet travel fee?
The charges incurred to carry your animals on this airline can vary. They depend on the flight itinerary, and arrival and departure destination. The average fee can range anywhere between EUR 75 and EUR 400. You can know the exact amount of the KLM Airlines pet fees at the time of reservation of your pet travel ticket.
Can I carry my pets for free on KLM Airlines?
No, free pet travel service is not available on this airline. These charges apply to carry-on, checked baggage, and cargo pet travel. Except for service animals, the KLM pet travel price applies to all the other regular animals. Therefore, it is mandatory to pay these charges when flying with animals on this airline.
What are the KLM pet travel restrictions?
The KLM pet transport restrictions involve limitations related to the breed and type of your animals. Mainly, snub-nosed or short-nosed pets like Bulldog (all breeds), Chow Chow, Boston Terrier, Great Dane, Mastiff, Shih Tzu, Petit Brabancon, Pekingese, Cane Corso, Lhasa Apso, Shar-Pei and Spaniel. These breeds of dogs are restricted from flying.
What is the KLM pet policy?
This is a major policy that determines all the guidelines related to the transport of pets. The type of travel suitable for your animal, weight and size restrictions, and crate requirements are all mentioned under this policy. The procedure to book your pet travel reservation is also explained under this policy.