The Southwest Airlines pet policy intends to make travel easy for passengers and their domestic animals. It clarifies the main rules to follow. With every essential guideline included, you can also learn about approved carriers. Furthermore, all the dos and don'ts are mentioned for a better understanding.
Understanding the Southwest Pet Policy's Terms
This air operator lets you bring your loving pet on the flight. You can travel with them in the cabin. Since every flight has limited space, you will need to keep in mind that the acceptance of your pet will depend on the space availability. Per flight, only 6 pets will be allowed.
Below are some other essential points of the pet policy of Southwest Airlines:
According to this policy, you will need to check in at the airport counter.
A pet carrier will be counted as a carry-on item.
The pet cage should be approved by the concerned authorities i.e. Federal Aviation Administration (FAA).
You will need to pay a fee to bring your pet on board.
This fee should be paid in advance. In case you did not, you should do it on the travel day at the airport counter.
The fee you pay for carrying your pet is refundable.
If you cancel the booking due to any reason, you may either rebook for a new date or simply request a refund.
For refunds, you can go to the airport counter or simply call customer care.
The booking for your pet should be done in advance via a phone call
In-Cabin Pet Policy of Southwest Airlines
Southwest Airlines has the most flexible pet policy. It accepts all types of small and vaccinated domestic dogs and cats. According to this policy, you can travel with your pet in the cabin. You will need to keep your animal/pet in an approved and appropriate carrier. This should be placed in the front seat.
Important: Southwest Airlines does not accept any pets in-cabin for international routes. Hence, you should connect with the airline to know about other options.
Southwest Pet Carrier Rules and Requirements
To keep your animal or pet safe and secure throughout the journey, you will need to make sure that you have the right carrier. Check out the following to know more about the Southwest Airlines pet carrier requirements: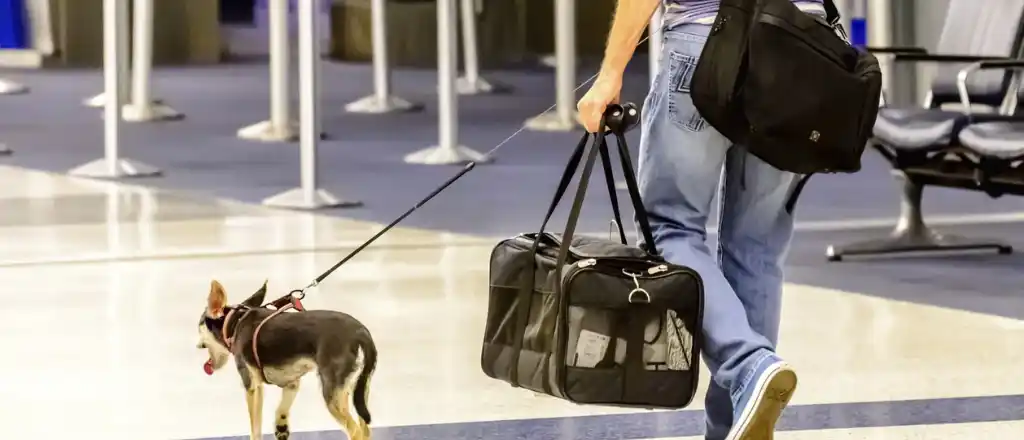 You can get an approved carrier from the Southwest official website or go to the Airport Ticket Counter to get one. 
You will need to pay USD 58 for one carrier.
Pet carriers cannot be refunded. Hence, you are advised to buy carefully.
The maximum dimensions for the pet carrier should be 18.5 inches (long) x 8.5 inches (high) x 13.5 inches (wide).
Note that the suggested dimension by the airline is 17 inches (long) x 9.5 inches (high) x 10 inches (wide).
The carrier chosen by you must be hard-sided or soft-sided.
This pet carrier should be properly ventilated as well as leak-proof.
The kennel should have enough space so that your pet can easily fit in it.
This Southwest-approved pet carrier should fit within the space given under the front seat.
One ticketed passenger can only bring one pet kennel.
You may be allowed to bring a maximum of 2 pets of the same size, type, and breed.
You need to put your pet dog or cat inside the kennel all the time.
To ensure that they are comfortable, you should buy a carrier that has sufficient space so that they can stand, sit, and move properly.
For you and your pet, the booking needs to be correctly made.
Reading Southwest change name on ticket policy can also help you avoid a lot of issues in case you want to modify anything later.
Note: Your boarding can be denied if you fail to meet the pet carrier requirements mentioned in the policy.
Age-Related Rules of Pet Policy
This is an important aspect of this policy. To travel without any hassle, you should abide by age-related regulations. According to the policy, the airline will only accept pet dogs and cats that are at least 8 weeks old. Pets over this age will not be allowed in any case.
Southwest Airlines Pet Fees
Southwest Airlines does not offer free traveling for pets. As per the Southwest Airlines pets policy, you will need to pay an amount of USD95 per carrier for a one-way trip. Please keep in mind that the airline does not cater to international routes. So, this amount will be levied for domestic destinations only.
While paying it, you must read the Southwest compensation for delayed flight and related rules.
Should you not want to travel in this situation, please find out whether the fee will be claimed.
Cremated Pet Policy
Losing your pooch is really disheartening but you can travel with their remains with Southwest Airlines. You can travel with the cremated remains of your pet on the flight as a carry-on item. However, it will be inspected by the executives of the Transportation Security Administration (TSA) at the airport gate or security checkpoints.
Please remember that cremated remains cannot be kept as any checked item. You will need to keep it in a cardboard container or temporary plastic bag. It should also need to pass the screening at the checkpoints. However, you should review the Southwest Airlines pet travel policy to know thoroughly about this segment.
Restrictions of Pet Policy
Just like any other document, this pet policy also comes with certain restrictions. Look at the following to find out more:
You can only bring a carrier as a carry-on item.
Along with it, you will only be allowed to carry one personal item.
You cannot travel with pet carriers as any checked item.
Pets will not be accepted without their owner or a ticketed passenger.
They cannot travel with unaccompanied minors.
You cannot bring pets on international flights.
You will not be allowed to occupy the seats available at the exit or emergency gate rows.
The "first come, first serve" rule is followed to accept animals onboard. If you do not book in advance, your boarding will be denied.
Your animal should not be disruptive and need no special attention.
As per the Southwest Airlines pet policy, your dog or cat must be odorless and harmless.
They should not bark or growl excessively.
It must not defecate, scratch, or urinate on the gate or cabin area.
The carrier of the pet should be placed on the floor or under the front seat.
You cannot keep your pet with trained service animals.
The airline will not be responsible if the passenger misses his/her flight while taking care of the animal outside the designated relief areas.
In case your pet becomes ill while on the flight, the airline does not have the facility of first aid or oxygen.
There is no availability of the oxygen mask for dogs and cats.
The airline takes no responsibility for the well-being or health of your pets while on the flight.
Security and Related Aspects of Pet Policy
When on the security points, you will need to hold your pet and complete the screening process. After this, the kennel will be x-rayed. As per the latest Southwest pets policy, all carriers of the pets are subject to being checked by the TSA. Other security authorities of the airport can also search the carrier.
Species of Pets Permitted on the Flights of Southwest Airlines
On Southwest, flying with pets is simple when you know which breeds are accepted. The airline accepts all breeds and types of pet dogs and cats. In addition to this, the pet should be properly vaccinated and free from any health condition. It must remain inside the carrier.
Note: No animals will be allowed on the trip from or to Hawaii.
Southwest Airlines Pet Cargo Policy
This airline does not offer any cargo/freight services for the transportation of pets. In case you want to know other options for carrying your animal internationally or even within the country, you must connect with its team.
Frequently Asked Questions
Does Southwest allow all pets?
No, the airline only accepts small pet dogs and cats that are fully vaccinated.
What is the Southwest pet carrier policy?
This policy guides you about the size of the carrier and the type approved.
Are Southwest Airlines pet carriers refunded?
You may not receive refunds for the fees paid for pet carriers.
How strict is Southwest about pet carrier size?
The airline has suggested a dimension of 17 inches (long) x 9.5 inches (high) x 10 inches (wide). But it can go as high as 18.5 inches (long) x 8.5 inches (high) x 13.5 inches (wide). In case you fail to fulfill the Southwest pet carrier size requirements, your boarding can be denied.
Are Southwest Airlines pet cargo services available?
Flyers may not be able to access pet cargo facilities on this carrier.
What is the maximum Southwest Airlines pet carrier size?
18.5 inches (long) x 8.5 inches (high) x 13.5 inches (wide) is the maximum size of a carrier but smaller ones are still ideal.
How much does Southwest charge for pets?
This airline only allows pets on domestic flights and in the cabin. Hence, to travel with your feline friend, you will need to pay an amount of USD 95 for each way.
Is there a Southwest pet policy for emotional support animals?
You may not find a policy for traveling with emotional support animals on this airline.
How to add a pet to a Southwest flight?
You are advised to connect with customer care via a phone call to add your pet.
Can I make Southwest Airlines pet reservations at the airport?
When you have time, you can go to the nearest airport or ticketing office to get assistance on adding your pet to your booking.
How can you travel with pets on Southwest Airlines?
Traveling with your pet is easy. But you need to choose Southwest Airlines – thanks to its flexible and easy-to-understand pet policy, you can make your pet's travel stress-free.
Does Southwest Airlines transport pets in cargo?
Freight services are not offered by this airline.
Does Southwest Airlines require a health certificate for pets?
You may be asked to show the health certificate. But generally, the airline does not ask for it when traveling within the country.
Is Southwest Airlines pet-friendly?
Yes, Southwest Airlines is a pet-friendly option. However, you are advised to book a space for your pet in advance to avoid last-minute hassles.
What are the Southwest pet carrier restrictions?
The main restriction is that the carrier's dimensions should not exceed the ones in the policy.
What is the pet policy for Southwest Airlines?
As per the pet policy of Southwest, you can bring your small and vaccinated pet dog or cat on the flight and in the cabin. However, you will need to keep them in an FAA-approved carrier throughout the journey. The pet carrier will be counted as 1 carry-on item.