The pet policy of this US-based air operator allows travelers to bring their furry friends on the flight. As per the rules of this policy, you can only travel with dogs and cats in the cabin. However, you will need to abide by a few other rules to travel stress-free.
Here are some details that you must keep in your mind all the time:
A flier will only be allowed to well-behaved carry dogs and cats in the cabin.
You will need some documents stating the health and vaccination details of your pet.
For domestic and international routes, the age criteria of the pet are different.
You must buy an FAA-approved carrier or kennel for your animal for traveling.
The carrier should be either soft-sided or hard-sided.
You will need to follow the carrier's dimensions given in the United pet policy.
The kennel should have a waterproof base.
Note that the carrier should be well-ventilated and spacious enough so that your pet can:

move,
sit,
stand,
and lie down in a natural posture.

You can book a space for your pet via a phone call, official website "www.united.com"
The booking should be done in advance.
This airline only accepts a limited number of pet carriers on a single flight.
Age-Related Rules
United Airlines is a popular air operator in the country when it comes to traveling with your pet. Knowing the age and related rules is quite an important aspect of the United Airlines pet travel policy.
For domestic routes including Puerto Rico, the age of your puppy or kitten should not be below or above 2 months.
When it comes to international travel, you will also need to follow age-related rules. It means your pet should be at least 4 months old.
In addition to this, they should be weaned completely.
Pet Kennel Requirements
As mentioned earlier, the pet carrier should be as per the policy. If one talks about the dimensions, they should be as follows:
Soft-Sided Carriers: It should be within 11 inches (height) x 18 inches (length) x 11 inches (width).
Hard-Sided Carriers: These must have the dimension of 30 inches (height) x 44 inches (length) x 19 inches (width).
Important: Please keep in mind that there can be a slight variation in the height of the carrier, depending on the aircraft. So, check the rules of traveling with pets on United Airlines.
Documents Needed for Traveling with Pets
Some nations do not allow travelers to bring their pets, while others may have strict rules for vaccination. So, you must arrange all the necessary documents stating the good health of your pet along with proof of rabies and other vaccination. You may be asked to submit or show these documents before traveling or boarding.
The health documents or certificates you are carrying should have some important details. They have been listed below:
Name, phone number, and full address of the owner
Details of your pet i.e. breed, age, markings, sex, and color
Information about the recent vaccines i.e. name of the vaccine, date, etc.
You should also check the United Airlines name change waiver rules and charges while reading the pet policy. Without correct personal details, you may not have a comfortable flying experience.
Fees for Booking a Space for Your Pets
Traveling with your pet on United Airlines flights is not free. You will need to pay an amount as the United Airlines pet fee.
A one-way trip will cost you USD125.
In addition to this, USD125 will be charged by the airline for every layover of 4+ and 24+ hours within the country and outside, respectively.
Remember: Passengers are not allowed to use their travel credits to pay the pet fee of United Airlines.
Check-In Details and Requirements
While traveling with your pet, it is essential to know check-in and related details. As you learn more about the pet policy of United Airlines, its requirements will also be clear.
To check in with your pet, you will need to find and go to the United Airlines ticket counter at the airport.
To do so, you will need the confirmation numbers of your and your pet's tickets.
At this counter, the concerned authority will provide you with a special bag tag to attach to the pet's carrier.
Useful Tips to Ensure a Smooth Journey
Even though the pet policy of United Airlines is quite flexible, the following will help you make things simpler:
Keep all the necessary items for your pet. It can include:

treats,
a collapsible bowl for water,
plastic bags,
and a leash.

Bring their favorite toy or blanket so that they can be calmed throughout their journey.
Always choose the right or recommended space in the flight so that your pet and others do not bother each other.
Restrictions of Pet Policy
Every policy comes with some restrictions. United Airlines and its pet policy are no different. So, while traveling with this air operator, you will need to keep the following in your mind:
You will need to keep your pet inside the kennel throughout the trip and at the airport.
The owner will need to take care of his pet during the trip.
Its carrier should be kept under the front seat.
The pet should be well-behaved, calm, and in a healthy condition.
Some nations such as the following do not accept pets in the cabin:
The United Kingdom,
| | |
| --- | --- |
| South Africa | India |
| Hawaii | Australia |
| Panama | Trinidad & Tobago |
| New Zealand | Guam |
| Tahiti | |
| Cuba | |
You cannot travel with your pet in business or first class on certain aircraft i.e. Boeing 777, 767, 787, and 757-200 due to limited space under the seats.
As per the United pet travel policy, passengers with carriers cannot sit in the exit or bulkhead row seats.
Rules for Service Animals on United
United Airlines only accepts fully-trained dogs as service animals in the cabin for free. Look at the points mentioned here to know more about it: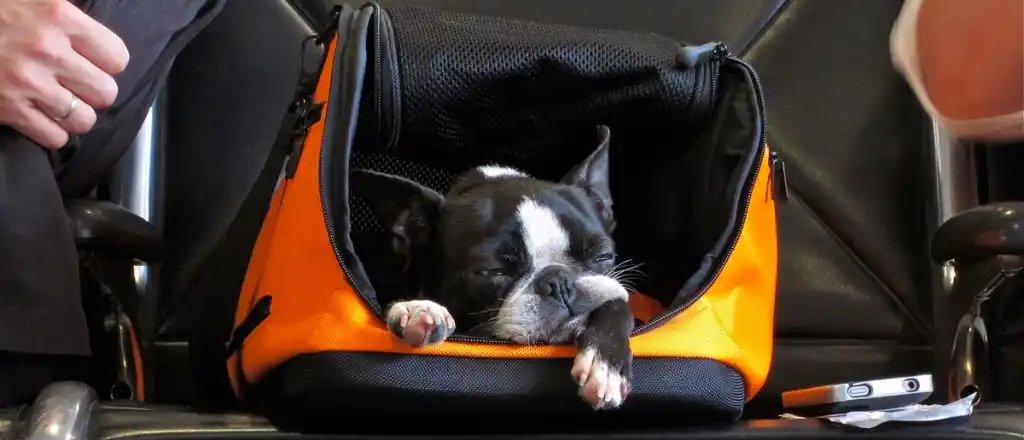 The minimum age of the service dog should be at least four months.
Your dog should be trained to guide people (ticketed passengers) with special needs i.e.:

physical,
psychiatric,
intellectual,
sensory, or
mental disabilities.

A dog trainer is permitted to bring one under-training dog without any additional fee.
Each qualified ticketed passenger can have a maximum of up to 2 dogs without any fee.
The service animal should be leashed or harnessed properly.
It should sit on the floor.
You should carry documents stating the dog's health and vaccination details.
It should not behave aggressively or inappropriately.
There is no United Airlines pet policy for emotional support animals.
You will need to submit the following before traveling:

US DOT Service Animal Training and Behavior Attestation Form
US DOT Service Animal Relief Attestation Form

These forms are needed if the flight duration is 8 or more hours.
Important: You cannot bring therapy animals or dogs as service animals on the flights. These animals can only be transported according to the standard pet policy of United Airlines.
Cargo Policy for Pets
The cargo facility of United Airlines to ship pets from one place to another is known as the Pet Safe Program. However, the airline is no longer accepting pets under this program.
Benefits of United Pets Policy for Military Members
As per the latest rules, the active-duty members of the US Army with the State Department Foreign Service Personnel (FSP) and Permanent Change of Station (PCS) orders can ship their personal dogs and cats (only). As checked items, this can be done.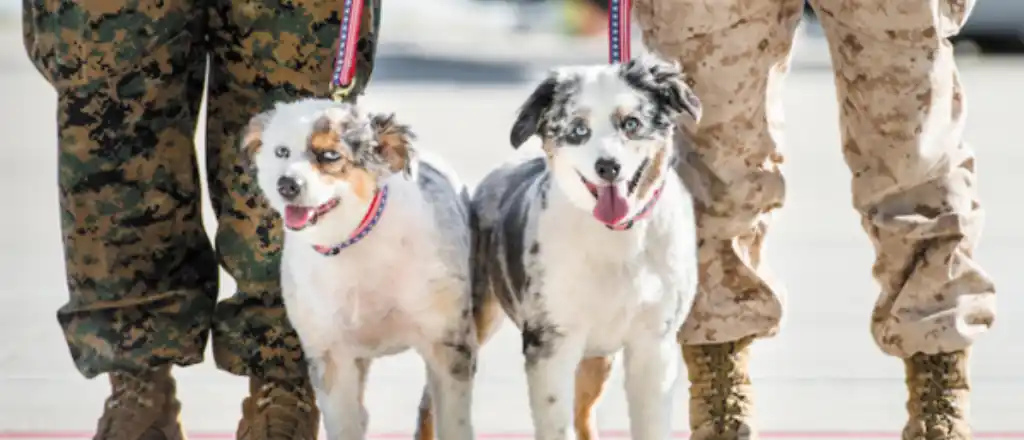 However, this is possible only between Honolulu and Guam under specific circumstances.
Breeds that are Strictly Prohibited on United Airlines
Keeping the safety of other passengers, United Airlines has prohibited some breeds onboard. Look at the following to know more:
| | |
| --- | --- |
| Boxer | Brussels griffon |
| American bully | Boston terrier |
| American Staffordshire terrier | Belgian Malinois |
| American pit bull terrier | Pitbull |
| Bulldog | Affenpinscher |
| English bulldog | American Bulldog |
| French bulldog | Shorty bulldogs |
| Old English bulldogs | Spanish bulldog |
| Lhasa Apso | English toy spaniel |
| Japanese spaniel | Chow-chow |
| Mastiff | Cavalier king |
| Pekingese | Shar-Pei |
| Pug | Tibetan spaniel |
| Shih-Tzu | Staffordshire bull terrier |
| Exotic shorthair | Persian |
| Burmese | Himalayan |
This is just an indicative list of breeds that are banned on the flights of United Airlines. So, it is best to connect with the customer care of this air operator to get detailed information.
FAQs
The following frequently asked questions and answers will help you understand the different aspects of United Airlines' pet policy better. Take a look:
How to add a pet to a United flight?
To add your pet, you can directly call the airline or simply go to the official website. Once you do it, you can go to 'My Trips' and follow the steps that appear on your screen to complete the process.
Does United Airlines allow all pets?
No, you can only book a space for dogs and cats. 
Can you have a pet owl on United Airlines?
As per the pet policy of this airline, they only accept pet dogs and cats in the cabin. It means you cannot travel with your pet owl or any other animal on the flight of United Airlines.
What is the most popular pet on United Airlines?
Dogs are considered the most popular pets because they can travel normally as well as service animals.
What is the United pet fee?
You will need to pay USD 125 for a one-way trip to travel with your feline. Furthermore, USD 125 will also need to be paid for a layover of 4 hours for a domestic route and 24 hours for an international route.
How strict is the United Airlines pet policy?
You will need to follow certain rules that are listed in United's pet policy since the airline is strict.
Is United Airlines pet travel comfortable?
While traveling within and outside the country, it can be great fun and comfortable to have your loving pet accompany you on United.