Icelandair takes pride in offering smooth and safe transportation of animals. The airline has a flexible and easy-to-understand pet policy. According to Icelandair's pet policy, all animals are placed in the special "climate controlled" hold areas in the flight while moving. Get familiar with all aspects of this feature so that you do not have to face any hassle later on.
Pet Policy and Rules for Traveling within the Country
The airline has different rules depending on the travel destination. While flying with your dog/cat within the country i.e. Iceland, the following are the important points to have in mind:
You should get an animal crate or kennel.
It should be made of hard plastic material with a waterproof base to keep your animal throughout the journey.
The purchased carrier should conform to the IATA's guidelines.
You will not be allowed to bring folding or collapsible metal crates.
Your dog/cat should remain in the natural position in the kennel.
The concerned authorities of the airline may refuse to board if your animal is not comfortable or you do not follow the crate and related rules.
Distressed animals will not be permitted as they can make lots of noise.
Consult with a certified vet before giving a sedative to your feline before the flight's departure.
Every pet can travel but you will have to pay a fee for it.
Always reach the airport before the standard check-in time while traveling with a furry being.
Ensure that you go through the check-in policy of Icelandair to know the right timing.
The owner should take full responsibility for his feline throughout the trip.
How to Book for an Animal on Icelandair?
Booking for a pet can be done online. You will need to do the following for adding or booking from the website:
Visit the official website of Icelandair.
Sign in to your account by using your username and password.
Once you do it, you will get to see the option "Extra Baggage Services".
Under this option, you will need to click on "Animal Transport".
Now, indicate the total number of crates that you will be bringing.
Save the changes before you sign out to complete the booking process.
You can also call the customer service team of Icelandair at +354-50-50-100. An executive will connect with you to guide and answer your queries. In case you want to change your booking on Icelandair, you can ask for that as well.
How Much is the Pet Travel Fee?
As you know that traveling with furry beings is not free, you will need to pay a certain amount as the fee. As per the Iceland Air pet travel rules, you will have to pay 7.500ISK for each animal.
Pet Policy and Rules for Traveling outside the Country
For international routes, the airline only allows dogs and cats. It keeps them in aircraft with special climate control areas. However, you will need to meet the special requirements of the airline, local government, country-specific regulations, etc.
Requirements of the Airline
You must connect with the cargo department of Icelandair if you and your furry friend are not traveling on the same aircraft.
Due to some countries' and governments' rules, the airline does not accept certain dog breeds. These include:
o Staffordshire bull terrier
o Pit bull terrier
o Dogo Argentino
o Tosa Inu
based on Icelandair's pet cargo policy, the airline only allows 4 carriers on each flight.
Animals of the same breeds but small in size can share the same crate.
The air operator only accepts the carriers approved by the IATA.
Owners will need to take responsibility for their pet's health, injury, and so on while traveling.
No being will be allowed on any stopover.
You must carry all the necessary documents and certificates of your furry friend.
Failing to show the same may lead to denial of the boarding.
Keflavik Airport's Rules:
This is the hub of Icelandair. Hence, following its regulations is vital.
Due to the regulations of the Ministry of Agriculture, transported animals will not be allowed to contact fellow passengers or beings at the airport.
You cannot take the animals outside the premises of the airport.
For their specific needs, this airport has designated areas.
Government's Rules and Requirements:
Contact the consulate or embassy of your travel destination to know if they have a rule of a necessary quarantine after entering animals.
Every dog and cat will need clearance by the Manual Aircraft Securing and Traversing (MAST) for import.
Rules while Traveling via/to/from the United Kingdom and Ireland:
Pets will not be allowed in the cabin of Icelandair for these routes.
You will need to opt for the carrier's cargo facilities for the same.
The booking should be made in advance.
How to Book Cargo for your Pets?
To book your cat/dog on the cargo, you will need to contact the service center of Icelandair in your area. You can do so via a phone call. Below are the contact details of some nations:
| | |
| --- | --- |
| Country | Contact Number |
| US and Canada | (00) 1-800-223-5500 |
| UK and Ireland | +44 20 7874 1000 |
| Belgium | +32 (0)10 39 10 97 |
| Denmark | +45 33 70 22 00 |
| Finland | +358 9 75 99 8200 |
| France | +33 (0) 1 44 51 60 51 |
| Germany | +33 (0) 1 44 51 60 51 |
| Iceland | +354 50 50 100 |
| Netherlands | +31 (0) 20 521 3955 |
| Norway | +47 22 03 40 50 |
| Sweden | +46 (0) 8 690 9800 |
| Switzerland | +41 (0)21 560 01 05 |
Important: Depending on the rules of Icelandair for flying with pets, you will need to give the exact weight and size-related details. Share them with the authorities over the call while booking. They may deny boarding if you fail to meet the given crate requirements.
Pet Carrier Size and Weight
Whether you are traveling with your friend in the cabin or cargo, the purchased carrier should follow the below-displayed rules: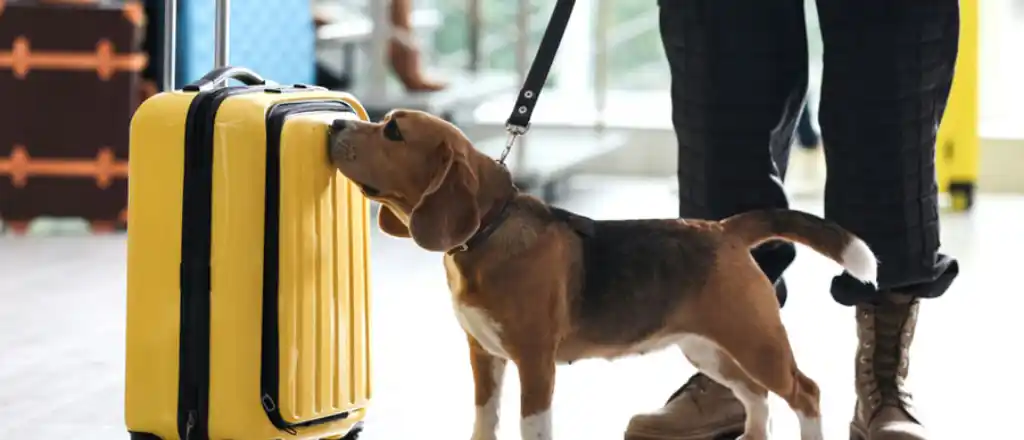 Dimensions (Size): 92 cm (L) x 64 cm (W) x 71 cm (H)
Combined Weight of the Animal and Crate (Maximum): 40 kg/88 lbs
Charges for Cargo Services
To transfer your animals in cargo, you will need to pay a fee. The details have been tabulated below:
| | |
| --- | --- |
| Destination | Fees |
| Between Europe and Keflavik Airport | USD 126 |
| From North America to Europe or vice versa | USD 174 |
| Between North America and Keflavik Airport | USD 148 |
Rules for Traveling with Trained Service Animals
Icelandair welcomes trained service beings to accompany passengers with special needs. They can do so free of cost. Below are some useful points of the Icelandair pet policy for service animals:
Only trained and certified dogs will be accepted as service beings on board.
Each service dog should be fully trained.
It should perform the task for the accompanied passenger with special needs.
Any traveler with any sort of condition including mental, physical, intellectual, sensory, or psychiatric disability can bring a service dog on board.
Service animals can be:
o Hearing dogs
o Diabetic alert dogs
o Guide dogs
o Autism service dogs
o Mobility assistance dogs
Emotional support, comfort, therapy, and companion animals will not be accepted.
These can be transported as normal pets by paying a fee.
Note: Non-service animals can be transported in the cargo. You should also abide by the normal rules of Icelandair's pet policy.
How to Add a Service Animal on Icelandair?
Once you reserve a seat on the flight, you will need to fill out and submit the "Drop Us a Line Form". Along with this, you will need to submit the necessary documents. Lastly, you are advised to get and submit the "Medical and Disability Assistance" document at least 48 business hours before the expected departure.
Once you have all these documents, you can connect with the airline via a phone call. Based on your current location, you can dial the number. For instance, if you are in the UK, then you can call on +44 20 7874 1000 to add your service animal.
Important Points to Remember:
With a service dog, you can have a maximum of 3 hours of transit layover at the Keflavik Airport.
Stopover is not permitted in Iceland due to the quarantine rule of 2 weeks.
Recognized service beings can travel in the cabin for free.
According to the Icelandair pets-in-cabin policy, the airline allows only:

1 service dog on domestic routes
and 4 on international flights.

These dogs are not allowed on connecting flights.
They will not be accepted if they are sick, injured, etc.
The pet owner will be responsible for all the damages caused by their service dog.
Rules and Regulations of Keflavik Airport
This airport has specific rules and regulations for passengers traveling with service dogs. These include
As per the rules of the Ministry of Agriculture, they will be allowed to come in contact with:

fellow passengers and
animals at the airport.

The designated team members of Icelandair will escort these dogs and customers.
So, get in touch with them as soon as you reach the departure gate.
This airport has pre-decided spots for service animals where they can be taken for their needs.
You cannot take them outside the airport in any situation.
Documents and Forms Needed
Based on the travel destination, you may need different documents and forms to travel with your pet or service dog via Icelandair. Here are the details:
Between Europe and the US via Iceland
DOT Form
MAST approval for easy transfer at Keflavik Airport
Between Europe and Canada via Iceland
Icelandair service animal transportation form
MAST approval if transit is at Keflavik Airport
Between Iceland and Europe
Permission from MAST
Icelandair service animal transportation form
You will not require any documents to travel with your pet or service dog within the country. But yes, you will need to reserve the space in advance.These are some essential aspects of the Iceland Air pet travel policy. Every passenger must keep them in mind while traveling with a furry friend. By having all these details, you can avoid unwanted hassles.
Frequently Asked Questions
What is the Icelandair pet cargo fee?
The cargo fee depends on the route you are traveling with your pet. Here are the details:

To/from Europe and Keflavik Airport: USD 126
Between North America and Europe: USD 174
From or to North America and Keflavik Airport: USD 148
What is Icelandair's pet travel fee for domestic routes?
You will need to pay 7.500ISK per animal/carrier for domestic routes.
Does Icelandair allow all pets to fly?
Only dogs and cats are allowed to bring, as per the policy of Icelandair.
What is the carrier size and weight in the IcelandAir pet policy?
The suggested carrier size should not be more than 92 cm (L) x 64 cm (W) x 71 cm (H). The combined weight of your feline and the cage must be 40 kg or less.
Does Icelandair's pet policy for service animals allow cats?
No, only dogs will be permitted as service animals.