Traveling with pets has become an easy process now due to the flexible Etihad pet policy. It is designed keeping the different needs of animal owners in mind. However, you are advised to read and understand every major and minor aspect before planning your trip or booking tickets.
Pet Policy of Etihad Airways and its Prerequisites
First and foremost, you should know about the necessary prerequisites for traveling with your pet. For instance, you will need to follow different rules for dogs and cats, while the regulations for falcons will be different. The rules can further vary, depending on some situations.
Look at the following for detailed information.
Requirements for Etihad Airways Advance Booking
To book your travel with your pet, you will need to book a spot in advance. Additionally, you must remember these points while contacting Etihad for the booking:
Before you start with the booking process, arrange all the necessary documents and certifications at least 2 weeks before the expected travel.
According to the Etihad Airways pets' policy, if you fail to arrange the documents, your boarding will be denied.
Keep the original, as well as photocopies of the documents, at the airport.
To travel with your pet, you will need to fill out the booking form in advance i.e. 7 days before the expected departure date and time.
You can email the essential documents up to 72 hours before the flight time.
A release permit will be needed to fly to Abu Dhabi. Connect with the airline for this.
Do not forget to submit a duly filled UAE Health Certificate of your pet to the concerned authority.
Once you have these necessary documents, you can book a space online or simply call the customer care of Etihad Airways.
Important: It is mandatory to have the signed and stamped UAE health certificate. You should do it at least 5 days before the flight time.
Rules to Keep in Mind while Traveling
According to the Etihad Airlines pet policy, you will need to keep the following points in your mind before traveling:
You can book a space in all travel classes – Economy, First, or Business.
In Economy class, your pet should be in its carrier all the time.
The cage should be placed under the space of the front seat.
This carrier can be placed on the adjacent seat if you have booked a space in the First or Business class.
You need to purchase an additional seat for your pet's carrier in advance.
The ticketed passenger should be 18 years old or above to carry it with them.
An unaccompanied minor is not allowed to travel with animals.
You will not be allowed to sit on the seats in exit rows.
The minimum age of your dog or cat should be 16 weeks at least.
Furthermore, the combined weight of the pet with the carrier should be 8 kg only.
While filling out any form, you should check the Etihad name change terms and applicable rules. This will help you to supply the correct details.
Travel Rules and Regulations for Falcons
You can travel with falcons on the flights of Etihad Airways. However, it has certain rules that must be followed. Look at the points below to know more:
As per Etihad's pet travel policy, falcons can be kept as cabin baggage for free.
In Economy class, one falcon will be allowed for each ticketed person and two will be permitted on each additional seat.
2 falcons per ticketed passenger will be permitted and 3 will be allowed on additional seats in Business or First class.
For stress-free travel with your falcons, you should keep the correct documents and permits with you.
How to Book a Space for Falcons?
To travel with your falcon without any hassle, you will need to do an advance booking. According to the rules of Etihad Airways' pet policy, you should book a space via a phone call by dialing +971 600 555 666.
Etihad Airways Pet's Carrier Requirements
While boarding the flight, you will need to keep your pet in the kennel. It should have enough space so that your pet can stand, sit, lie down, and turn around easily. Besides, the kennel should:
Not go beyond the dimensions of:

40cm (L) x 40cm (W) x 22cm (H) if you want to keep it under the front seat
or 50cm (L) x 43cm (W) x 50cm (H) for the adjacent seat.

Be well-ventilated with a 3-side open.
Have an extra layer of absorbent material.
Be leak-proof and escape-proof.
Cost of Pet Travel in Etihad Airways
Check out the following to know the amount that you will need to pay as the Etihad pet travel cost or fee: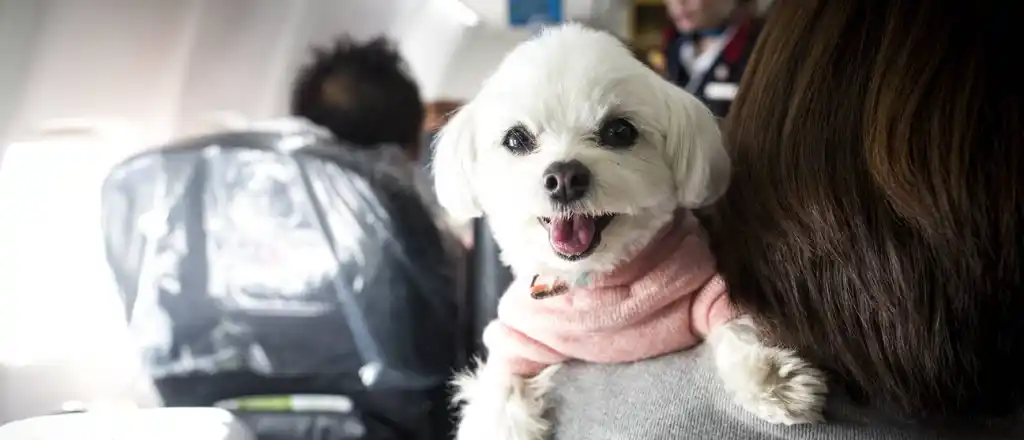 For dog or cat in Economy: USD 200/29000 Etihad Guest Miles
To secure an adjacent seat in Economy: USD 1500 + cost of extra seat
For First or Business class: USD 1500 + cost of extra seat
To travel with falcons as checked baggage, you will need to pay an amount of USD 500 for each cage.
Remember: This amount is for a one-way trip. So, check with the nearest Etihad ticketing office to know the total cost or fee for traveling with your pet.
While booking a space, do not forget to read the Etihad Airways flight delay compensation rules and regulations. In case this situation prevents you from traveling, you should know whether the fees will be refunded. 
Travel Checklist
Before you pack your bags or prepare your dog or cat for the travel, you should make sure the following:
Read and understand the entry as well as exit regulations for your precise travel destinations.
Keep all the necessary official documents i.e. vaccination certificates, vet examination, health-related documents, etc.
Approval from the airline will be needed to travel with your furry friend.
As per the Etihad Airlines pet policy, you will need to submit a duly filled booking form 7 days in advance.
You must contact your animal's vet for the necessary medications for the upcoming journey.
The dog or cat should be familiar with the kennel or travel bag.
You will be allowed to bring dry pet food but in a sealed and leak-proof con atainer.
All original documents will be needed for verification purposes.
Etihad Airways does not accept pregnant pets onboard.
Rules for Trained Service Animals
The airline will only accept dogs as trained service animals. A passenger with special needs can travel with such a dog. However, it has some rules that you must abide by. Check the details given below:
Trained service dogs can travel for free.
Your service dog should sit on the floor or within the space of your seat.
The dog should be properly leashed, tethered, and harnessed.
Every travel destination may have different rules. So, check everything in advance.
Your dog should behave properly and not bite, bark, growl, or jump in the public.
As per the Etihad Airways pet travel policy, keep all the necessary documents to avoid delays on the travel day.
Note: Psychiatric, emotional support, companionship, comfort, or under-training service dogs will not be permitted to travel with the passenger.
Requirements to Make a Booking for a Trained Service Dog
Here are some points that you must remember while or before booking a space for your service dog:
All bookings should be done through a call at least 2 days before the expected departure.
You will need to submit the Live Animals On-Board Booking Form.
The airline will also ask you to fill and submit the US DOT Service Animal Air Transportation and the US DOT Service Animal Relief Attestation Form.
As outlined by the Etihad pet policy, the concerned authorities can deny boarding if the dog does not behave properly.
Fulfill all the legal, as well as non-legal, requirements related to travel with your pet for the origin and travel destinations.
Airport-Related Terms of Etihad Airlines
When traveling with your furry friends, you will need to keep them in a suitable and airline-approved carrier. After this, reach the airport at least 3 hours before the scheduled departure to check in offline. At the time of check-in, you will need to show the necessary documents along with the airline permit at the airport.
Arrival-Related Rules of Etihad
Every final destination may have different arrival rules. For instance, if the arrival destination is Abu Dhabi, then you will need to complete the necessary formalities on your arrival as per UAE regulations.
As per the Etihad pet travel rules, it can include the inspection and assessment by a vet officer of the Ministry of Climate Change and Environment (MOCCAE). For other destinations, you may also need to follow the arrival rules.
Country-Related Restrictions
Due to some government-imposed rules and restrictions, not all nations accept animals on board. These include the following:
Flying to:
United Kingdom (Manchester)
United States
China
Australia
Flying from or to:
United Kingdom (London)
South Africa
India (Trivandrum and Ahmedabad)
Maldives
Breeds Banned on the Flights of Etihad
Keeping the safety of fellow passengers and other measures in mind, the Etihad Airways pet policy has restricted the following breeds:
| | |
| --- | --- |
| Pit bulls | Boxer |
| Staffordshire bull terrier | American pit bull terrier |
| Brazilian mastiff | American Staffordshire terrier |
| Japanese tosa or hybrid | American bully |
| Canario Presa | Argentinian mastiff |
| Doberman pinschers | Any mastiff or hybrid |
| Rottweilers or hybrid | |
Etihad Airways is considered one of the best options when it comes to traveling with pet dogs, cats, or falcons. However, every single rule should be followed to ensure a smooth and stress-free transition for your feline friend.
Frequently Asked Questions
Learn more about the pet policy of Etihad Airways by checking the frequently asked questions and their answers:
Does Etihad Airways allow pet animals in First class?
Yes, you can travel with your dog, cat, or falcon in First class.
Does Etihad allow all pets?
As per the pet policy of Etihad Airways, you can only travel with your dog, cat, or falcons in Economy, First, or Business class.
Does Etihad Airlines allow pets in the cabin?
Yes, all pets can be carried in the cabin.
What is Etihad Airways' pet cargo policy?
According to the airline's policy, other animals besides dogs, cats, and falcons should only be transported through the freight facility. You must follow the carrier and related rules for an easy transition.
What are the Etihad Airways pet cargo prices?
For cargo, the prices may vary depending on the animal's breed, type, size, and travel destination. So, call Etihad customer care for detailed information.