Breeze Airways welcomes furry guests onboard. For this, Breeze Airways' pet policy is created. With this, people can bring their loving animals and ensure a safe journey for them. Before you prepare them for the trip, it is suggested to understand the policy properly to meet the requirements for carriers, fees, etc.
General Rules
Just like any other framework, this pet policy also comes with certain rules and regulations. Some of them have been mentioned below:
Only small and domesticated dogs and cats will be allowed.
This policy offers spots based on "first come and first serve".
A maximum of up to 5 animals will be allowed on each flight.
Every ticketed passenger can only bring one pet.
Important Rules for Bringing Animals On Board
You must keep various aspects including the following ones in your mind while planning your next trip with your feline friend:
You will need to get an approved carrier for your pet when carrying on board.
The kennel must have a dimension of 17 inches (L) x 13 inches (W) x 8 inches (H).
It can either be soft-sided or hard-sided.
The purchased carrier should be clean, comfortable, and well-ventilated.
Only one animal can be placed in one cage.
The carrier should be spacious enough so that it can:

turn around,
stand,
and sit naturally.

This carrier should be kept under the front seat.
The maximum combined weight of the carrier and the feline should not be more than 25 lbs.
In case this weight is below 25 lbs, then you can still bring one animal per cage.
Pet Travel Fee on this Airline
Traveling with animals on this carrier is not free. Hence, you will need to pay some amount as a travel fee. Based on the Breeze Airways pet travel policy, you will need to pay USD 75 for a one-way trip. This is irrespective of the destination chosen.
Note: In case you remove your pet from your booking, this fee can be claimed. But it will be provided as BreezePoints.
Baggage Allowance with Animals
While bringing your cat or dog's carrier, you should know whether it will be counted as a personal item or carry-on baggage. Below are the details to clarify this:
Each carrier will be counted as a carry-on item.
The kennel should be as per the suggested dimensions.
Along with one carry-on item (carrier), you can also bring 1 personal item on the flight.
The carry-on should be placed under the front seat.
Personal belongings must be stowed in the space given in your overhead bin.
How to Add or Book for Your Pet on Breeze?
Booking or adding a pet to your travel is quite easy. Reservations can be made online from the website.
Open the official website of Breeze Airways.
When you do it, you will get to see the "Trip Extras" page. Click on it.
Use your credentials i.e. username and password to sign in for "My Trips".
Choose your flight or reservation.
Select the option "Edit Guest Extras".
Complete the further steps accordingly to successfully add your animal to your trip.
You can also get professional support on this policy through other modes. You can send your emails to [email protected]. Or, simply SMS at 501-273-3931.
Important: Sitting options in First class do not have extra space under the front seat to keep the carrier. Hence, you are advised to book standard or extra legroom seats while traveling in this class.
What are the Essentials of this Pet Policy?
Breeze Airways' pet policy has almost everything that can make your dog/cat's journey stress-free and easy. Right from the time you are at the airport, you will have professional assistance by your side.
You just need to remember the following:
Dogs/cats cannot be checked in online.
You will need to complete the check-in process at the airport.
Boarding passes can only be collected from the airport's ticket counter.
You cannot sit in the exit or bulkhead row.
Always bring your pet in an approved carrier.
Keeping the safety of others, you will be asked to keep the animal inside the cage all the time i.e. at:

the airport,
during boarding, and
on the flight.
Restrictions
Even though this policy is quite flexible and animal-friendly, it has some restrictions. These include:
The minimum age of your pet at the time of traveling should be 8 weeks.
No cats or dogs will be allowed as a checked item.
Your boarding can be denied at any point if your animal shows disruptive behavior such as:

Lunging
Biting
Growing
Excessive barking or whining
Defecating or urinating (in non-designated spots)
Aggressive behavior towards Breeze members or fellow passengers
Note: All emotional support beings should fulfill the requirements of service animals. Otherwise, they will be considered normal pets.
Vaccination and Health Documents to Ensure
Even though Breeze will not ask for any health documents or papers, it is recommended to have vaccination and related papers with you. At the time of travel, they are crucial.
Documents Required
To travel with your trained service dog, certain documents will be needed. The details have been given here:
Submit a duly filled US Department of Transportation form at least 48 hours before the expected time of departure.
This form can be downloaded from the official website.
You can submit this form online by sending it to [email protected].
Always mention "Service Animal" in your email's subject line for quick responses.
This form can also be submitted offline at the:

departure gate
or the check-in counter.

It will be accepted if the seat is reserved less than 48 hours before the scheduled time of departure.
Traveling with Trained Service Animals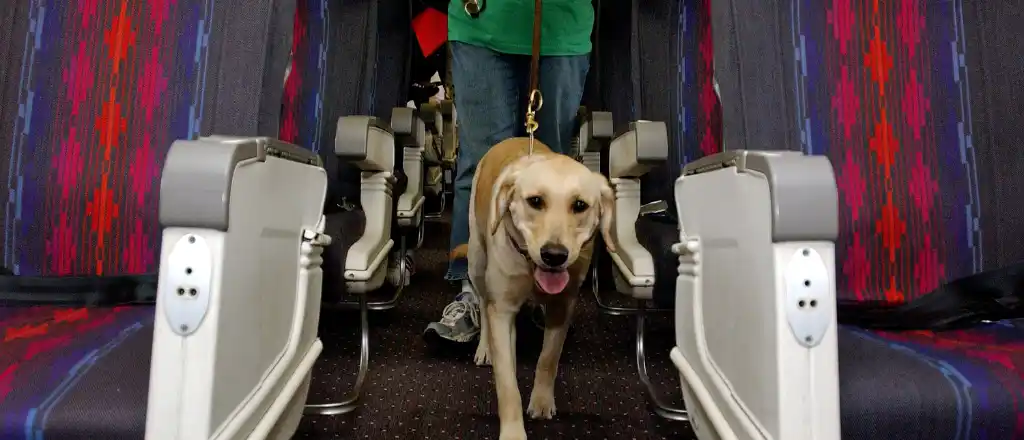 As outlined by Breeze Airways's, you can bring a fully-trained service dog onboard. This is allowed for extra assistance and support. These animals are allowed so that they can assist people with mental or physical disabilities or special needs.
Rules for Bringing Trained Service Animals Onboard
Bringing service dogs onboard comes with certain rules. Here are the points to have in mind:
Every ticketed passenger can bring up to 2 trained animals.
You must keep the verified and completed US Department of Transportation form when you have not submitted it online.
Under-training service dogs will not be accepted.
It should be leashed, tethered, as well as harnessed.
Your animal should be well-behaved and clean.
Scenarios Wherein Boarding will be Denied
Breeze Airways is quite concerned when it comes to the pet's comfort as well as the safety of its passengers. Hence, it may deny your boarding in case the service dog shows one of the following signs:
Biting
Lunging
Growling
Whining
Barking
Scratching
Defecating or urinating the gate or cabin area
Aggressive behavior toward fellow passengers, cabin crew, or other pets
What to Expect with Service Dogs when at the Airport?
While at the airport with your trained service animal, the airline will determine if it is capable of performing a task for a passenger/guest with special needs.
The team members of Breeze Airways are well-trained to ask essential fact-finding questions to the authorized person. This is to decide if the dog is fully-trained or eligible to travel in this category.
How to Book Your Trained Service Dog on Breeze?
Every passenger will need to inform the airline in advance or at least 48 hours before the departure about the trained service dog. You can do it via email. Or this can be done online by following the steps listed here:
Open the official website of Breeze Airways.
Sign in by using your username and password.
On "My Trips", find the booking in which you want to add the service dog.
Now, hit the "Edit Guests Extras" button.
Save the changes.
All the changes will show under the passenger's name.
You can review them.
Rules for Emotional Support Animals
Emotional support beings are not accepted under any different category. However, you can bring them as normal pets in the cabin. The rules, requirements, and fees will be the same as the policy for these.
Additional Federal Safety Rules and Regulations
Every traveler should know the additional safety rules and regulations by the federal government that are followed by Breeze. Here are some:
Passengers with a trained service dog will not be able to sit in the exit emergency row.
In the First class, no additional footrest will be provided.
All service dogs should be seated on the floor space or guest's lap/seat.
Guests can reserve an extra space or seat for the animal.
But it should fit well on the seat without touching another guest, tray table, etc.
Your lap animal should be smaller than a 2-year-old kid.
The kennel of the service dog should be kept under the front seat.
These are the main rules of Breeze Airways' pet travel policy that you must remember before or while booking. This should help you travel conveniently with your furry friend.
Frequently Asked Questions
Does the Breeze Airways pet travel policy allow pets onboard?
You can only bring domesticated and small cats/dogs onboard.
What is the Breeze Airways pet travel fee?
For a one-way trip, you will need to pay a fee of USD 75 for all routes.
What are the rules of Breeze Airways' pet cargo policy?
There is no cargo facility available to transport pets. You can only bring animals in the cabin.
What is the suggested dimension of the carrier in Breeze Airways' pet policy?
You can buy a hard-sided or soft-sided carrier with a dimension of 17 inches (L) x 13 inches (W) x 8 inches (H).
Does Breeze Airways' animal/pet policy allow cats as service animals?
No, only fully-trained dogs are permitted as service animals.