Before you reserve a seat or a space for your pet, you are advised to check the pet policy of this carrier beforehand. Look at the following points for a quick overview:
You can only travel with household cats, dogs, small birds, and rabbits.
This travel should be within the country and to/from St. Thomas, the US Virgin Islands, and Puerto Rico.
The airline will only accept trained service animals on all international routes.
A ticketed passenger can only bring one pet carrier along with them.
As per the Spirit Airlines pet travel policy, you will need to keep your animal in the FAA approved carrier.
Carriers with either soft sides or hard sides are allowed.
The policy has described the maximum weight for the carrier along with your pooch. The combined weight of the pet and its carrier should not go beyond 18.14 kg/40 lb.
Exotic animals like snakes, rodents, and spiders are not allowed.
Restrictions of Pet Policy You Should Know About
Just like any other policy, this one also comes with certain restrictions. To have a smooth journey with your feline, you need to keep the following in your mind:
You cannot travel with your pet on any international route.
Bigger birds such as parrots, macaws, cockatoos, and so on are not permitted.
Based on the rules listed in the Spirit pet policy, you will not be allowed to sit on the emergency exit or first row.
The pet should be in its carrier throughout the journey.
You must keep the cage on the floor ensuring that it does not obstruct others' movement.
The pet should be odorless, healthy, and harmful.
This pet you are traveling with should not require any special attention during the trip.
Important: No bird is considered a household as per the rules of Spirit Airlines. So, no matter whether you have a game bird or farm poultry, you cannot travel with it.
Age Requirements for Pets
Age is apparently the most crucial aspect that every pet owner should know while or before planning their upcoming trip with this carrier. According to Spirit pet travel policy, your pet should be at least 8 weeks old at the time of travel. You will not be allowed to bring pets below or above this age.
Fees to Pay for Carrying Your Pet
While traveling within the country, you may require paying USD 100 for a one-way trip. Kindly re-validate the amount before booking your tickets. When it comes to international travel, the airline does not accept any pets for these routes, besides service animals.
Spirit Airlines Pet Carrier Requirements
In the instance of traveling with a dog or a cat, it is important to keep its comfort in mind. Since it will remain in the cage throughout the journey, it is a must to follow the rules and requirements suggested by the airline for a pet carrier.
Below are some more essential details that you should have a look at:
The suggested carrier dimensions are 18 inches (L) x 14 inches (W) x 9 inches (H).
Your chosen container should easily fit under the seat.
The combined weight of the pet and the container should not exceed 18.14 kg or 40 pounds.
This container should have enough room for your pet so that it can lie down, stand, sit, or move around naturally.
Although you can go to hard-sided carriers, it is best to choose soft-sided ones for the utmost comfort of your pet.
According to the Spirit Airlines pet carrier policy, the container will be counted as 1 carry-on item.
Remember: The pet's container is subject to proper assessment and approval of the concerned authorities of Spirit Airlines. They have the right to deny your boarding in case they find anything against the given rules and regulations.
Requirement of Health Certificates and Documents
For hassle-free travel, you must ensure that you meet all the requirements of Spirit's pet policy. When it comes to documents and health certificates, you will need to know the following:
For domestic travels, except for the US Virgin Islands, you will not require any health certificate or document.
In the case of Puerto Rico, you will need to show the rabies vaccination certificate to the airline's concerned department.
Check the Spirit flight delay policy before booking your ticket with your pet. In case your animal is unable to travel then, you should know your options.
Rules for Emotional Support Animals
The Department of Transportation (DOT) has updated its rules for emotional support animals and their travels. As a result, the Spirit pet policy for emotional support animals was taken back on January 11, 2021.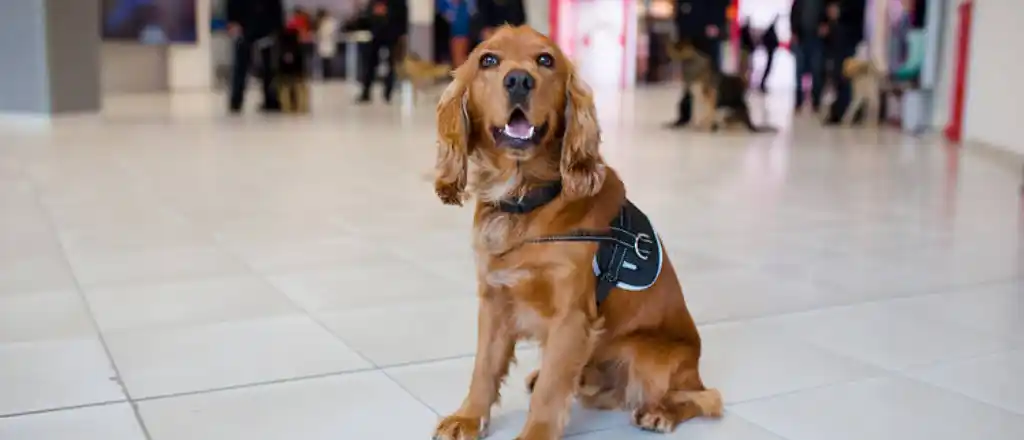 But it does not mean that you cannot take your pet with you on your trip. You can travel with it as a pet animal. Kindly note that the same rules, as well as charges of the pet policy, will apply to the emotional support animals.
Policy for Service Pets
The U.S. Department of Transportation has recently modified its rules. Hence, you will now only be allowed to travel with dogs as service animals. Passengers with special needs or any disability can travel with a maximum of up to 2 well-trained service dogs free of cost.
Remember: According to the rules of Spirit Airlines' service pet policy, you should carry this animal.
Besides, you must read the following to know this policy and its rules better:
You will need to submit a carefully filled US DOT Service Animal Air Transportation Form.
This form will be needed to ascertain your dog's health, behavior, and training before your travel.
You must submit this form online at least 2 days or 48 hours before the departure time of the flight.
Submit the correct details for booking your tickets or this pet service.
Check the option provided by Spirit to names change on tickets in case you enter something wrong and want to rectify it.
Fill out all the details carefully including the rabies vaccination information.
US DOT Service Animal Relief Attestation Form will need to be submitted if the flight is 8 or more hours.
When it comes to sitting, your dog should not occupy the seats with inflatable seat belts.
Or, sitting in the emergency exit row is also not allowed.
General Requirements for Service Dogs
In addition to the points mentioned above, there are some general requirements as per the Spirit Airlines pet policy for service dogs.
Look at the following for more information:
Service animals can only be dogs.
The age should be four months at least.
This dog should be completely trained.
Also, under-training pooch is not accepted by the airline generally. Connect with its customer care for details.
The dog should remain on the aircraft's floor or on the ticketed passenger's/owner's lap.
Your service animal should not occupy the seat of any passenger.
It should not bark, growl, or bite any other fellow passenger.
Cargo Facilities for Pet Animals
The Airline does not move pet animals in cargo. Therefore, you may not find any Spirit Airlines pet policy for cargo.
FAQs
Have a look at the following frequently asked questions and their answers to know the essential aspects of the Spirit Airlines pet policy:
What is Spirit Airlines' pet policy?
As per this policy, you can go with your feline in the plane's cabin. However, you will need to pay a fee and abide by the rules mentioned in this policy. For instance, the maximum weight of the pet with a
iner should not go beyond 40 pounds in any case.
Are all pets allowed on Spirit Airlines?
No, this carrier only approves domesticated dogs, rabbits, cats, and small birds on the flight. You may not be allowed to travel with large birds, reptiles, poisonous insects, and so on in Spirit flights.
Does Spirit Airlines charge for pets?
Yes, you will need to pay USD 100 for a one-way trip within the country to travel with your pet.
Does Spirit allow pets in the cabin?
You can only travel with your pet in a cabin. You cannot keep it as checked baggage or in the cargo. To know more, you must read and understand every point of Spirit Airlines' pet policy. By knowing the same, you can avoid unwanted hassles.
Is Spirit Airlines pet-friendly?
Spirit Airlines is quite pet-friendly and it is because of its flexible policy. A lot of rules are designed to keep the safety and comfort of the pet. For example, the dimension of the container is suggested so that your furry friend can easily turn around, sit, stand, or sleep comfortably throughout its journey.
How to add a pet to a Spirit flight?
To add your pet to your reservation, you will need to connect with the reservation center via a phone call. You can dial the toll-free number or simply send a message on its official WhatsApp number. You can also visit the nearest ticketing or sales office for further details and assistance.