Traveling with pets can be a daunting experience without adequate guidance and airline support. Southwest Airlines pet policy simplifies the pet travel experience by offering the best facilities to their passengers and their pets.
Travelers must consider the pet carrier requirements, allowed pets, types of pets allowed, southwest airlines pet in cabin policy, pet travel guidelines, etc. Refer to the comprehensive guide given below for details.
What are the guidelines for Southwest Airlines service pet policy?
Southwest Airlines dedication to enhancing travelers and their travel experience with pets has compelled the airline to come up with the following rules and regulations –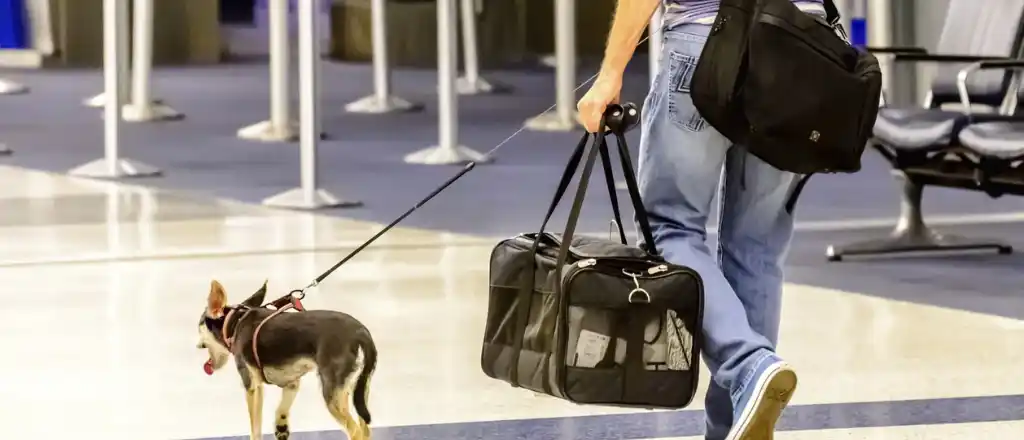 Type of pets – Southwest Airlines permit small vaccinated household animals like dogs and cats on the flight.
Where to keep pets? – You can request Southwest Airlines pet policy in cabin by ensuring pets sit under the seat in front of the traveler.

Pets must remain in the carrier for the entire flight duration, in the gate area, and during boarding/ deboarding.

Must be able to roam around comfortably in the pet container.

Travelers with pets are not allowed to sit at the bulkhead or exit row or seat with no forward under-seat storage capacity.
First come first serve – The pets are allowed on the flight on a first come first serve basis and are subject to space available on the airline.
Number of pets on flight – A maximum of six pets are admitted on the flight.

The airline may revise this number to increase or decrease based on the scheduled flight and fight conditions.
Age of pets – The pets must be at least 8 weeks old to travel on Southwest flights and meet Southwest airlines pet policy weight.
The number of pet carriers – Southwest Airlines permits one pet carrier per ticketed flier with a maximum of two pets under a single reservation on a flight.
Boarding Group – Travelers must carry their pets to the designated boarding group to board the airline.
Southwest Airlines pet cargo policy/Freight Service – Southwest Airlines does not offer cargo facilities for transporting pets.
Check in – Travelers must check in their pets at the airport ticket counter.
Boarding pass – The boarding pass is available at various locations via ticket counter, airport kiosk counter, curbside check in, and online check in.
Vaccination/Documentation – Pets must be vaccinated to travel on the flight.

The airline does not mention the requirement of any other documentation.

Relief areas – The pet relief areas are available at every airport.

The flight will not wait for the pet to relieve itself.
Disruptive behaviors – Pets showing signs of disruptive behavior will be denied boarding. Such behaviors include –

Growling, Lunging, and Biting

Pets defecating or urinating in the boarding gate area or in the cabin

Excess barking, aggressiveness, scratching surfaces, or other animals/ pets, or whining
What are the Southwest airline guidelines for pet remains transportation?
To carry the pet remains of your fur companions, the airline has taken special measures for travelers' assistance. They are as follows –
Cremated pet remains – Travelers can carry the cremated pet remains as carry on goods on the flight.

The cremated remains must be checked thoroughly at the security screening stations by TSA.

It is not admissible as checked baggage.

Type of container – It is recommended to carry the remains in a Crematorium-provided cardboard box or plastic box/ container.
X-ray screening – The urn/ plastic/ cardboard boxes must be cleared by Crematorium via X-ray screening.

The airline will not open the remains containers for physical checking by the personnel.

In cases where the container cannot be screened at security checkpoints and does not pass X-ray obligations, it will not be allowed as a carry on or checked luggage item.
What are the guidelines for Pet Booking and Southwest airlines pet travel fee?
Travelers must pay the applicable pet fee in advance or at the airport ticket counter, as preferred before the commencement of the journey. Add to that –
How is the fee charged? – The pet fee is refundable and charged one way.
Southwest airlines pet fees – Southwest airline charges 95 USD per way per pet carrier for pet transportation.
Ways to pay for Pet fare – Accepted credit cards and cash can be used to pay for pet reservation at the ticket counter.
Case of flight cancellation/ rebooking – If you wish to change the booking reservation, add or remove the pet, or cancel your reservation, keep note that –

You can also contact the airline over the phone for a refund, rebooking, or cancellation-related queries.
What are Southwest pet carrier guidelines based on Flight type?
If you are traveling via US Domestic flights or international flights, keep into account –
US Domestic Flights – Pet reservations must be held in advance over the phone via – 1-800-I-FLY-SWA (1-800-435-9792).

Ensure to reach the airport timely to conduct verification, timely screening, and pet carrier evaluation.

You can proceed to request Southwest check-in for you and your pet and pay the applicable pet fee before heading to the boarding gate area.
International Flights – Ensure that no pets are allowed to travel in the cabin.

It includes any travel itineraries including international flights or any international flights scheduled.
What are pet carrier size for Southwest Airlines and their specifications?
Here are the key details to keep into account when choosing the ideal pet container or carrier for your pet travel –
FAA – The pet cage should be approved by the concerned authorities i.e. Federal Aviation Administration (FAA).
In cabin Southwest pet carriers – Travelers can buy the Southwest branded pet carrier via its online website or at the airport ticket counter.

Pet carriers are not refundable.

Southwest Airlines branded pet carrier charges – 58 USD (Including taxes).
Pet carrier under luggage allowance – Pet carriers are treated as carry on items or personal items.

A traveler can carry a pet carrier and a carry-on item (Standard size) or a pet carrier with a personal item.

The pet carrier must abide by the carry on item regulations.

You cannot board the flight with a pet carrier, a personal item, and carry on items together.
What are the acceptable Southwest pet carriers on flights?
Some of the acceptable carriers for pets include –
Southwest Airlines Pet Carrier – 17" long x 9.5" high x 10" wide.
For other branded/non-branded Southwest pet carrier size – 18.5" long x 8.5" high x 13.5" wide.
Specifications – Pet carriers must be sturdy, leakproof, and adequately ventilated with holes. Also –

Hard-sided or soft-sided pet carriers specifically designed for pet carriage/ transportation are admissible.

The carrier must be small enough to fit under the seat in front of the passenger.
What are the Southwest Pet carrier requirements?
The pet carrier requirements are mentioned below to ensure the safety and convenience of the pet and other passengers –
Carrier capacity – The pet carrier can carry up to 2 pets i.e. 2 dogs or cats but they must be of the same species to be carried in one carrier.
Carrier space – The carrier must be spacious to accommodate the sitting and standing size of the pet and they must be able to move around with comfort.
Boarding Denial – If the passenger fails to meet the requirements stated by the airline, they will be denied boarding.
What are the airline Pet Travel and Southwest pet carrier restrictions?
Southwest airline imposes some restrictions and strict regulations that must be adhered to by travelers for a comfortable journey –
Pets traveling alone – The airline does not allow pet travel without an accompanying ticketed traveler.
Checked bag allowance – Pets are not allowed to travel as checked bag allowance.
Hygiene of pets – Pets with odor, showing disruptive behavior, showing harmful tendencies, or requiring attention throughout the flights may get denied boarding.
Trained service animals and pets' crates – Trained authorized service animals cannot share pet crates with other pets.
Purchase of extra seating – Travelers with a portable oxygen concentrator or those traveling with service animals may buy non-refundable Southwest seats.
Airline responsibility for pet travel – The airline is not liable if you miss the flight due to your pet's behavior or need to take them to relieve themselves.

The flight will not be delayed or held for passengers with pets.
Pet ill during flight – In such cases, the airline is not responsible to provide necessary first aid or oxygen to the pet.
In Emergency situations – The airline may not prioritize pets like cats and dogs to have access to oxygen masks.
Health and well-being of pets during flight – Southwest airline is not responsible for ensuring well being and health of the carry on pets.
What are the location-specific guidelines for Southwest airlines pet carrier policy?
Southwest Airlines lay specific regulations when the fliers to and from Hawaii and Puerto Rico.
Locations/ Regions
Pet Regulations and Rules
Hawaii
● Travelers cannot carry pets to/ from Hawaii.
● If you are traveling between the Hawaiian Islands, you can bring a dog or cat by abiding by the stated regulations.
Puerto Rico
● To bring animals into Puerto Rico, make sure to present compulsory documents like the USDA- veterinarian approved health certificate.
● The health certificate can be issued in the home country before entry at the airport.
● You can head to the official website for more details regarding Puerto Rico guidelines for pet travel.
What are the Southwest airline guidelines for Service animals?
Southwest airline does not specify rules and regulations for service animals as they do not qualify as pets. They need not comply with all the guidelines within the Southwest airlines service pet policy –
Type of animal – The airline permits trained service dogs as service animals.
Trained animal form – Travelers must present "U.S. Department of Transportation Service Animal Air Transportation Form" after completing.

You must submit the form at the ticket counter or boarding gate area on the day of flight departure.
Service dog behavior and prerequisites – The trained service dogs must be harnessed all the time.

The dogs must be properly trained and must have training from designated authorities.

Trained service dogs showing disruptive behavior like growling, biting, whining, excessive barking, etc.
Emotional dogs – Emotional support dogs, therapy dogs, etc. do not qualify for trained service animals and must follow Southwest pet policy regulations.
Service dog with a pet – Passengers carrying service animals can also carry an additional pet with them by buying an extra seat.
How to connect with Southwest airline Pet Reservation?
You can connect with the airline over the phone to book the pet reservation or share any queries via social media.
How to connect with Southwest Airlines over the phone?
The airline offers a designated contact number for pet reservations and queries following the steps given below.
Head to the official website – Southwest airline home page.
Scroll down on the main web page to the "About Southwest" and choose "Contact Us".
You will be directed to a new page. You can choose any method from the available choices.
You can connect with the airline via contact number – 1-800-I-FLY-SWA (1-800-435-9792) to book a pet reservation up to 48 hours before the flight departure.
You will find the "More Phone Numbers" option. Select "Before & during your trip".
Some of the popular contact numbers for popular countries/ locations are listed below.
Countries/ Locations
Phone Numbers
United States
1-800-I-FLY-SWA (1-800-435-9792)
1-800-VAMONOS (1-800-826-6667) (In Spanish)
Dominican Republic
1-800-751-9039 1-800-751-9038 (In Spanish)
Grand Cayman
1-844-670-7914 1-844-670-7990 (In Spanish)
Jamaica
1-800-425-8130 1-800-425-8089 (In Spanish)
Mexico
800-083-1179 800-083-1178 (In Spanish)
Costa Rica
0-800-012-1916 0-800-012-1917 (In Spanish)
NOTE – You can head to the official website for contact details of other locations/regions.
How to connect with Southwest airlines via social media?
Southwest airline is available on various social media including Youtube. You can share a wide spectrum of concerns related to Southwest Manage Booking, pet reservations, special requests, etc.
Here are the popular social media platforms where you can connect with Southwest airline –
| | |
| --- | --- |
| Social Media Platforms | Social Media Links/ Profile Links |
| Instagram | https://www.instagram.com/southwestair/ |
| Facebook | https://www.facebook.com/SouthwestAir |
| Twitter | https://twitter.com/SouthwestAir |
With a great pet policy, it is also necessary that the passengers train their pets and make them comfortable with the flight conditions, their carrier, etc.
Southwest pet policy rules and guidelines include all the crucial details necessary for a successful pet travel experience. It fosters a hassle-free pet travel experience and ensures that your furry companions have a great time too.
Frequently Asked Questions
Are pets allowed on Southwest Airlines?
Yes, small vaccinated pets like dogs and cats are allowed on Southwest flights.
How much does it cost to take a pet on Southwest Airlines?
The airline charges 95 USD one way per directional Southwest Airlines pet carry on fee to transport pets on the flight.
What size dog carriers does Southwest allow?
Small dogs can be carried in a carrier with sizes up to 18.5 inches long x 8.5 inches high x 13.5 inches in carriers with Southwest branded crates.
How strict is Southwest about pet carrier size?
It is strict with Southwest pet carrier dimensions and allows a maximum dimension of 17 inches long x 9.5 inches high x 10 inches wide for the majority of flights.
How do I add a pet fee on Southwest?
You can connect with the airline over the phone and book a pet reservation. You can then pay the fee at the airport ticket counter.
Can I bring my cat on southwest airlines?
Yes, you can bring small cats at least 8 weeks old on Southwest flights.
Can you travel with pets on Southwest?
Yes, you can travel with small pets on Southwest flights.
What is Southwest Airlines pet policy?
Southwest airline pet policy allows small dogs and cats not less than 8 weeks old to travel on the flight complying with pet crate dimensions.
How much is pet fee on southwest?
The pet fee on southwest airlines for pet travel is 95 USD.
Can I carry my dog on Southwest flights?
Yes, you can carry dogs and trained service dogs as long as you comply with the airline pet policy regulations and restrictions.
Related Pages